Source: Courtesy @yourfavestylist.allison

Hairsprays have come a long way since their invention in the 1940s. The varieties of past held styles in place, but left strands feeling stiff and crunchy. Thankfully, today's options offer more benefits including some that provide natural-looking finishes. It's an essential product for stylists in order to create different looks for their guests. And carrying an assortment of hairsprays is also helpful for a salon's retail strategy.

Pureology offers two notable hair sprays: Style + Protect Soft Finish Hair Spray which provides flexible, brushable hold, and Style + Protect Lock It Down Hair Spray which delivers maximum hold and radiant shine. Neither produce the dreaded crunch or dullness, and both dry quickly to protect against heat damage and environmental stressors. Plus, they share an intoxicating aromatherapy blend of tuberose, almond milk and cedarwood notes. Like all other Pureology products, these hairsprays are formulated with a patented antifade complex and are safe for color-treated hair.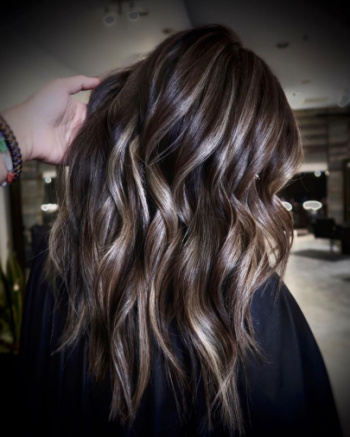 Source: Courtesy of @ricardoalonsobeauty

When choosing a hairspray for a client, consider several things. First, get a sense of timing or desired hold. Will your customer have any plans after the service like attending a special event or contending with weather? Factor in your guest's day-to-day styling routine. too. Ask, "How do you like your hair to feel?" Lastly, recall any styling your client liked in the past. You could even request a picture reference or a celebrity's 'do for additional guidance. By considering the type your clients want, you help ensure that they leave your salon feeling and looking their best. To get you started, here are some top hacks using Pureology products.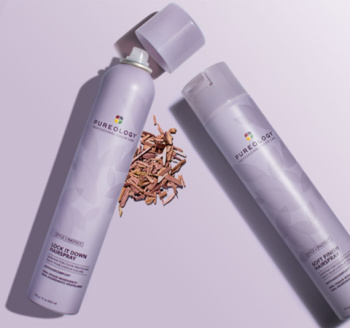 Source: Courtesy of Pureology
On producing fuller-looking styles:
"Apply your Soft Finish Hairspray underneath the hair section to support volume," says Pureology Artist Elysia Urkiel. "Applying it on top weighs down long hair."

On when to start spritzing:
Why wait until the end? Urkiel mists Soft Finish Hairspray throughout the styling process. She says the formula makes strands workable and much easier to mold into the client's desired shape.

On how far from the head you should hold the can:
The typical recommendation is to spritz 8-12 inches away from the hair, but Jamie Wiley, Pureology Global Artistic Director, has a good rule of thumb. "Hold the can about an arm's length away from the face and lightly spray until you achieve the hold you are seeking."

On forming long-lasting curls:
Wiley's secret weapon for obtaining this result is setting your curls, letting them cool down and misting a high-hold formula. "Pureology's Style + Protect Lock It Down Hairspray is perfect for this as one of its key ingredients, olive oil, adds a lot of shine," she says. "Plus, it provides the longest-lasting hold I've experienced!"
About Expert
Discover expert advice from Pureology and the industry's most trusted artists and educators. Whether it's the latest, on-trend techniques or tips that will boost your business, they're here to make sure you reach your full potential!