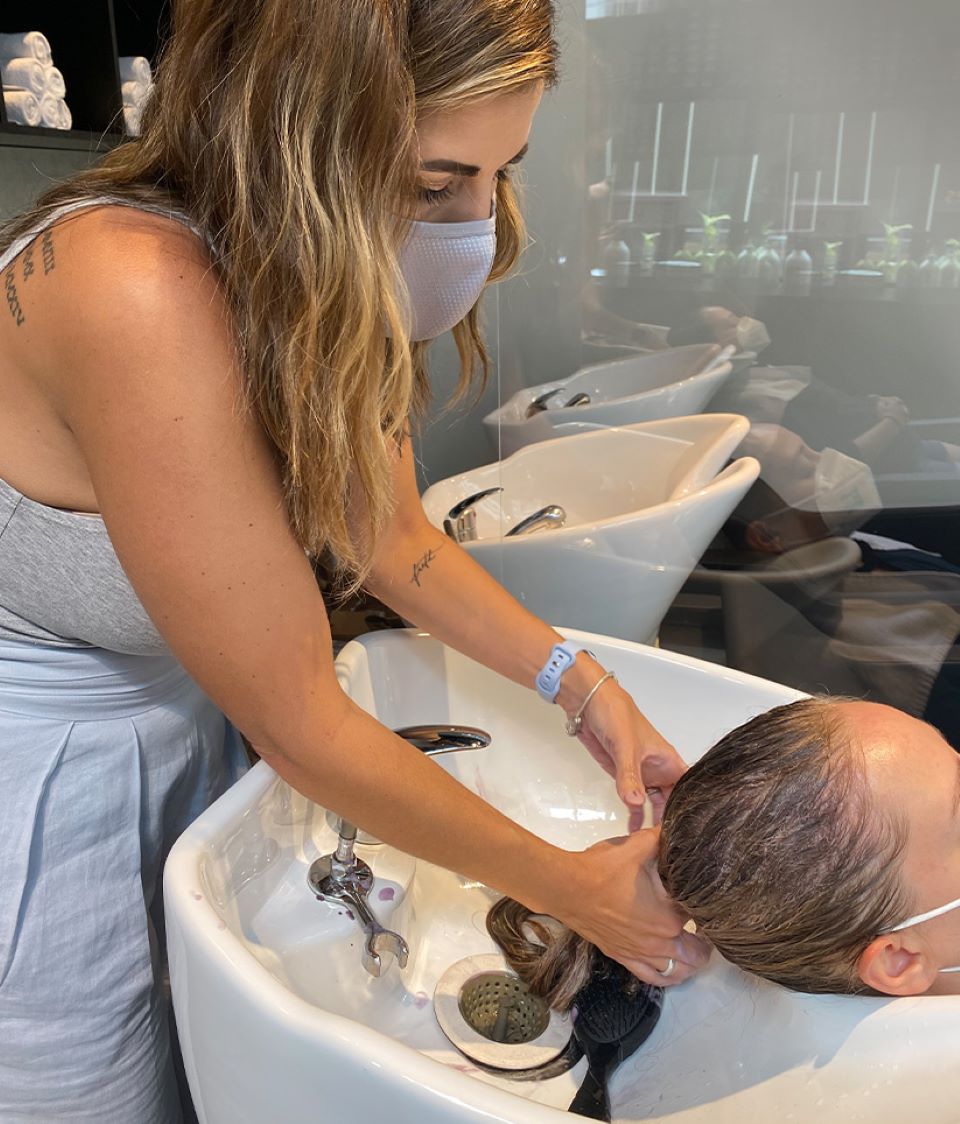 Source: All Photos Courtesy of Pureology
After investing time in a stylist's chair to achieve the perfect color, it's understandable that clients will want to maintain their color as best they can. Not only for the sake of time and money, but also to protect their hair's health. A top-coat toner is a quick and easy way to ensure their color stays fresh by neutralizing brassiness and orange hues while keeping their strands safe from over processing.
Pureology's Color Fanatic Top Coat + Tone in Purple, Blue and Sheer Clear are three treatments specially formulated to tone and gloss all different shades of hair. Results are achieved in just five minutes and can last up to eight washes so clients can keep their color vibrant and protected between touch ups.
"Color Fanatic Top Coat+ Tone is an innovation in how we maintain our color at home and how the professional will recommend aftercare," says Pureology Global Artistic Director, Jamie Wiley (@jamiewileyhair). "The industry has been missing out on that sweet spot between appointments (for our guests, that's sometime between three to four weeks after) until their next visit that's usually eight to ten weeks later. Now, in those weeks between appointments, Top Coat + Tone can neutralize yellow, orange and any unwanted brassy tones to keep hair its healthiest while maintaining that fresh-from-the-salon color."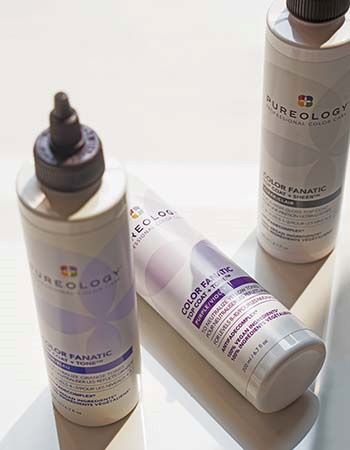 The Top Coat formulas can be used as an in-salon treatment, or sent home with the client so they can maintain hair themselves right in their own shower. The revolutionary formula is available in three different hues so that every single hair color can benefit it's important to ensure that each person is recommended the right tone to complement their color.
Top Coat + Tone Purple is great for light to medium blondes, but also works wonders on natural gray or silver hair with unwanted yellow tones.

Top Coat + Tone Blue provides the best results after about three weeks post-salon service for darker blondes, redheads and lighter brunettes, as this is when you usually start to see color fade and unwanted orange hues start to show.

Top Coat + Sheer Clear is a great gloss for any shade, but also has amazing health benefits for curly or wavy hair due to its acidic formula, conditioning properties and moisture retention.
Here, Wiley lays out the steps for best results:

1. Shampoo with the Pureology system based on your client's hair needs. Exclusive formulas for volumizing, strengthening, smoothing, adding youthfulness to dull, limp hair, and more are available in each Pureology system. Starting with a clean and fresh palette is imperative for any color treatment, especially for the Color Fanatic Top Coat + Tone system because it lays on the surface of the cuticle and is a direct dye.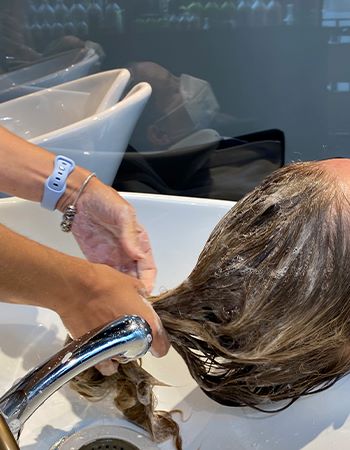 2. Remove excess water from the hair before applying Top Coat + Tone. Skipping this step will actually dilute the product if excess water remains in the hair. Making sure to squeeze it out is crucial for a perfect application. With the Blue and Purple formulas, the goal is to cancel brassy yellow and orange tones, so diluting the product will take away the ability for the product to work its magic.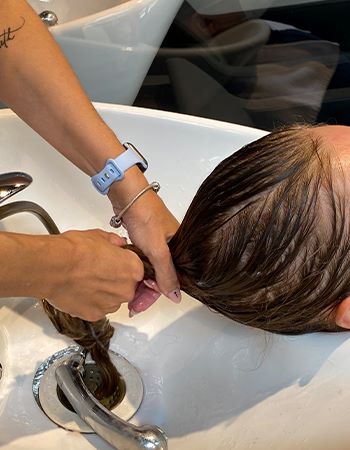 3. When applying the product on the backbar, apply in a zigzag application from scalp to ends. Then, move through and apply vertically at the base, using the tip of the precision nozzle, from the front of the head moving to the back. Use your hands to distribute the product through fine hair, and on more medium/coarse and curly hair, use a wet brush to fully saturate evenly. You will feel the beautiful slip and viscosity of the product as you move it through. Each bottle comes with about 10 applications which is an incredible return on an investment of about $132-$150 per bottle, or $15 per application. Total time for the process is just five minutes.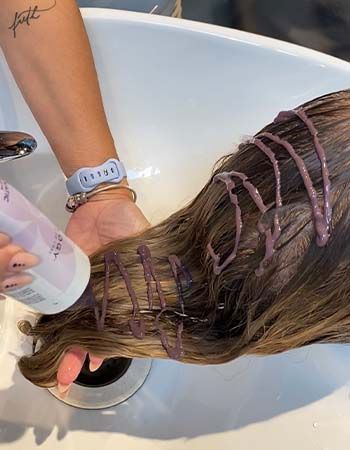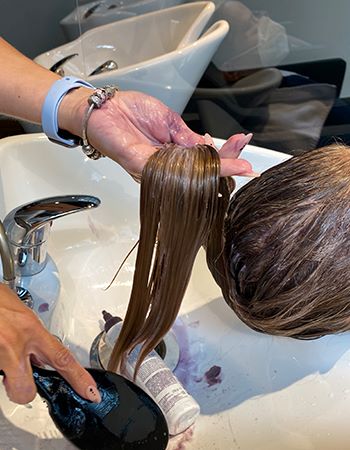 4. Rinse thoroughly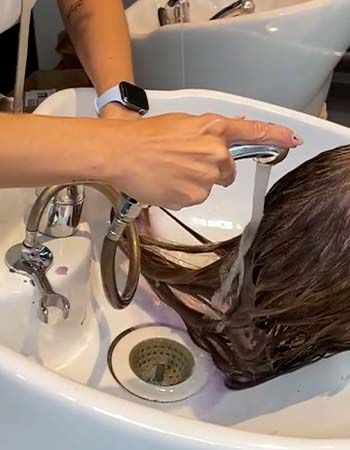 5. For fine to medium hair, no need for conditioning as the oat milk and camellia oil are super hydrating though lightweight enough that it won't weigh the hair down. It gives incredible shine and balances the pH of the hair overall. For coarse to curly hair, choose the best conditioner to suit their hair's needs, or deep condition to seal the cuticle.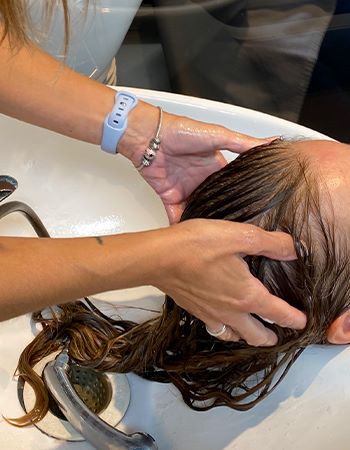 6. Finish your style. Your client's hair will be transformed for the next six to eight washes. And don't forget to recommend clients take the correct Top Coat + Tone home in either Purple, Blue or Sheer Clear.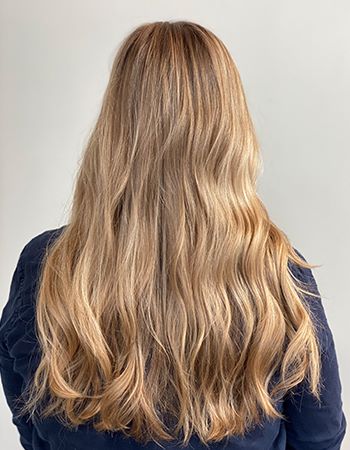 Pro Tip:
For clients with limited time, "you can use any of the Top Coat high-shine glosses on damp or dry hair to cut out brassiness while saving time," says Wiley. "On dry hair, make sure to use a wide-tooth comb to work it through for even distribution."
Plus, these incredible formulas not only work on the client's own hair, but can also maintain extensions so their overall color is consistent. "This collection is amazing for toning hair extensions," says Wiley." Just fill a small container with lukewarm water, add 10ml of Top Coat + Tone and stir. The formulas are extremely pigmented and concentrated, so you don't need that much. Place the extensions in the container and work through evenly with hands until you see the desired tone. Follow with your fave Pureology conditioner and dry as usual."
About Expert
Discover expert advice from Pureology and the industry's most trusted artists and educators. Whether it's the latest, on-trend techniques or tips that will boost your business, they're here to make sure you reach your full potential!