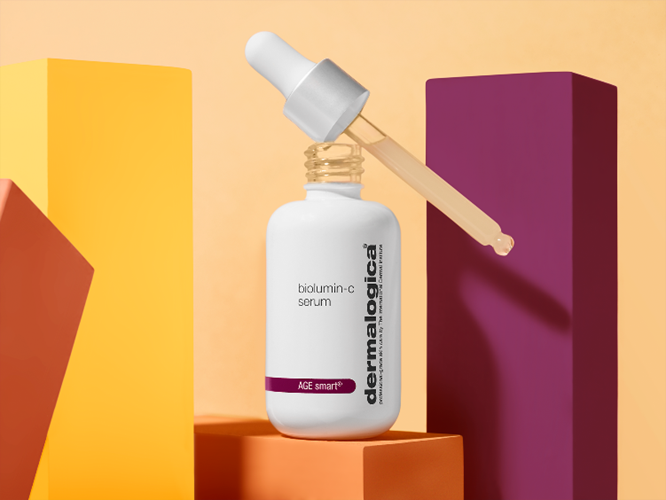 As one of the most potent antioxidants available, Vitamin C is a true skin care powerhouse! It's scientifically proven to tackle each of the three biological processes that lead to premature aging. But there are hundreds of Vitamin C targeted treatment products available on the market today, and many promise significant anti-aging results—but many don't deliver! That's because delivery of topical Vitamin C into the skin is critically dependent on formulation characteristics.

There are two Vitamin C factors:

Stability: Vitamin C must be stable in the product so that it remains active! This is Vitamin C's most well-known shortfall. Traditional forms of Vitamin C are easily oxidized upon exposure to air, heat or water; which degrades the formula's efficacy.
Bioavailability: Vitamin C needs to be able to get into the skin, where it's needed. This property is known as bioavailability and is the most significant challenge. For Vitamin C to neutralize free radicals, firm and brighten, it must get to where it's needed most—in the deeper layers of the skin. While skin penetration can be increased through exfoliation, many topical Vitamin C products aren't optimized to achieve this.

Dermalogica's NEW BioLumin-C Serum is a revolutionary formula representing a new paradigm in Vitamin C efficacy. New technology and research are allowing us to finally harness the full power of Vitamin C and enhance the skin's natural defense system to stop damage before it starts.

BioLumin-C Serum combines an ultra-stable Vitamin C complex with advanced bio-technology to go beyond the skin's surface – delivering the natural power of Vitamin C where it's needed most. BioLumin-C Serum does more than simply brighten, firm and reduce the appearance of fine lines; it optimizes skin's own defenses, to give brighter skin from within!

This unique synergy of two forms of Vitamin C, Ascorbyl Methylsilanol Pectinate and Aminopropyl Ascorbyl Phosphate, provide enhanced functionality in fighting oxidative stress. These active ingredients are also fused with collagen boosting Palmitoyl Tripeptide-5. The result: brighter, firmer, more radiant skin.

The Vitamin C Complex is comprised of the following:
Ascorbyl Methylsilanol Pectinate (Ascorbosilane SP)
A synergistic complex of Ascorbic Acid (Vitamin C) and Silicium that strengthens cell membranes resistance against oxidative stress, optimizes detoxifying activity and enhances the skin's natural defenses. Reduces hyperpigmentation by inhibiting tyrosinase activity, which influences melanogenesis.
Strengthens cells resistance to oxidative stress
Brightens hyperpigmentation and evens skin tone
Powerful antioxidant against free radical damage
Aminopropyl Ascorbyl Phosphate (K3 Vita C)
A highly stable, non-acidic, next generation form of Vitamin C that helps firm and strengthen skin. It stimulates dermal fibroblast cells that produce Type 1 collagen, which is responsible for the strength of the dermis and provides structural support to the skin. The result is a reduction in fine lines, wrinkles and skin roughness.
Superior stability and efficacy
Stimulates collagen to reduce fine lines and wrinkles
Provides antioxidant protection
Affects melanogenesis by inhibiting tyrosinase
Palmitoyl Tripeptide-5
A short-chain synthetic peptide that works using innovative anti-wrinkle technology. This peptide boosts collagen production and protects against collagen degradation. Effectively firms and reduces the appearance of fine lines and wrinkles.

BioLumin-C Serum's additional key ingredients work synergistically with the Vitamin C Complex to provide a true powerhouse serum.

Lactic Acid
This AHA's chief benefit is exfoliation, which helps remove dull, dead cells from skin's outermost layers. This accelerates cell turnover to reveal smoother, brighter skin with reduced fine lines and wrinkles. As a secondary benefit, the newly exfoliated skin is more readily able to absorb active ingredients.

Sophora Japonica Flower Extract
Derived from the Japanese Pagoda Tree, Sophora Japonica is one of the fifty fundamental herbs in Chinese medicine. It contains flavonoids that exhibit strong antioxidant activity, which help return skin to a calm state after experiencing oxidative stress.

Salvia Hispanica (Chia) Seed Oil
Chia seeds were a nutritional staple in ancient Mayan and Aztec diets. Today, their exceptional antioxidant and moisturizing properties make them a skin care essential. Chia Seed Oil is rich in antioxidants that help quench free radicals, and it contains more than 60% omega-3 fatty acid – one of the highest concentrations of any plant source.

Why Your Clients Need BioLumin-C Serum
In today's world, skin damage is a daily reality. Vitamin C can help fight the stressors that cause that damage – and BioLumin-C Serum represents a new generation of Vitamin C products.

What it is: A high-performance serum that works with the skin's own defenses for brighter, firmer and more radiant skin.

How it works: Advanced bio-technology fuses ultra-stable Vitamin C with Palmitoyl Tripeptide-5, which works along with an alpha hydroxy acid to fight oxidative stress and the appearance of aging.

Skin condition: Normal to mature or prematurely-aging skin.
Key benefits:

Brighten – exfoliates and reduces unbalanced pigmentation.
Firm – reduces the appearance of fine lines and wrinkles.
Defend – prevents and corrects free radical damage.
Application: Dispense a few drops and smooth over cleansed face and neck. Apply morning and night, after toning and before moisturizing.
See the FaceFit Protocol and share it with your clients.
Photography: Courtesy of Dermalogica