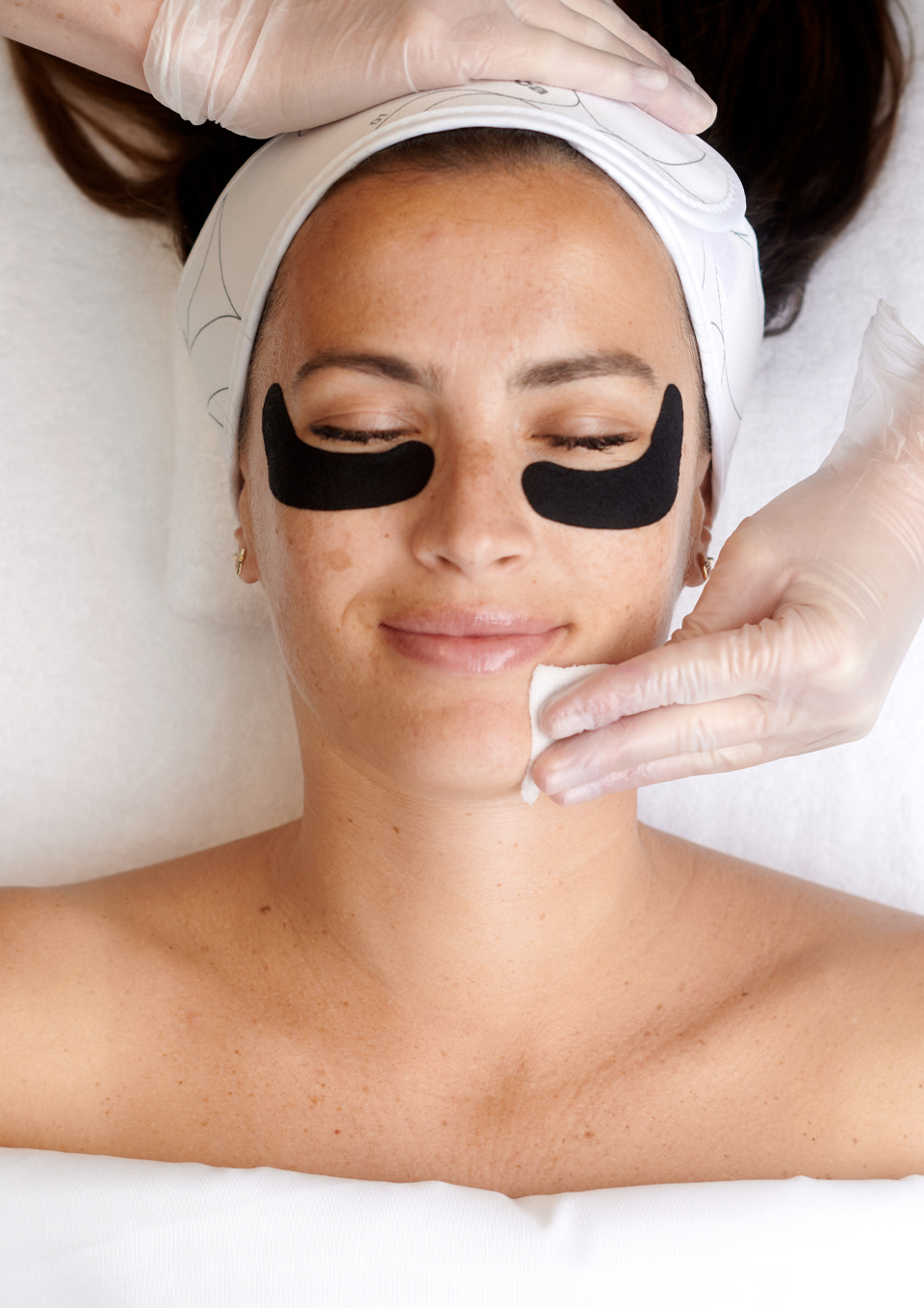 Source: Courtesy of Dermalogica

Our clients see signs of aging and stress around their eyes first and want results fast. Dermalogica's Pro Eye Flash is a powerful treatment that visibly tones, smooths, and brightens the eye contour with firming modalities and an infusion of botanical actives. This targeted treatment can be expanded on face and neck, or modified for mask-friendly services. And the benefits? Clients can expect brightened undereye skin, even skin tone and texture, and the minimized appearance of fine lines and wrinkles.
Start with a double cleanse treatment by cleansing the eye area. Apply one to two pumps of PreCleanse to damp esthetic wipes or cotton. Gently swipe around the orbital bone to remove makeup and oil-based debris. Then dispensing a small amount of UltraCalming Cleanser into a cup and mix with water. Apply with a fan masque brush around the eye area and lightly manipulate. If choosing to cleanse the entire eye, including mascara, and the client has lash extensions, opt for Special Cleansing Gel. Remove with damp esthetic wipes or cotton, and follow with one of the enhancements below.

@art: https://saloncentric.box.com/s/e06ualndchj5k91fjgqojvnoo7l752is
Resurface and Tone Pro Power Peel Enhancement
- Apply Pro Power Eye Peel patches to both eyes making sure they adhere to the skin. Apply BioLumin-C PRO Serum to treatment area with fan masque brush.
- Use microcurrent device on muscle reeducation setting to work over the brow bone area of the right eye then repeat on the left side.
- Remove both patches and wipe away excess residue with damp esthetic wipes or cotton.
Hydrate and Lift Mask-Friendly Add-On
- Apply a layer of BioLumin-C PRO Serum underneath Colloidal Masque Base around the orbital eye area on both eyes.
- Use microcurrent modality on product penetration setting to work on the eye contour following the orbital bones. This includes cheekbones, crow's feet, and brow area, avoiding the eyelids.
- Remove with damp esthetic wipes or cotton rounds.
@art: https://saloncentric.box.com/s/t17u7yrf7ubncrylaa1fvzlu3oo197c1
Source: Courtesy of Dermalogica

ProSkin Treatment Enhancements
Apply about an almond-sized amount of Stress Positive Eye Lift Serum on the back of the hand. With the Cooling Eye Wand, generously apply three dots under eyebrows and three dots under eyes to perform the following movements.
- Lift and Energize: Press and lift up at the inner, center, and outer end of the eyebrow. Hold each lift for one to two seconds. Gently glide beneath the eye, back to the brow. Repeat three times.
- Press and Smooth: With medium to firm pressure, lift at the beginning of the brow, then glide under the brow draining to temporal lymph nodes. Next, starting at inner corner of eye, press and smooth under the eyes draining out to temples. Repeat three times.
- Brighten and De-puff: Gently perform small circles under eye, from the outer corner to the inner corner. Glide back toward the outer corner. Repeat three times.
- Soften Lines: Beginning near the temple, draw small "T's" by gliding with one wand upward and moving the other wand outward to hairline. Repeat on each side six times.
- Relax and Release: With alternating eye wands, draw a small "X" between brows to smooth lines and release tension. Repeat six times.
Finish by circling around eyes (in the direction of brow growth) and complete massage with small light circles at temples six times. Apply light pressure and remove wands. Gently massage in excess product.
About Expert
Discover expert advice from Dermalogica and the industry's most trusted artists and educators. Whether it's the latest, on-trend techniques or tips that will boost your business, they're here to make sure you reach your full potential!
up next
Boost Skin Hydration With Exfoliation
Boost Skin Hydration With Exfoliation
Written by 
Dermalogica Team
Jan 10, 2022
Read time 5 min