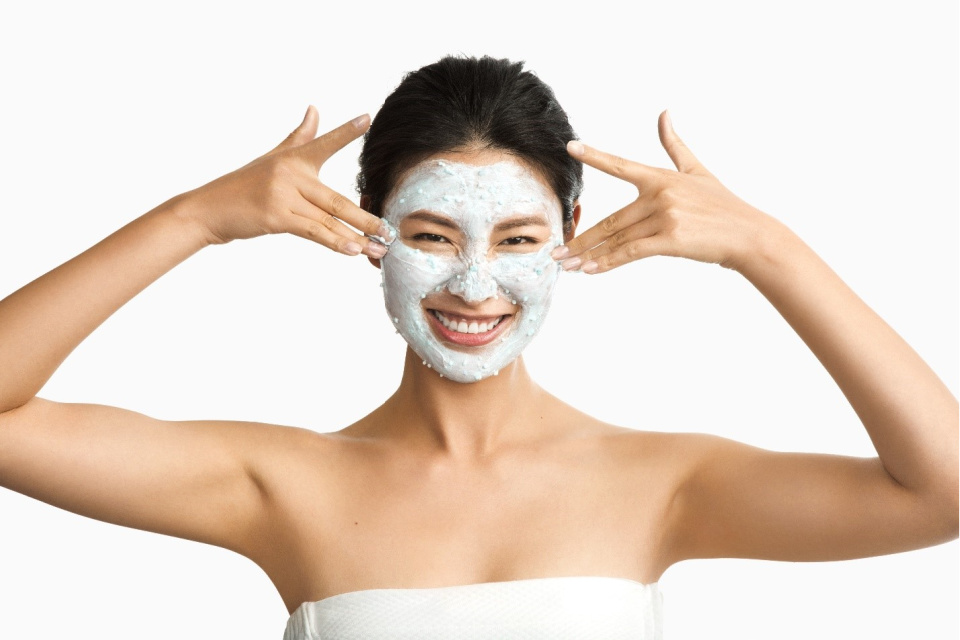 Source: Courtesy of Dermalogica
Hydration is a crucial element in maintaining glowing, healthy skin, but if skin is not exfoliated properly, it won't be able to absorb the hydrating ingredients in your favorite serums, masks, and moisturizers. The right exfoliation not only helps reveal brighter, smoother looking skin, but also helps hydrating heroes like hyaluronic acid, glycerin, and other moisture magnets dive deep into skin to lock in luminous, long lasting hydration.

As one of the body's fastest regenerating organs, our skin constantly renews its cells and sheds them when they become dehydrated. This process, known as cellular turnover, is a cycle that replenishes skin's natural hydration and builds its protective barrier. As skin cells cycle closer to the surface, they lose their natural hydration, flatten, and compress at the surface of our skin, forming the skin's barrier until they shed away. Aging, genetics, and environment can slow down this process, triggering cells to buildup and prevent active ingredients from properly penetrating deeper layers. When it comes to hydration, prepping with exfoliation and layering product is key. Exfoliation removes dulling, dehydrated skin cells, which means the best time to pack in hydration is immediately after exfoliating.

To educate clients on how they can boost their hydration levels with gentle exfoliation in just one easy step, offer a retail service like the Smooth and Hydrate Face Fit or hand treatment featuring Hydro Masque Exfoliant. This one-step masque delivers an intense dose of hydration while it gently exfoliates for more luminous skin in just five minutes.

And since retail services can be performed on hands or face in the retail area or at a station while clients are processing, they're a great conversation starter for new clients. Offering these services in your retail area creates a traffic stopping experience for walk-ins who are just browsing or clients waiting for their salon appointment as well.
You can even offer virtual lessons for clients that may not be able to come into your space in person.

Check out the Smooth and Hydrate Face Fit treatment protocol below to deliver hydration and exfoliation for luminous, healthy-looking skin.

Double Cleanse

Begin by applying two pumps of PreCleanse to damp esthetic wipes.
Swipe over skin to remove oil-based debris and make-up. If clients are headed back to work, leave eye and lip makeup intact by carefully cleansing around those areas.
Dispense a pea-sized amount of Special Cleansing Gel into a jelly cup and mix into a foamy consistency with water using a Fan Masque Brush.
Apply to the skin and lightly manipulate with damp fingertips.
Remove with damp esthetic wipes.
Pro Tip: Select a customized cleanser based on your client's skin type and concern

Exfoliate and Hydrate

Dispense three to four pumps of Hydro Masque Exfoliant onto your fingertips and gently apply to the skin.
Customize your client's experience by moving the touch activated spheres to areas of rough, dehydrated skin, then lightly manipulate.
Allow the masque to process on the skin for three minutes and remove with damp esthetic wipes.
ProTip: While Hydro Masque Exfoliant is on the skin, discuss product benefits and fill out product recommendations on a Skin Fitness Plan.

Finishing Products

Spritz the skin with Multi-Active Toner to counteract dehydration and increase product absorption.
Then apply Skin Smoothing Cream to lock in 48 hours of hydration.
Finish by applying Invisible Physical Defense SPF 30 and complete your client's skin fitness plan featuring Hydro Masque Exfoliant.
Pro Tip: While you apply each product, allow clients to feel them in their own hands while you share tips on how to layer and maximize benefits! Since retail services are performed facing the client, use this face time to educate by sharing the unique story behind why exfoliation is key to maximizing hydration, along with pro tips to really bring the products to life. Not only will potential clients experience the products you recommend as you walk them through a customized routine to target their specific concerns, but you will also showcase your professional knowledge.
About Expert
Discover expert advice from Dermalogica and the industry's most trusted artists and educators. Whether it's the latest, on-trend techniques or tips that will boost your business, they're here to make sure you reach your full potential!