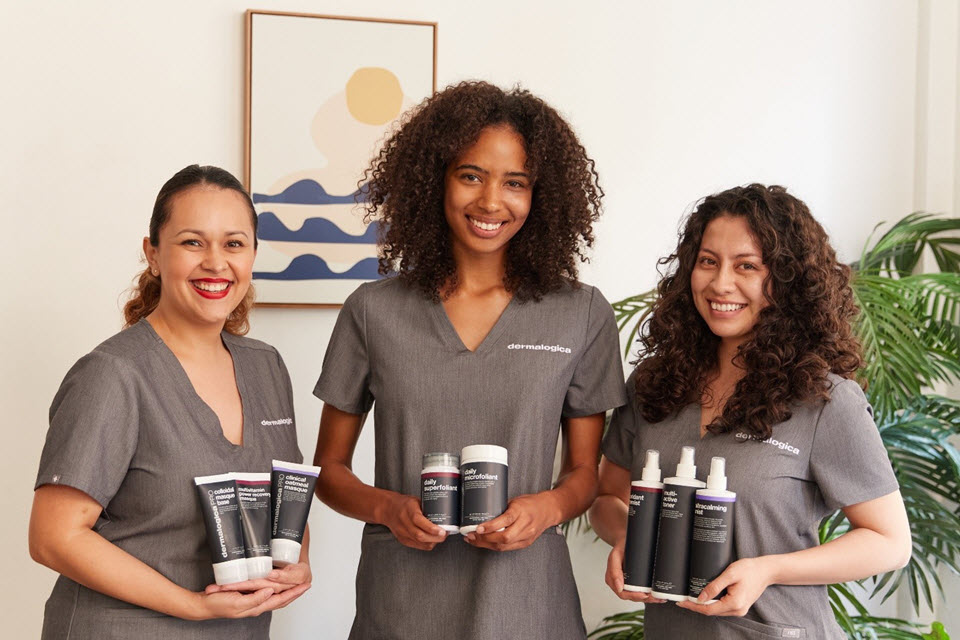 Source: Courtesy of Dermalogica

In today's hyper-personalized world, clients expect advanced custom treatments just for them. Whether you have busy clients on-the-go or someone looking for a more comprehensive experience, Dermalogica's ProSkin treatments allow you to design fully customized treatments built around your clients' unique lifestyles and skin concerns. Using a modular approach, design a one of a kind time-tailored treatment based on your client's Face Mapping® skin analysis. Each 10-minute module can be powered up to multitask and meet your client's needs. ProSkin 30 allows you to quickly address specific concerns for clients in just 30 minutes while ProSkin 60's hour time frame supports a more comprehensive treatment.

Now there are three new professional formulas to elevate your treatments to the next level:
Exfoliant Accelerator 35 : 30% lactic acid in a soothing chamomile extract base has skin smoothing peptides and enzymes. This highly active concentrate can be mixed into Dermalogica cleansers, exfoliants and masques or used directly on the skin for deep exfoliation.
Massage Gel-Cream: A lightweight gel-cream with motion-activated oils for longer lasting slip and glide during your favorite Touch Therapies. Nourishing safflower and sunflower oils and glycerin hydrate skin and easily wipes away with water.
Clinical Oatmeal Masque: Pharmaceutical-grade colloidal oatmeal, aloe vera and oat oil helps soothe sensitive skin and alleviate itching and irritation.
Use these powerful professional options powered by Face Mapping Skin Analysis to help you determine the best mixtures for your client's skin.

Double Cleanse
Every treatment begins with a double cleanse starting with PreCleanse
to remove oil-based debris followed by Face Mapping Skin Analysis which will help you customize the treatment. Complete this module with a skin appropriate cleanser to balance your client's skin type and target concerns .Mix any of these formulas into 1 pump of your favorite Dermalogica cleanser whippedwith water in a jelly cup topower up your second cleanse.
Daily Microfoliant: A gentle brightening combo, ideal for first time clients or sensitive skin.
MultiVitamin Thermafoliant: Transforms any cleanser into an age refining polish.
Exfoliant Accelerator 35: Give your second cleanse a professional exfoliating boost.
Resurfacing
This module removes dulling debris and kick starts the cell turnover process. Depending on your client's concerns and tolerance, you can offer gentle exfoliation or more advanced exfoliation.
Daily Microfoliant + Exfoliant Accelerator 35: This gentle, brightening combo is ideal for first time clients or those with sensitive skin.
MultiVitamin Thermafoliant + ExfoliantAccelerator 35: A smoothing AGE fighting polish for clients with congestion or uneven texture
Multivitamin Power Exfoliant + Exfoliant Accelerator 35: Dual action professional exfoliation for clients who respond well to professional exfoliation.
Exfoliant Accelerator 35: The ultimate resurfacer for clients with healthy, resilient skin.

Touch Therapy
Water based Massage Gel-Cream is touch activated, which means slip and glide increase as you massage. This easy to remove, gel cream formula is a great choice for body and face. Use 1-2 pumps of this touch activated formula for your favorite Touch Therapy:
Touch Therapy Neck and Shoulder: Relieves tension in neck, shoulders and upper body.
Touch Therapy AGE Reversal: Tones muscles to help firm aging skin.
Touch Therapy Hand and Arm: Alleviates muscle strain in hands and arms from typing fatigue.
Deep Treatment
This step delivers concentrated ingredients deeply into skin. Mix masks together or multi-masque areas of skin to target specific concerns. These water-based formulas are compatible with modalities like (+) microcurrent and (+)galvanic to boost penetration. Mix ½ teaspoon into Dermalogica masques to treat multiple concerns:
Clinical Oatmeal Masque + MultiVitamin Power Recovery Masque: Soothes and revitalizes aging skin.
Clinical Oatmeal Masque + Colloidal Masque Base: Deeply hydrates and calms skin.
Clinical Oatmeal Masque + Conductive Masque Base: Boosts electrical modalities and reduces redness.
Dermal Layers
This is where you layer targeted products that you will recommend your clients use at home in their Skin Fitness Plan. Start with toner to build deep hydration, follow with serums to deliver concentrated treatment, add an eye and lip treatment, and finish with moisture and SPF. With Dermalogica's professional-grade lineup, designing custom, time-saving treatments has never been easier or more fun.