The COVID-19 pandemic has greatly impacted our industry and how we do business. Times have changed and we need to think about how we adapt and operate as we phase back into business. For us, this means helping you reopen your businesses with confidence and with the safety of your staff and clients as a top priority.
We have developed some new tools to help you get your business back up and running safely when the time is right for your area. Here are your next steps to let your clients know that you are practicing the most updated service safety principals.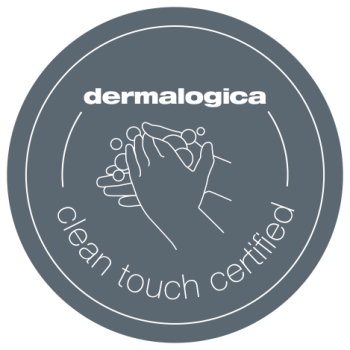 Source: Courtesy of Dermalogica

12 Dermalogica Principles for Enhanced Service Safety
These guiding principles help ensure the safety of professionals and clients in salons and spas. These principles are used in addition to state-board or local authority regulations to ensure a safe environment for yourself and clients.

1. Prescreen clients to ensure they are free from any sickness and have not had contact with confirmed cases of COVID-19 in the previous 14 days. Employees should be free from any sickness and temperature shall be checked prior to beginning the work shift.
2. Clients in high risk and vulnerable groups such as an advanced age or with pre-existing medical conditions are advised not to get treatments.
3. Ensure physical distancing protocols maintain 6 feet between clients in common areas, by, for example, staggering appointments, offering curbside check-in or limiting entrance to the skin center.
4. Clients and employees shall wear masks in common areas. Therapists shall wear a clean, dry mask during each shift. Masks can be worn for more than one client but must be put on and taken off in a sanitary manner. Therapists shall also wear a face shield when working in close proximity to the client. Therapists shall wear a freshly laundered or disposable apron during each shift.
5. Hands shall be sanitized on entry to the skincare center. Therapists shall visibly wash hands with soap and water for 20 seconds before and after touching clients, after contact with soiled or unsterilized tools and surroundings. Every treatment or skin analysis that involves touching should begin with a facial cleanse.
6. Gloves are not recommended over thorough hand washing unless they are requested by clients or required by authorities. If used, gloves shall be changed before and after touching clients and after contact with any soiled or unsterilized tools and surroundings.
7. All professional use products shall be disinfected after each use and stored in a cabinet or sealed container when not in use.
8. Treatment beds must be covered with either clean treatment table paper, a clean towel or a clean sheet before each client. Only use blankets which are laundered after every client.
9. All non-porous, metal or plastic non-disposable equipment, as well as surfaces, must be cleaned and then disinfected before each use. Electrical items shall be sprayed or wiped before each use.
10. Clean and dirty items and tools must be kept visibly separate in well-marked, covered containers.
11. All high touch areas throughout the skin center shall be disinfected when visibly soiled and at least hourly.
12. Retail testers shall be wiped down before and after each use. Products packaged in jars are currently not appropriate as testers. Tester product shall only be applied to the hands.
*The above are suggested directives and must be used in addition to, not in replace of, state-board or local authority regulations. All government sanitation and safety guidelines must always be adhered to.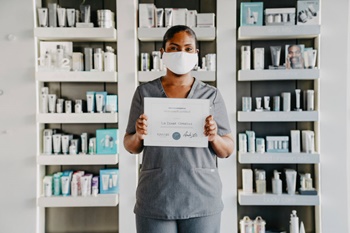 Source: Courtesy of Dermalogica

Get Clean Touch Certified
We have made free online training and certification available at dermalogica.com/inthistogether. We developed this new certification to help you communicate and display to your clients that you follow the highest professional-grade safety and sanitation protocols.

Check your inventory
Do you have everything you need to ensure your space is a Clean Touch Zone? Stock up on PPE like masks, touch free hand sanitizer dispensers for clients, and EPA approved disinfectants for your surfaces and equipment. Supply single use options when possible like disposable applicators, dental bibs and paper drape sheets instead of towels and sheets. Finally, of course you'll need plenty of soap for you and your clients' hands and if possible, move hand soap to areas where you can cleanse your hands in front of clients so they know you are practicing Clean Touch principals

Prepare your space
Since minimizing cross contamination is paramount in preventing the spread of COVID-19, you should limit high touch surfaces including devices and products. All non-disposable equipment should be disinfected before client use. Remove "self-serve" testers from shelves and instead distribute product using clean disposable applicators like cotton swabs. Consider stocking up on single use foil samples to eliminate the need for sanitizing testers.

Get your clients back in for services
With physical distancing as the "new next," clients may be hesitant to come back to our salons and spas. Help them feel more at ease by letting them know you are taking their safety seriously.

Post your Clean Touch Certification on social media to show your commitment to safety, post pictures wearing personal protective equipment during services and display Clean Touch Zone cards in your reception, retail, and service areas.

We are hard at work developing resources for you to use to reconnect with clients in a safe way.

As you start to prepare your business to get back in touch, stay tuned to dermalogica.com/inthistogether to get Clean Touch Certified updates as these resources become available.