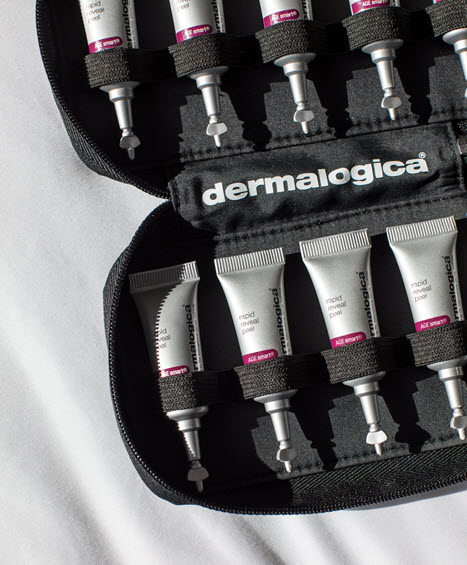 After years of delivering high-quality, professional-strength peels for use in the treatment room, the skin experts at Dermalogica are excited to debut
Rapid Reveal Peel
— the highest-strength exfoliant in the Dermalogica retail line. This light yet effective peel kick-starts cell renewal and accelerates cell turnover to reveal radiant skin.
Rapid Reveal Peel
is especially geared towards clients with premature signs of skin aging such as dehydration, hyperpigmentation, fine lines or wrinkles; even clients with post-inflammatory hyperpigmentation (PIH), uneven skin texture or uneven skin tone may also benefit from this product.
Ingredient technology:
Lactic Acid (10%) — At a concentration of 10% and a low pH of 3, the Lactic Acid in
Rapid Reveal Peel
can non-invasively exfoliate the deeper layers of the stratum corneum, as well as stimulate cell turnover and renewal for brighter, firmer skin. This ingredient also works with Glycerin, also part of the formulation, to hydrate for softer, more supple results.
Microcitrus Australasica (Australian Caviar Lime) Extract — Caviar Lime is a source of AHAs, namely Citric Acid, that help increase epidermal cell turnover and desquamation.
Oryza Sativa (Rice) Bran Extract — Composed of 90% Phytic Acid, Rice Bran is a gentle yet effective ingredient that not only has antioxidant benefits to help defend against environmental damage, it helps increase cell turnover by loosening cell cohesion and promoting corneocyte sloughing. Rice Bran Extract also helps brighten hyperpigmentation and reduce scaliness.
Pumpkin Fruit Ferment Filtrate (10%) —Pumpkin Fruit Ferment Filtrate resurfaces and helps even out skin tone without irritating the skin. Pumpkin also contains antioxidant Vitamins A and C to help reduce the appearance of skin aging.
Now you know how the ingredients work, but what are the results? We conducted 2 studies that found the following.
Increased cell turnover
In a clinical study on people between 18 and 65 years of age,
Rapid Reveal Peel
was shown to increase cell turnover by 44%. Measurements for this study were done after 13 applications of the product, which equates to a 3-day kick-start phase, followed by weekly use for 10 weeks.
Increased radiance and fine line reduction
Rapid Reveal Peel
has also been clinically proven to enhance radiance and visibly reduce fine lines. In another clinical study on people between 35 and 65 years of age, it was shown to enhance skin radiance after just 5 days and visibly reduce fine lines after 8 weeks.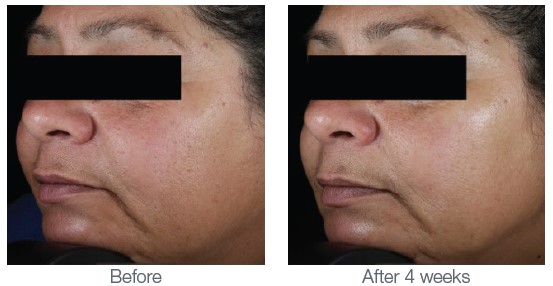 Both tests were carried out at an accredited third-party testing lab.
To help the professional skin therapist easily decipher the overall strength of a dermalogica exfoliant, each of the dermalogica exfoliation products were given a bioactivity Score to denote overall strength based on four specific criteria of the formula:
1) the concentration of Lactic Acid
2) the concentration of Salicylic Acid
3) the pH of the formula
4) the presence of other exfoliating agents such enzymes, Retinol, Rice Bran, Rice Extract, etc.
The higher the bioactivity score, the stronger the exfoliant: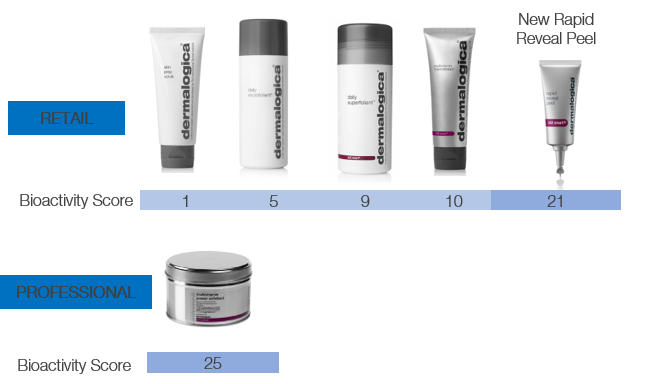 Photography: Courtesy of Dermalogica