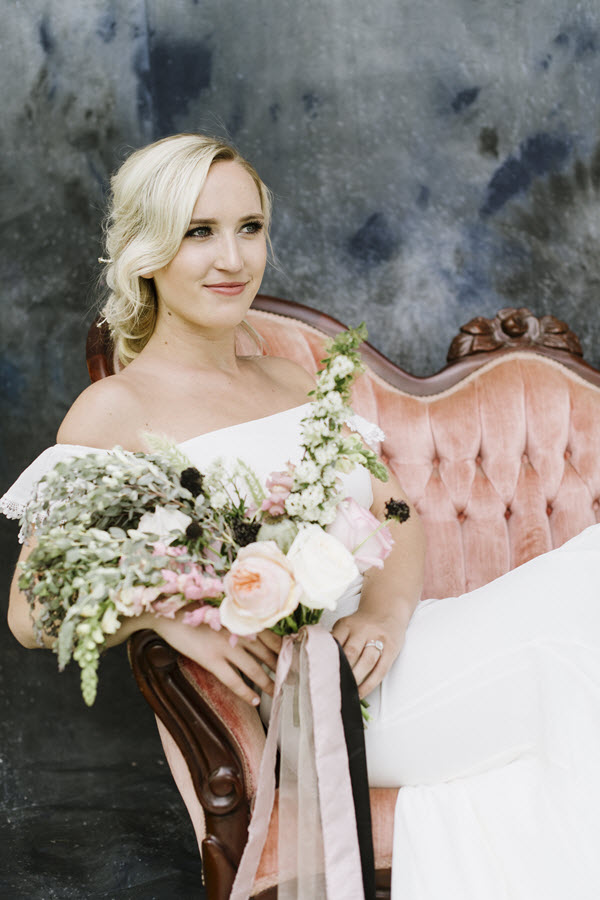 The great American actress, Joan Crawford, once said, "I think that the most important thing a woman can have - next to talent, of course - is her hairdresser."
It is true; stylists are some of the most relied-upon individuals—especially on a bride's wedding day. There can be a lot of unknowns, but the one thing a bride and her bridal party can plan for is getting pampered and looking their very best.
If you are a stylist just starting out, building a bridal clientele can be a thriving business. The first thing to keep in mind is that confidence only comes with consistency—the more a stylist practices with their hands, the more confident they will become with hair capabilities.
When starting to practice bridal hairstyles consistently, it is wise to keep the end style in mind. This approach helps stylists stay focused and effective. The experts recommend beginning regular up-styling practice with foundational styles, becoming a master at the French twist, chignon, buns, ponytails and various braids, too. Work with clean sections to prevent from getting lost and messy in your work! Directional blow dry and well laid-out curl sets will be your best friends during this process, making the style come together easily.
Remember to build strength in the style—longevity in an up-style comes with well-placed anchors such as braids and ponytails. By creating these anchors at the focal point of the style you eliminate reliance on a pile of bobby pins for hold. Practicing with the right product is also fundamental, considering the various hair types and textures of a bride.
Once you have practiced and built up that confidence to take on wedding season, here are the top tips for the ultimate bridal styling success:
1.
Prepare, prepare, prepare.
Prep your schedule, making plenty of availability on the calendar for peak "wedding season" (usually May, June, July). Stylists can bet on Fridays, Saturdays and Sundays being the ideal days for the main wedding event, so create availability before you begin booking.
2.
Get the kit!
Quite possibly the most important item in wedding styling, a good kit helps every stylist arrive prepared and confident on the "big day." Invest in a suitcase large enough to fit all supplies, leaving all items designated only for your bridal clients and events. Keep this kit well organized and tidy—pins in clear plastic boxes (found at craft stores), compartments for brushes and combs, and another for hot tools. Veteran stylists also keep a handy emergency kit packed, stocked with safety pins, aspirin, shoe pads to prevent blisters, band aids, Tide pen, floss, and clear garment tape. Who knows what might pop up and you can save the day!
3.
Consultations are key.
This is a must! Take time to meet with the bride to discuss all the details and expectations before her most important day. Review photos your bride likes, and what she wants to avoid. Be realistic with her on what she is showing you, keeping in mind her own hair and texture. Be prepared to offer extensions as an option—even inexpensive clip-in extensions can help achieve a specific look! Stylists typically take full payment at the time of the consultation or practice session, so the client can relax on the day of the wedding.
4.
Time after time.
At the end of the consultation, establish a timeline with your bride, getting these things in ink: practice session date and time, wedding date, stylist arrival time, bride arrival time, and bridal party arrival. Always add 30-60 minutes to whatever timeline you establish, as things on the wedding day can run late.
5.
Build a Portfolio.
One great way to continue building clientele is to create a portfolio of looks you like and have mastered. Pinterest and Instagram are great tools for this! Keep in mind that a portfolio is only built of styles you have confidence executing, branding your portfolio around the work that makes you shine.
Keeping these tips in mind, stylists can book wedding season with confidence! And, of course, the most important thing is to have fun in the process, helping your bridal clients feel beautiful on their big day. After all, you are the most important thing a woman can have!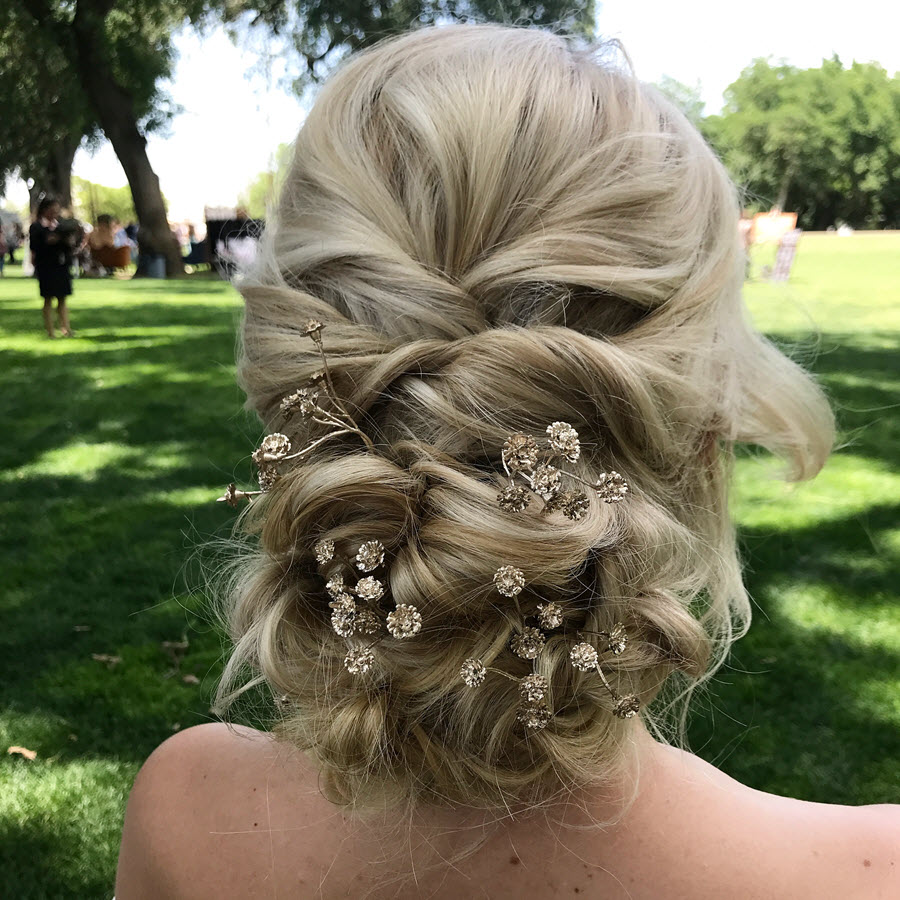 Technique:
• To create soft fluid movement and texture for this up style, prep each strand with
Redken Iron Shape 11
for heat protection and memory, then curl hair with a the
Sam Villa Artist Series 2-in-1 Marcel Curling Iron and Wand 1"
, alternating directions of curls.
• Extensions were worked in to the upstyle to create length and volume on this short hair bride. Curl the extensions before pinning them into the foundational braid, secretly placed in center back. This braid can be a great anchor for a style and when pre-textured with the
Sam Villa Signature Series Textur Professional Texturizing Iron
, it creates major volume and control.
• Finish the style with
Redken Triple Take 32
for an amazing amount of hold, yet touchable softness.
Credit: Hair: Anna Peters, Sam Villa ArTeam Member; Lifestyle Images Photographer: Ellie Koleen, @elliekoleen; Hair Image Photographer: Anna Peters; Makeup: @wedding.hairgoddess.fresno
About Expert
For over a decade, Anna Peters has been sharing her passion and love for our industry, motivating others to grow and thrive! And as a full-time stylist and salon owner, she can relate to the challenges salon pros face. Education has always been a constant in her career and a catalyst for success. As a former Redken educator, she understands the importance of what a beautiful cut or style can do for color. "Whether I'm on a photo shoot, at the MTV VMAs or with a bride in my salon, I find a calming energy in [styling]," she adds. She realized early on that Sam Villa® tools were different and created to give stylists the highest quality tools to better their lives and inspire them to stay passionate and curious about what they do every day. "The tools and knowledge that Sam Villa has shared with me has allowed me to reach new levels as a stylist and business owner…and I want to pass that knowledge on to others," says Peters. Peters believes that there are no closed doors in our industry, you just have to put in the work!