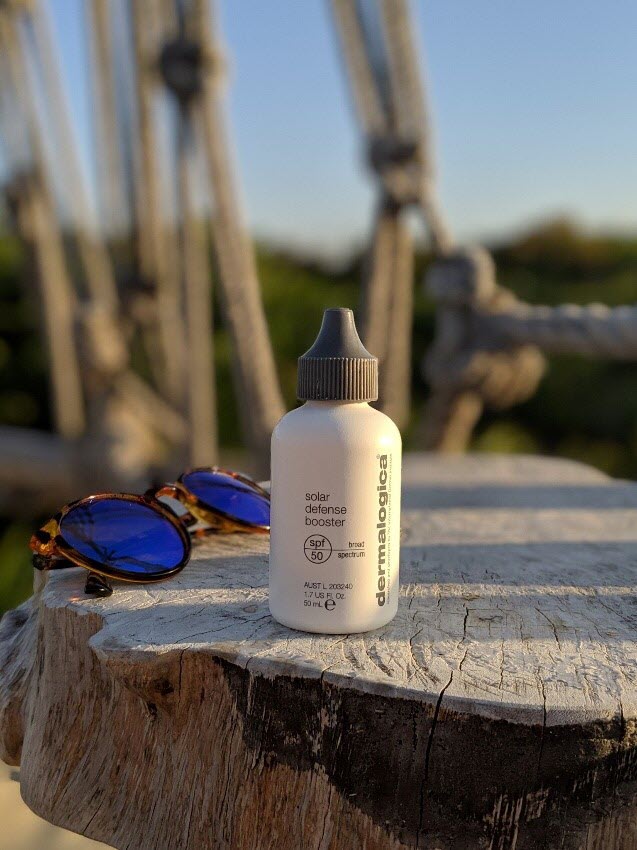 Dermatologists would agree that sunscreen is the most important part of your skin care regimen. Why is that? We know that skin aging is a combination of intrinsic (genetic) factors and extrinsic (environmental) factors. When you consider that photo-aging is not only preventable but also responsible for much of the aging we see on the skin, it's critical that we educate our clients very early on about daylight exposure.
Sun protection is also crucial to preventing skin cancer. According to The American Cancer Society, skin cancer is the most common cancer in the United States. In fact, more skin cancers are diagnosed in the US each year than all other cancers combined. The number of skin cancer cases has been going up over the past few decades. We must teach our clients about the need to limit daylight exposure and to always protect skin with sunscreen. It's not just about going in the sun, it's about daylight! That means sunscreen needs to be used every day – including in winter and on cloudy days!
SPF represents a sunscreen's ability to shield against the sun's shortwave Ultraviolet-B (UVB) rays and delay sun-induced burning or erythema. It measures the length of time a product prevents skin reddening from UVB compared to how long the skin takes to redden without protection.
For example, if you normally burn in ten minutes, when you apply a product with SPF15 (assuming you do not sweat or have any activity) and you applied the prerequisite amount to the skin (one full teaspoon just for the face!) you should be able to withstand exposure to the sun for 10 x 15 = 150 minutes.
An SPF15 product blocks about 94% of UVB rays, an SPF30 product blocks 97% of UVB rays, and an SPF45 product blocks about 98% of rays.
Based on their mechanism of action, topical sunscreens can be broadly classified into two groups, chemical absorbers and physical reflectors. Chemical absorbers work by absorbing ultraviolet (UV) radiation and can be further differentiated by the type of radiation they absorb, UVA or UVB, or both UVA and UVB (broad spectrum). Physical reflectors work by reflecting or scattering the UV radiation and will reflect both UVA and UVB.
Dermalogica Daylight Defense products have sophisticated formulations that allows clients to apply sun protection while actively treating underlying skin issues.
In addition, some of our formulas contain advanced ingredient innovations such as Oleosome Technology, a Safflower-derived, sunscreen-filled microcapsule that provides enhanced moisturization while boosting SPF without the irritation. As well as Intelligent Drone Technology which uses targeted capsules to deliver a chromophore into the skin. The chromophore Chlorella Vulgaris is activated by visible light, which provides energy—ultimately helping to boost skin's natural luminosity.
At
Dermalogica
, we continually research the latest scientific breakthroughs and ingredient technologies to ensure our SPF formulas are delivering the best results to shield the skin from harmful UV rays and protect against damaging skin-aging free radicals.
Dynamic Skin Recovery SPF50
– Age fighting SPF moisturizer.
Medium-weight, emollient daily moisturizer with Broad Spectrum SPF50. Encourage firmness, elasticity and hydration while helping to defend against the primary triggers of skin aging. Provides critical protection from daylight exposure, yet blends smoothly into skin to create a perfected finish. Advanced Oleosome encapsulation technology increases SPF performance while using fewer chemical sunscreens. For aging or prematurely aging skin.
How to Use: After cleansing and toning, apply a generous amount to face and neck, preferably 30 minutes prior to sun exposure. Use as your daily moisturizer for year-round protection against sun damage and free radicals.
Prisma Protect SPF30
is a multi-tasking formula that does more than simply defend skin against UV rays. It has a balance of smart ingredients that enhance skin's moisture level and radiance as well as more traditional ingredients that fight free radicals and provide UV protection.
A multi-tasking moisturizer that works with skin's daytime defense mode to defend against UV rays, free radical damage and pollution, hydrate for visibly smooth skin all day long and boost the skin's natural luminosity. For all skin conditions.
How to use: After cleansing and toning, apply a generous amount to face and neck, preferably 30 minutes prior to sun exposure.
Solar Defense Booster SPF50
– Adds broad spectrum to your favorite products. This product was the first of its kind in skin care and followed
Dermalogica's
unique ability for customization. It allows you to add SPF to any of your chosen moisturizers. Simply mix equal parts of moisturizer and SPF and you will have a protection factor around 40. You can also use it alone for full SPF50 protection.
Sophisticated, non-chalky formula forms an invisible shield against skin damaging environmental assault. Antioxidants help improve skin smoothness and softness while providing added defense against skin-aging free radicals. For all skin conditions.
How to use: Apply directly to face and neck for full SPF50 coverage, preferably 30 minutes prior to sun exposure. May also be mixed with prescribed Dermalogica moisturizer in equal amounts for daily sun protection.
SkinPerfect Primer SPF30
– Illuminating SPF makeup primer. It delivers three benefits in one for healthy, luminous skin. Smooth away fine lines, brighten and prime for flawless skin, and use to prep before make-up application for lasting coverage and treatment.
A multifunctional product not only acts as a make-up primer, enhancing the appearance and duration of makeup, but conditions and treats signs of aging while protecting the skin against environmental influences that can contribute to premature aging. A potent peptide help improve skin firmness, as physical sunscreens shield against sun damage. For all skin conditions, especially aging & prematurely aging.
How to use: After applying prescribed
Dermalogica
moisturizer, smooth and blend over entire face and throat. Can be worn alone or applied underneath make-up to extend wear.
Photography: Courtesy of Dermalogica