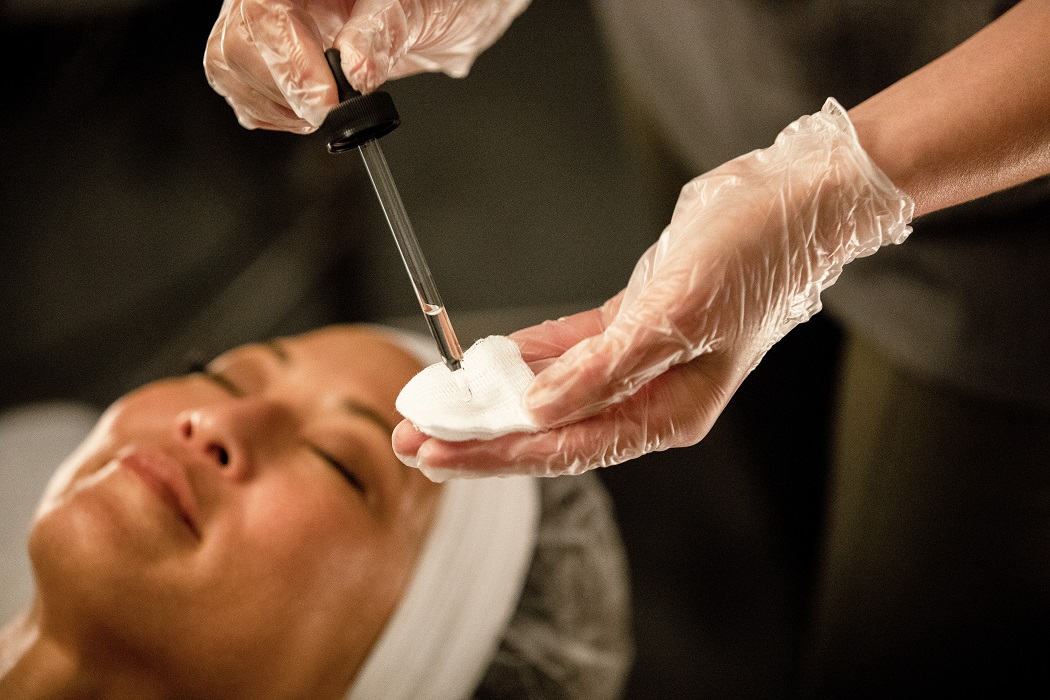 When it comes to chemical peels, we've always had a unique perspective. Promoting overall skin health is one of Dermalogica's core values. We also believe that regular resurfacing is crucial to accelerate cell turnover and renewal rates – so we opt for peels that are more frequent and less invasive rather than those that push the skin to the point of severe inflammation and possible scarring.

Additionally, we're constantly looking for ways to give you the flexibility to create completely customized treatments for a range of skin conditions. With this in mind, the skin health experts at The International Dermal Institute and Dermalogica are excited to introduce the all-new and fully customizable Pro Power Peel.

In addition to being our fastest and strongest peel yet, the Pro Power Peel provides you with a full suite of products and the flexibility to create bespoke peels that are perfectly suited to each client's needs. Pro Power Peel redefines the peel experience and allows you to give clients a different, custom peel with each treatment.

Pro Power Peel Collection:
Step 1 Prep - one-step prep
Leave-on prep solution with Witch Hazel and Alcohol degreases skin and prepares it for Pro Power Peel solutions; no removal required.

Step 2 Peel- select the appropriate peel
ultrabright peel: targets dull, dry & hyperpigmented skin
30% Lactic Acid complexed with Phytic Acid, Mucor Fungal Extract, Grape Juice Extract and Tangerine Peel brightens and hydrates, reducing the appearance of early signs of aging and helping to even skin tone.

powerclear peel: targets oily & breakout prone skin
2% Salicylic Acid with 10% Mandelic Acid and 15% Malic Acid and a patented Terpineol-Thymol Complex targets blemishes, post-inflammatory hyperpigmentation and redness.

advancedrenewal peel: targets prematurely aging skin
30% Glycolic Acid complexed with Opuntia Flower Extract and Phytic Acid reduces the appearance of hyperpigmentation while minimizing the appearance of fine lines and wrinkles.

Step 3 Neutralize- neutralizing solution
Ready-to-use neutralizer helps soothe the skin and helps restore its natural pH.
How To Use:
Pro Power Peel is simple to use, as each formula is efficacious enough to use alone, or can become customized by using the advanced application techniques mixing or layering. Each application is progressive and helps the clients achieve the healthiest skin ever.

Before beginning the Pro Power Peel, assess your client's skin health and complete a thorough consultation. All clients must complete and sign a Consultation Card. This treatment procedure cannot be safely performed until this has been completed. Never perform Pro Power Peel on a client who his contraindicated. If you suspect your client could be sensitive or sensitized and may respond adversely to Pro Power Peel, a patch test is recommended.

Single Peel Application:
One peel has been selected to treat skin. Recommended for first time Pro Power Peel Clients and clients with one skin concern.

1. Select skin appropriate peel
2. Apply 2 full droppers of peel to gauze. Apply peel to skin using the Dermalogica Application Method. Once application is complete allow 1-2 minutes to track client's sensations and skin. Follow with step a or b.
a. If client is experiencing extreme irritation, excessive redness, discomfort or frosting within the 1-2 minutes of peel application process immediately apply Neutralizing Solution.
b. If no extreme sensations, excessive redness, discomfort or frosting is present on the first application, you may apply an additional layer of peel. Apply another 1 full dropper of peel onto gauze. Apply peel to skin using the Dermalogica Application Method. Once application is complete allow 1-2 minutes to track client's sensations and skin. Repeat if necessary or apply Neutralizing Solution to end peel. Maximum peel application no more than 5 layers = 5-10 minutes TOTAL TIME on the skin. Use the treatment recommendations guide to apply appropriate layers to the skin.
3. Remove peel with Neutralizing Solution.

Advanced Application Technique Mixing Peels- select 2 to 3 peel formulas to treat multiple skin concerns. Recommended for a Returning and Advanced Client.

Advanced Application Technique Layering Peels- select 2 peel formulas and alternate application of each formula. One formula will address priority skin concern and the second formula will address secondary skin concern. Recommended for a Returning and Advanced Client

Treatment Recommendations: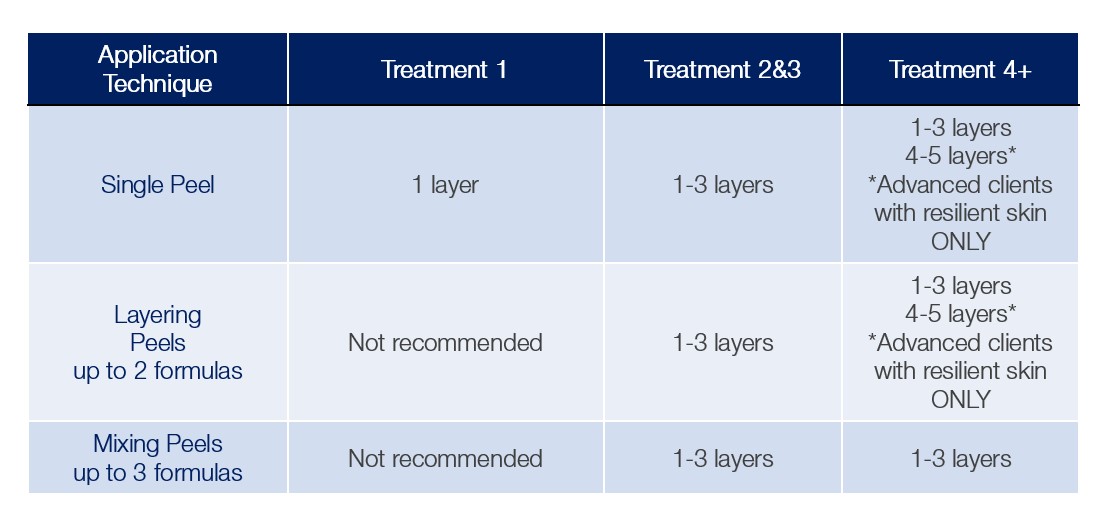 Post Care:
Post Care Instructions are available to inform clients on what to expect after a Pro Power Peel Treatment and how to protect the skin using key Dermalogica products.
Physical SPF MUST be applied onto skin post peel. Apply SkinPerfect Primer SPF30
Follow with prescribed post care products for 1 week: UltraCalmingTM Cleanser, Calm Water Gel and SkinPerfect Primer SPF30
Avoid direct sun exposure sun for 2-3 weeks
Do not wax, use any type of exfoliating products or Vitamin A/Retin A product for 72 hours or until your skin shows no signs of sensitivity on treatment area.
Do not pick or peel at the scabs, blisters, or loose skin as scarring may occur.
Avoid excessive heat sources such as sun exposure or dry saunas and steam rooms.
Avoid strenuous exercise or any activity that could lead to increase blood circulation to the face for 24 hours following treatment.

Photography: Courtesy of Dermalogica