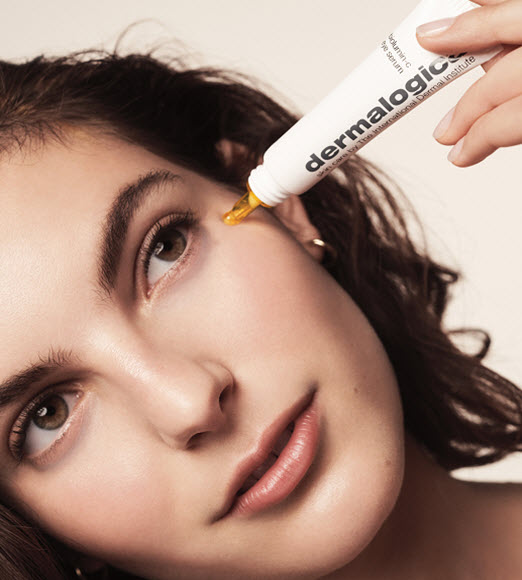 Photo Credit: provided by Dermalogica
The skin around our eyes comprises some of the most dynamic and delicate tissue on our bodies. On one hand, it holds up to constant assault from our environment and muscle strain; our eyes make over 100,000 movements per day! On the other hand, the tissue around our eyes is among the body's most delicate which is why it's usually the first place to show signs of stress and skin aging.
Over time, intrinsic (biological) and extrinsic (environmental) factors cause structural changes in skin, leading to uneven pigmentation, lines, and decreased luminosity. UV, pollution, free radicals, and everyday muscle movements all contribute to the breakdown we see around the eyes. Since eyes go through so much, it is vital we support this delicate area with ingredients that are gentle and effective enough to safeguard against daily damage without causing irritation.

Vitamin C provides the perfect defense against the daily strain our eyes endure because this ultra-potent antioxidant delivers intense results and is gentle enough to be used on the delicate eye area. Topical Vitamin C is one of the most powerful antioxidants available – and it lives up to the hype, effectively tackling the primary causes of skin aging to give you brighter, firmer skin. Because our bodies can't make their own Vitamin C, it is crucial we incorporate sources into our diet and also supply our skin with a topical Vitamin C shield to help mitigate environmental breakdown.

Let's take a look at what a daily dose of Vitamin C can do for your eyes and why the form of Vitamin C you're using directly translates to how effective it is on your skin!
Brighten
The area around our eyes and orbital bone often shows age-related pigmentation faster as it is up to 5x thinner than skin anywhere else on the body. UV-induced "age spots" are no match for Vitamin C which helps to defend against damaging free radicals while it brightens existing pigmentation.
Firm
Vitamin C renews structures that keep skin looking firm, helping to reduce the appearance of sun damage and collagen loss. Because the muscles around our eyes are circular, they are capable of making hundreds of subtle and sometimes dramatic expressions. Every time we blink, squint, and smile, these muscles pull our thin eye tissue causing wrinkling, which is why it is crucial to support this fragile tissue with extra hydration and protection to keep it strong and flexible!
Defend
This is where Vitamin C's powers really come into play. Vitamin C helps counteract the effects of oxidative stress and free radicals by neutralizing damaging molecules. But – here's the exciting part – the latest research also shows that Vitamin C actually enhances your skin's natural defense system, helping it to protect itself from oxidative stress!
For all these reasons, Vitamin C has become a multitasking skin must, but did you know not all Vitamin C is created equal? In order for topical Vitamin C to effectively brighten, firm, and defend skin, it has to remain stable and be in a form that is easily recognized by our bodies (bioavailable).
Traditional forms of Vitamin C are inherently unstable which causes them to lose antioxidant power before they even touch your skin, and many forms of Vitamin C are not easily recognized by our bodies once they are applied. To make sure you get the most out of your Vitamin C, choose forms that have been optimized to remain stable and deliver the ingredient where your skin needs it most.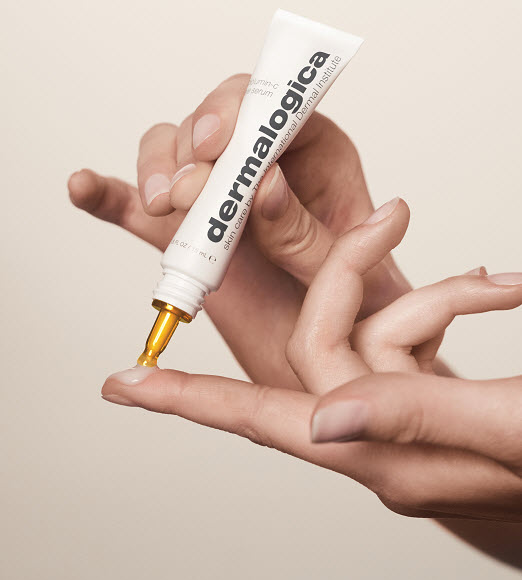 NEW! BioLumin-C Eye Serum is formulated with two forms of ultra-stable and highly bioavailable forms of Vitamin C that work synergistically for long term stability and 3x more brightening power than the leading competitor! Dermalogica's Vitamin C Complex is combined with Palmitoyl Tripeptide-5, a unique short-chain firming peptide, along with Poria Mushroom which helps to increase skin's own Hyaluronic Acid to outsmart visible skin aging caused by daily eye movements and environmental stress!

With these master multitaskers, it's easy to defend and brighten eyes or double down on Dermalogica's Vitamin C Complex's clinically proven brightening power featured in BioLumin-C Serum and BioLumin-C Eye Serum