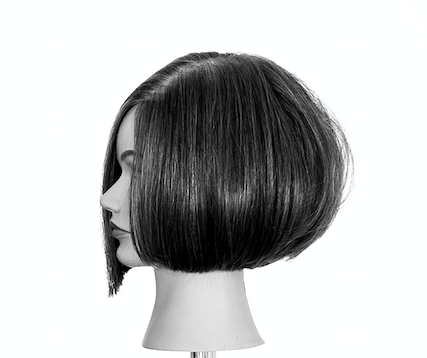 "Next time a guest wants a cool blunt bob that's a bit leaner through the perimeter with the illusion of more fullness, international graduation is the way to go," says Andrew Carruthers, Education Director for
Sam Villa
.
Internal graduation on a blunt bob can be used to reduce the weight and bulk towards the perimeter edge. It gives the effect of layering and graduation without actually seeing any short pieces on the top surface. By placing the graduation on the inside of the shape through texturizing, it keeps the appearance of a solid bob, but gives a leaner shape that brings out a sense of volume.
"When the bottom of a bob is square, it makes the shape look flat on the top and sides, but when you tuck the ends, it takes on more of a roundness which gives the illusion of fullness," says Carruthers. "Internal graduation is what helps build a leaner shape without a lot of surface texture or graduation."
Tips
• Work efficiently and organized.
• Start in center back.
• Work with vertical sections at about 45 degree elevation.
• Pin previous sections out of way before taking next section to prevent creating holes.
• Keep finger angle and length of cutting as consistent as possible.
• Use the
Sam Villa Streamline Series Shear 6.75",
the blade length allows for deep cutting and the ergonomical design with thumb cutouts allows for different cutting positions without the wrist bending in compromising positions.
Photography: Courtesy of Sam Villa
About Expert
Andrew Carruthers' career as a hairdresser has been extremely diverse. Fueled by over 17 years of full time work in a salon, his experience also includes salon ownership, photographic work, as well as personal and professional coaching. As an educator, Andrew has worked for many national cosmetology brands and is currently the Education Director for Sam Villa®, a brand that provides a wide variety of both online and live education. From small hands-on classes to large stages, his love for supporting others personal growth and sharing his discoveries has been a passion since the early days of his career. Primarily focusing on women's and men's haircutting and finishing, his approach to education is all about connecting with the everyday hairdresser and offering them the tools necessary to build a fulfilling and long-lasting career. "I'm not trying to impress the top 5% with what I do, I'm thinking about how I can serve the 95% of our industry that works at XYZ Beauty Salon to make every day stronger in their career."