Photo Credit: Courtesy of L'Oréal Professionnel
New York-based Arrojo Salon, with team members Madison Dittman, Hissa Igarashi and Tene Lee, were crowned as the second-ever Overall Winner of L'Oréal Professionnel U.S.Color & Style Trophy. As the Overall Winner, Arrojo Salon will be the designated U.S.representative to compete in the worldwide competition scheduled for March 31, 2020 in Milan. Color & Style Trophy is the longest running hair competition in the world, and now in its 65th year.

L'Oréal Professionnel US Color & Style Trophy was held on Sunday, February 2, 2020 at The Ritz Carlton, Marina Del Rey, CA with 200 guests in attendance. There were 126 entries across five categories. Additionally, there was a People's Choice Award that went to Denver's Matthew Morris Salon and Skincare with team members Shea Petersen and Summer Verrett. Their entry was voted on by the public through colorstyletrophy.com between October and December 2019.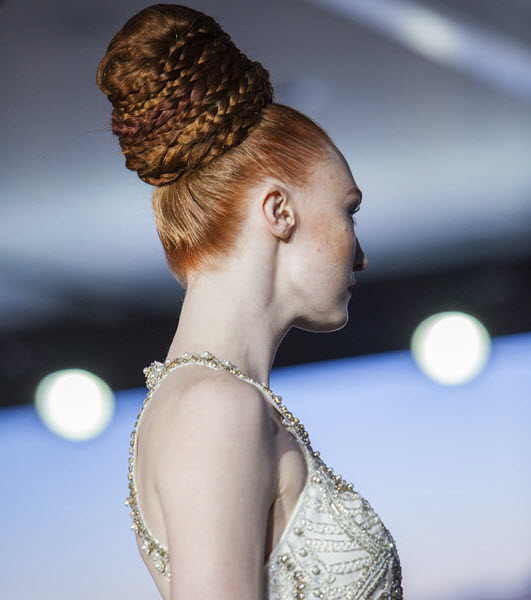 Photo Credit: Courtesy of L'Oréal Professionnel
The evening also featured a hair presentation by U.S.L'Oréal Professionnel Artistic team with stylists Matthew Collins, Jennifer MacDougall, Drew Schaefering, and colorists Nancy Braun, Jo Blackwell-Preston and Min Kim supported by Jessica Gonsalves, Sebasatian Langman-Kirtley and Jessica Todd. Their show Frenchness Interpreted, brought to life the French vision of beauty. A second performance entitled Emotive Feelings by guests Brooks and Brooks featured Sally Brooks, Jamie Brooks and Grace Dalgeish. These renowned hairdressers from the U.K.have been honored as British Hairdresser twice, as well as London Hairdresser of the Year, three times.

Here is the list of winners and runners-up:
EDITORIAL AWARD
Winner: EL SALON, Denver, CO. Team Members: Ron Lopez, Joel Pelanek and Katelyn Simkins
Runner-up: MATTHEW MORRIS SALON AND SKINCARE, Denver, CO. Team Members: Julia Taffet and Alexia Lienhard

TEXTURE AWARD
Winner: SLOANE STEVENS SALON, Homer Glen, IL. Team Members: Sara Beth Murphy and Lindsay Olson
Runner-up: MARZIA SALON San Francisco, CA. Team Members: Christina Choi, Mary Jane Smith, Scott Smith, and Kingmond Young

FUTURE TREND AWARD
Winner: STUDIO BRANCA SALON AND SPAS, St. Louis, MO, Team Members: Anna Andrews, Callie Andrews, Carrie Auchly, Maggie Haberberger, Alis Mergenthaler.
Runner-up: THE LEMON LAB COLOR STUDIO, Atlantic Beach, FL. Team Member: Sophia

CUTTING AWARD
Winner:LUXE LAB, Santa Monica, CA.Team Members: Luisana Luna, Melody Rochelle Russ and Lauren Sill
Runner-up:DOP DOP SALON, New York, NY. Team Member: Yuki Yasui

NEW TALENT AWARD
Winner: ARROJO, New York, NY Team Members: Madison Dittman, Hissa Igarashi, and Tene Lee
Runner-up: STUDIO BRANCA SALON AND SPAS, St. Louis, MO. Team Members: Callie Andrews, Sarah Blackburn, Madison Coffman, Desiree Drury, and Jessica Peanick