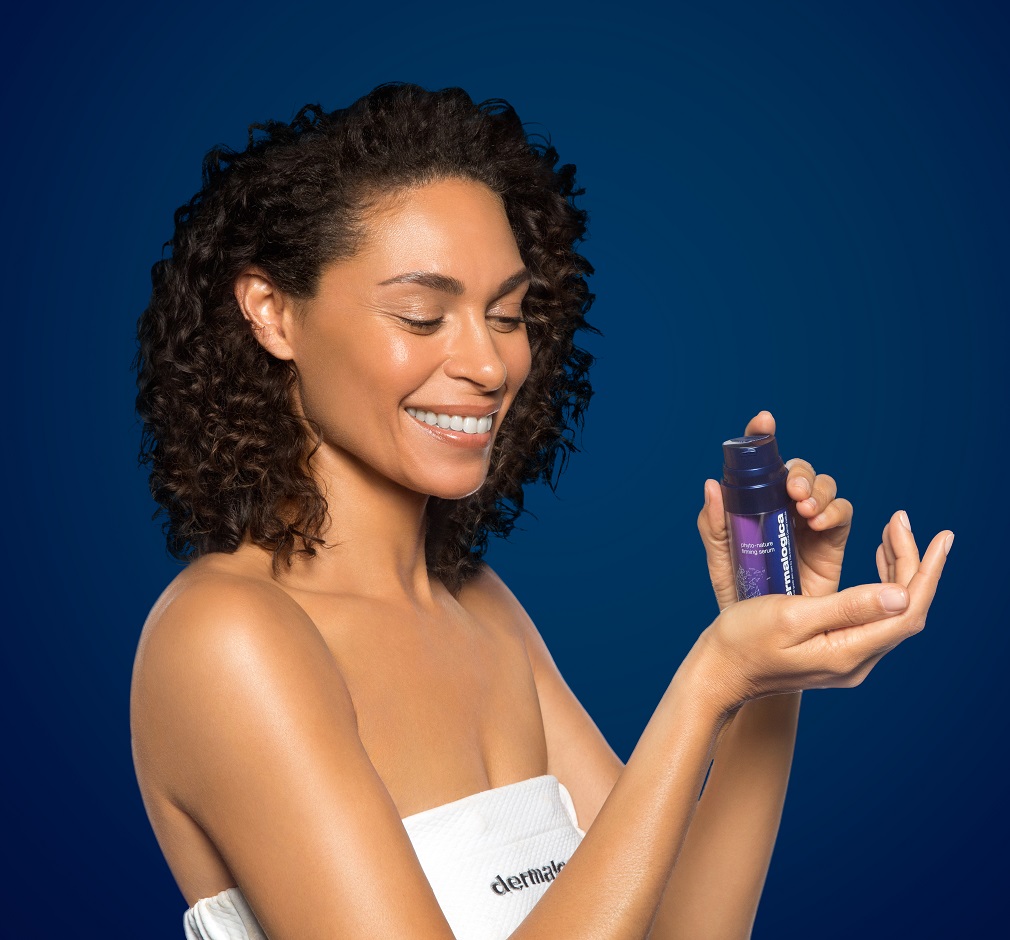 It happens to us all: we see our faces in the mirror and realize that we've aged. Our formerly fine lines have begun to etch deeper grooves, our skin tone has become uneven and our once-taut jaw lines have become slack. When did that happen? Apart from the genes we are born with, the answer may lie in our exposome.

What is an Exposome?
Your exposome is your environment and lifestyle, and it greatly influences how your skin looks over time. Up to 50% of visible signs of skin aging come from your exposome, not just your genes. Factors that make up your exposome include your behavior, climate, UV exposure, pollution, sleep quality, diet, stress, etc. These factors can be healthy or unhealthy.
For many people, a chronically unhealthy exposome leads to premature signs of skin aging such as wrinkles, loss of elasticity and uneven skin tone. On average, smoking can make skin look 2 years older while excess sun and poor sleep quality can make skin look 6.5 and 2.5 years older, respectively.
Good Genes Only Go So Far
If you were born with "good genes," congratulations! But remember, just because you inherited a predisposition toward fewer wrinkles doesn't mean you're safe from an unhealthy exposome. We know this in part from studying twins with different exposomes. Those who had more exposure to cigarette smoke, sun and/or chronic stress showed more wrinkles, deep creases, uneven skin tone and age spots than the twins who had less exposure. These premature signs of skin aging still added beyond 10 years to their perceived age (how old they looked).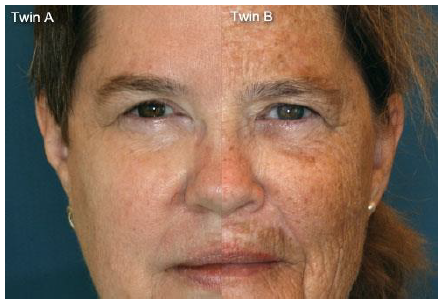 How to Look Younger at Any Age
While research on the underlying interactions between our genes and our exposome is still ongoing, there are steps you can take to reawaken and preserve the nature of younger-looking skin. Wear a Broad Spectrum SPF of 30 or higher can protect and prevent the skin from any further damage.
UV radiation from sun exposure is a top cause of premature skin aging. UVA rays penetrate skin more deeply and accelerate photoaging while UVB rays penetrate clouds and burn skin. Both play a role in cancer formation. Wearing Broad Spectrum (UVA/UVB) sunscreen of SPF30 or above daily – not just during the summer – can help prevent future skin damage.
Tanning beds reportedly emit 12 times more UVA light than sunlight. Cigarette smoke assaults skin with free radicals, leaving rough texture, fine lines and wrinkles behind. Removing these are two common behaviors can help restore skin's healthy glow. Reawaken the nature of younger-looking skin with NEW!
Phyto-Nature Firming Serum
Phyto-Nature Firming Serum
is a dual-phase serum that combines highly active botanicals with biomimetic technology to reduce visible signs of skin aging. Our most advanced serum works effectively to bridge the gap between extrinsic skin appearance and biological age.
It works by reawakening and safeguarding the nature of younger-looking skin. This groundbreaking dual-phase serum contains a firming phase powered by sapphire-bound biomimetic peptides to help firm skin and reinforce skin defenses against exposomes. Sapphire helps shield the peptides and increase their bioavailability as they work to mimic natural qualities of skin that decline with exposome-driven aging.
Phyto-Nature Firming Serum
contains a lifting phase powered by modern plant-based technology and ancient botanical wisdom.
• Amazonian Camu Camu, sourced sustainably from Peru, helps prolong radiance. Often called the "youth berry," this superfruit contains 60 times more Vitamin C than an orange and has been wild harvested by indigenous tribes for more than 700 years to maintain health and longevity.
• Moroccan Rockrose Extract, derived from the incredibly resilient plant that has the ability to germinate even after burning, helps neutralize skin-damaging free radicals.
• Caffeic Acid from Madagascar Green Coffee Bean, a phyto-active that works with skin's microbiome, helps revitalize skin and decrease the appearance of fine lines and wrinkles.
Instead of promising the impossible – eternal youth in a bottle – Phyto-Nature Firming Serum gives back what your exposome takes away. In clinical studies, this serum:
• Reduced skin's visible age by 5 years*
• Decreased the appearance fine lines after just 1 application
• Doubled skin's luminosity after just 1 application
• Reduced visible wrinkles after 4 weeks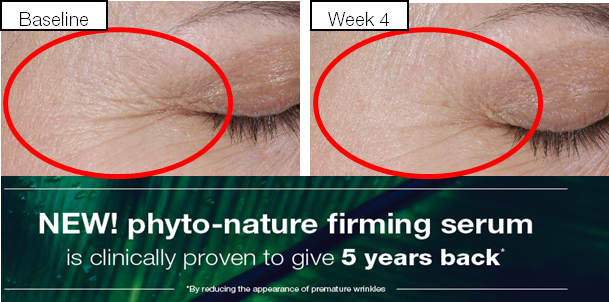 *By reducing the appearance of premature wrinkles. Based on a 32-subject, 8-week clinical study performed at a reputable Contract Research Organization. 50% of subjects achieved at least a 5-year improvement.

Key benefits (based off of clinical results):
• Flash-firms: Minimize the appearance of fine lines after just 1 application.
• Lifts: Reduces visible wrinkles in just 4 weeks
• Revitalizes: Double skin's luminosity after just 1 application
Application:
Dispense 1–2 pumps into the palm of your hand. Blend the two phases and smooth over cleansed face and neck. Can be used morning and/or evening. Follow with your moisturizer.
Made to promote a healthy exposome
The skin health experts at
Dermalogica
believe that a healthy lifestyle and environment are important for healthy skin, which is why this product has been certified cruelty-free, gluten-free and vegan, and formulated without artificial fragrances or colors.
Photography: Courtesy of Dermalogica