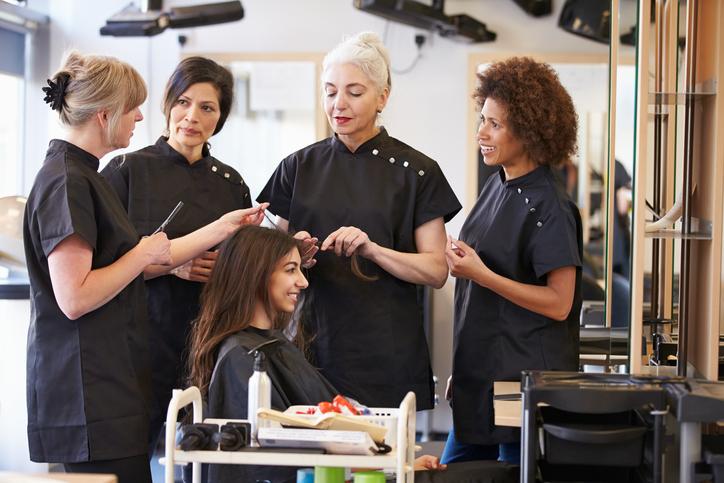 You snooze, you lose. It's especially relevant for hairstylists. If you don't keep
current on trends―and the skills you need to create them―you'll lose clients because they'll move on. Education is the answer, so embrace the importance of continued learning. Here are three smart ideas for your personal education plan.

Go Online
Many pros enjoy viewing online tutorials by their favorite educators and beauty influencers. But these sites offer comprehensive online education:
ProBeauty Central is SalonCentric's amazing new site for the beauty community featuring expert content from the hottest artists and educators out there, along with how-tos, formulas, career building tips, inspiration and more.
Sam Villa (www.samvilla.com/pro) Villa is a pioneer in online education, and you'll find hundreds of cutting, styling and professional development videos on his site.
Kenra Professional (www.kenraprofessional.com) If you have a little bit of free time between clients, hop on this site for quickie color and styling videos. You can find gems like celebrity stylist David Lopez demoing his go-to beach wave technique in under four minutes.
Pravana on SalonCentric (www.saloncentric.com/pravana) Among the educational videos here, you can watch Vivids contest winner Kristin Forbes re-create her Butterfly Ink hair color design.
Get Your Hands in Hair
Video training is great, but nothing surpasses the value of getting your hands in hair. Many brands offer a diverse selection of hands-on classes—here are just a few:
Sexy Hair Women's Long Haircut and Men's Medium Taper (https://community.sexyhair.com/event) Upgrade your approach to two of the most-requested haircuts in every salon!
Matrix Advise Me: #SocialMedia101 (www.matrixprofessional.com) The newest addition to Matrix's robust education lineup offers in-depth training on how to craft, develop and grow your social media profile.
Pulp Riot Indie Education. (https://edu.pulpriothair.com/#upcoming-classes) Pulp Riot's squad of social media-acclaimed educators will craft bespoke in-salon classes. Check out the roster to find an educator or existing event near you.
Check in with Your SalonCentric Partners
Many manufacturers offer rewards programs that allow you to earn points towards educational classes. They may be held at the company's educational studio, or the company might send an educator to your salon. If your manufacturer partner is part of the L'Oréal Professional group (Matrix, Redken, Pureology, L'Oréal Professionnel, Kerastase and Shu Uemura Art of Hair), the LEVEL Loyalty program lets you earn and redeem points across brands—just visit the pro site of your favorite brand for more information. Or check out the Saloncentric loyalty program https://www.saloncentric.com/myloyalty?showlandingpage=true to take advantage unique educational opportunities.
Photography: Getty Images