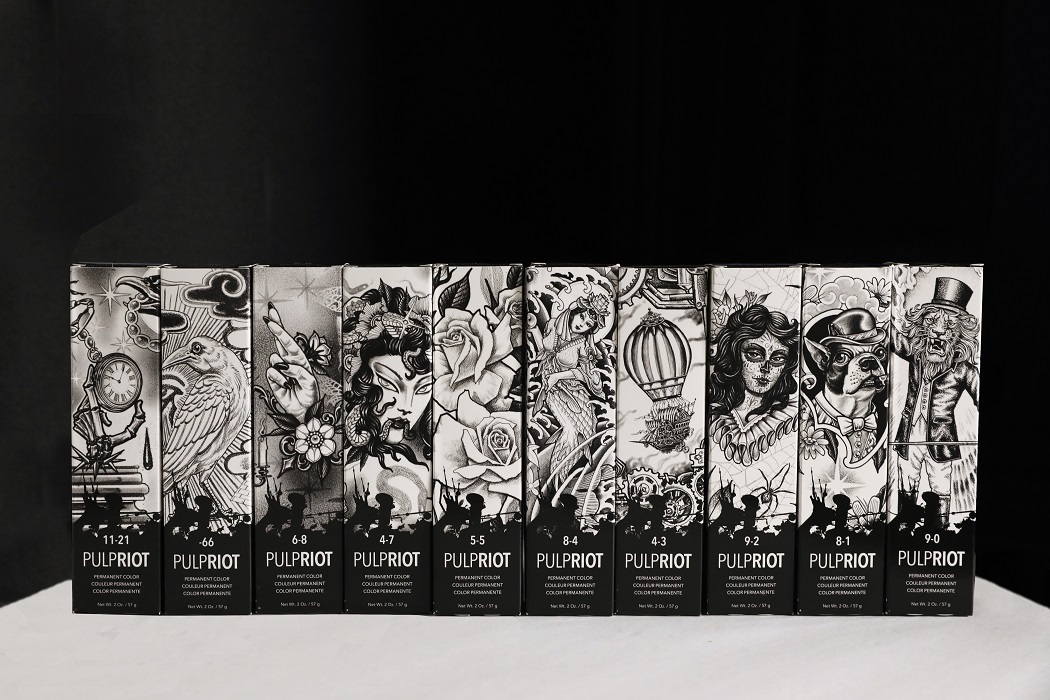 For Pulp Riot, disruption is at the core of their DNA. When the brand first burst onto the scene in 2016 with their innovative collection of 16 semi-permanents, not only did they change the color landscape, they also changed what it meant to empower an artist. Co-founded by David and Alexis Thurston, owners of Butterfly Loft and Butterfly Circus (along with their fellow stylists @jaywesleyolson, @xostylistxo, @doug_theo, @glamiris), Pulp Riot was created to connect stylists from all over, to provide and foster a community focused on helping one another create, inspire and grow. "Pulp Riot is not just a product company. Our company is linking the beauty industry. We're providing more opportunities to stylists and making them feel like they're part of something," says David Thurston. "There are so many stylists who've wanted to be part of this riot that just didn't have clients getting purple, blue, pink, green hair. But now that we've created products to hit a broader market, they can become part of this movement that we've started [and be empowered with the right tools to do so]." And they're ready to shake things up again with the launch of Faction8 by Pulp Riot, a full range 80-shade permanent color line set to launch on Sept. 1. We caught up with David and Alexis Thurston to get the scoop on all things Faction8. Check it out.

What is the idea behind Faction8? How is it unique from what's currently available on the market?
David Thurston: The top color companies were created two, three, four decades ago. When they were created, what colorists were doing then is completely different from what colorists are doing now. Back then, we weren't using the words blend, color melt or balayage, but these are the techniques that stylists today are doing right now. Pulp Riot is the first color line to come out in some time that is made for the stylist of today. It's got a different consistency to the product. It's creamier which makes it easier to apply and create modern looks like blending. Other color lines can be challenging to do that with.

Our product is created in hair salons. In fact, it's created in Alexis' and my salon, Butterfly Loft, by stylists that Alexis leads. That's where the magic happens. Faction8 by Pulp Riot is truly from the colorist for the colorist.

The other thing is that Faction8, like all pulp Riot products, contains quinoa. It's a gluten-free seed that delivers protein and moisture to the hair, and those are the things that hair is made up of that it loses during the bleaching process and/or through wear and tear of the day. Quinoa helps keep hair healthy, and full of protein and moisture.

What does Faction8 mean?
DT: A faction is a smaller group of people who are dissenting against the larger group of people, and that's kind of what we've been from the beginning within the beauty industry. We're a small section within this bigger group with different ideas and different ways of going about things. That's our faction. And if you turn the "8" on its side, it becomes an infinity sign. When we were thinking of permanent color and what's permanent, it was this idea of infinity. In addition, all of our packaging for Faction8 is done by a real tattoo artist and so again, it's this idea of tying things that are permanent together.

Why was it important to have an 80-shade range?
Alexis Thurston: It was really important to us to have a full range permanent color line when we launched. It sets everyone up for success because it makes it easier for them to transfer over formulations they like using in one product line over to Faction8. There's no missing shade for them to create what they want to create. The 80 colors are the perfecting starting point for a full range color line while still leaving room to expand upon as well. It was created by stylists working behind the chair who thought, "What do you really need in a color line? What is important and what is essential? What is valued as a colorist behind the chair every day and what are extra bonuses?"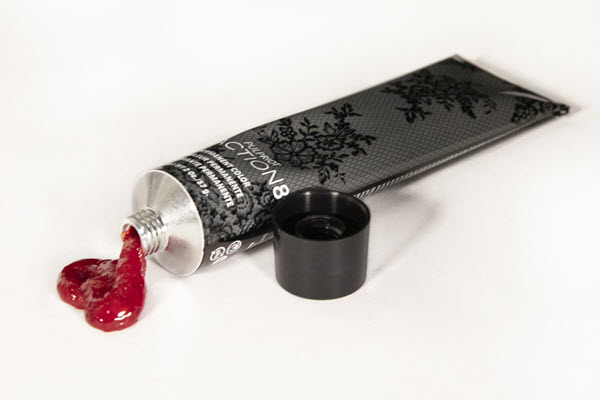 Photography: Courtesy of Pulp Riot

Faction8 is launching an Infinity Box with SalonCentric. Why do colorists need it?
DT: The Infinity box takes the essential 80 shades you need and pares them down to 48 uber-essential shades. It's the perfect entry point for a salon or for an individual stylist to become part of the Faction8 riot. It's got 48 essential colors, a color swatch book that looks unlike any other swatch book that's come before it, 20-volume developer, and a Faction8 window cling to show that you're now part of the Faction8 riot. In addition, it's got a QR code that takes you directly to all of our Faction8 education that we deliver to you online. When you think about it, it's the perfect starter kit to get you going with Pulp Riot. It's really Faction8 in a box. When you walk out of a SalonCentric store with an Infinity Box, you're ready to go and be part of the riot.

What are some of the color techniques that can be better achieved using Faction8?
AT: All of the color lines before weren't created with modern techniques or the modern artist in mind. With Faction8, it's so much easier to achieve shadow rooting, color melting, balayage, ombre and low lighting. It's also easier to do those micro root touch-ups on grays. There are some clients who come in every two weeks to get their grays touched up because they can't stand to see any little bit of gray. It's challenging with other color lines to not overlap, and on so fine of a root, it makes it harder for the color to stick. Faction8 solves those problems by making it that much easier to do micro-root touch-ups because it stays right in place. When you tap it into the hair, it won't overlap.

DT: Also, our reds are so vibrant, rich and bold. They're more vibrant than we've ever seen from a color line before. I think we really excel with the reds and the ashes in Faction8. There's never been anything with that kind of color depth so we're really proud with what we've achieved.
AT: Plus, Faction8 naturals are cool based. In a lot of color lines, naturals are very warm and our cool-based naturals makes it easier to get the kind of color results and depth without having to tweak the formula so much.

Any tips for working with Faction8 color?
AT: Permanent color is oxidative, and semi-permanent colors are not. If you try to use the two together at the same time, there will be some friction. They're two different types of colors. So, make sure to use the permanent color first, shampoo it out, and then apply the semi-permanent on top of it for the best color results when you want to use both products in the same service.

Is there something special about the packaging that you'd like to highlight?
DT: We always do fun things with packaging. On previous packaging, we brought in a different art form with street art or graffiti art. We like to think of doing hair color as just another form of art. The stylist is the artist, the hair is the canvas and Pulp Riot is the paint. For Faction8, we were kicking around ideas for what's permanent and it was tattoos. Alexis and I have a tattoo artist by the name of Chris Paez who owns a shop called De La Rosa Tattoo. We went to him and challenged him to create artwork exclusively for Pulp Riot. It was a fun process that Alexis and I were heavily involved in and collaborating to come up with 10 unique designs—each color grouping has its own art work for Faction8. The majority of color lines look exactly the same no matter what color you buy. Ours is truly created by artists, which is important because I feel that stylists need to feel inspired every day and a lot of that comes down to product packaging.
AT: And the carton and tube are both very edgy, sexy and different from any other color tube on the market. It's black lace, and definitely cultivates a feeling when you see it and when you touch it.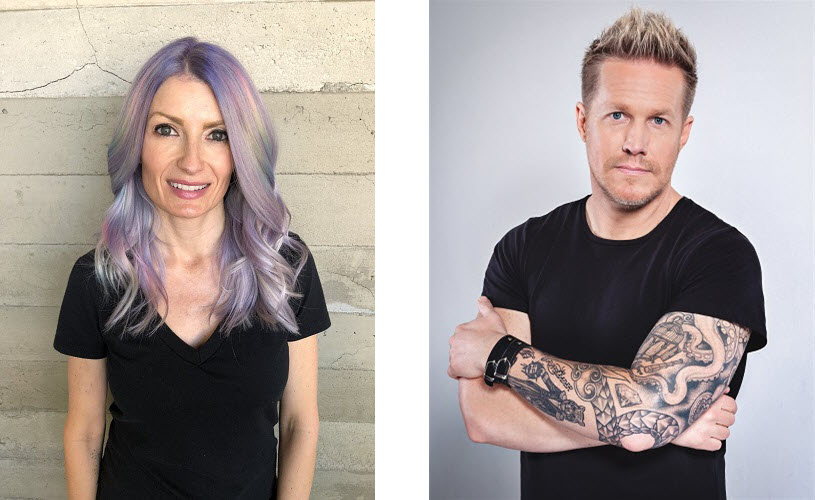 Photography: Courtesy of Pulp Riot

How will social media be part of getting out the Faction8 message?
Rather than go through traditional ways of educating, we're very focused on delivering education digitally. Other product lines try to deliver education in a different way and they use digital to catch anybody who falls through the cracks. We've reversed that and flipped it on its head. We try to hit everyone through digital and then grow with other plans for anyone who actually does fall through the cracks. We've trained some of the top stylists in the world, and with just their phones, they're able to transmit information to the beauty community very quickly. We expect that from September through December, every time you see someone go live on our Instagram or Facebook, you can pretty much assume that they will be teaching you about Faction8. What a better way to do it than go from salon to salon in a broken education system.

We also have a private Facebook group that people can sign up for. Through that, you can get a lot of education directly from us or from their peers. What makes it really cool and special is that when people are having a common challenge or similar question, we can quickly address it through video or target our marketing and education to make sure that we're delivering the message correctly. Since we do everything in-house, it means we can respond with a video within 30 minutes to an hour. If used correctly, digital can be a real game-changer for a brand.

What are next steps for Pulp Riot?
AT: In 2019, we have a full schedule of products launching. We're introducing styling products to allow stylists to be all-in with Pulp Riot. They can reach for Pulp Riot when they need shampoo, conditioner, hairspray, styling aids, etc.

DT: We also have plans for a Pulp Riot tour where we'll travel the world with our team of artist to put on shows at nightclubs and venues. These shows are part fun and part education. We'll be doing fun things with black lights and neon colors and video, and we'll also be able to deliver meaningful education. Our first show will be at the Avalon in Hollywood on Sept. 9. It will be a great opportunity for stylists to connect with our brand.
Photography: Courtesy of Pulp Riot