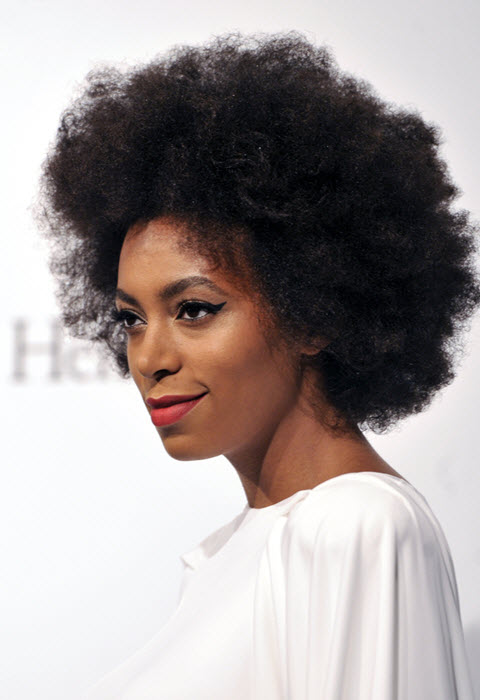 Solange Knowles, Issa Rae and Lupita Nyong'o are z-pattern curl goals. Z-pattern, or zig-zag curls, have their own special magic thanks to the uniqueness of their curl pattern. They're a flatter curl and can bend in sharp angles like the letter Z. And they can be soft and fine or coarse and wiry. "Because of this, hairdressers should be aware that clients with this particular curl pattern can experience major shrinkage―up to 75 percent," says Daryce "Reese" Brown-Willis, Mizani Artist and Educator. This curl shape can also easily tangle and look drier in appearance. Here, Brown-Willis explains how to best serve your z-pattern curl clients.

Q: What should hairdressers keep in mind when handling z-pattern curls at the shampoo bowl?
A: Hairdressers should be careful to note that this pattern of curl will shed. Hairs should be released gently before the first rinse. While shampooing, keep in mind to scrub the scalp, but smooth the hairs with raking/pulling motions. Elongation is key. You want to keep the hair stretched from the scalp area. And when applying conditioners, scrunch it into the ends of the hair to work the product upwards as opposed to applying from root to tip. This helps with saturation and uses less product.

Q: Any tips for cutting z-pattern curls?
A: Z-pattern curls should always be cut on dry, stretched hair to ensure you are getting rid of all split ends and single strand knots.

Q: How should hairdressers style z-pattern curls?
A: The goal should be to enhance what clients naturally have. In the salon, methods to keep the hair elongated work well. A two- or three-strand twist is always a great option while using MIZANI True Textures Curl Define Pudding or MIZANI Twist and Coil Jelly for added hold. One tip in avoiding frizz would be to set it and forget it. Meaning once the hair is set, do not touch, fluff or pull apart hair until it is 100 percent dry. Messing with damp hair almost always results in a frizzy situation. And explaining at-home care to your clients is also key. Because this curl pattern is prone to shrinkage, instruct clients to restyle their hair at night to keep it at bay.
Featured Artist:
As a budding stylist and Mizani artist/educator, Daryce "Reece" Brown-Willis brings a fresh face and energy to the beauty business. For years, Reece had no idea her calling in the field of beauty was right under her nose. She was always experimenting on herself and friends and they were delighted to be her muses. Reece has taken her natural talent and tweaked it to almost perfection (almost only because she is always hungry to learn and to stay on top of the latest beauty trends). She is considered a perfectionist because she pays close attention to detail but has such passion that it looks effortless.
Photography: Courtesy of MIZANI
About Expert
Maureen is a veteran beauty and style editor having worked at AmericanSalon, Woman's Day, People StyleWatch and Teen Vogue, and a contributor for CR Fashion Book, Well + Good, Elite Daily and Glam. You can find her reporting on the latest trends from backstage at New York Fashion Week, interviewing celebrities and beauty industry heavyweights, and fashion styling for editorial photo shoots. The self-professed product junkie, super foodie and wannabe hand model is obsessed with rose gold jewelry, the NYC Flower Market and planning her next big getaway.