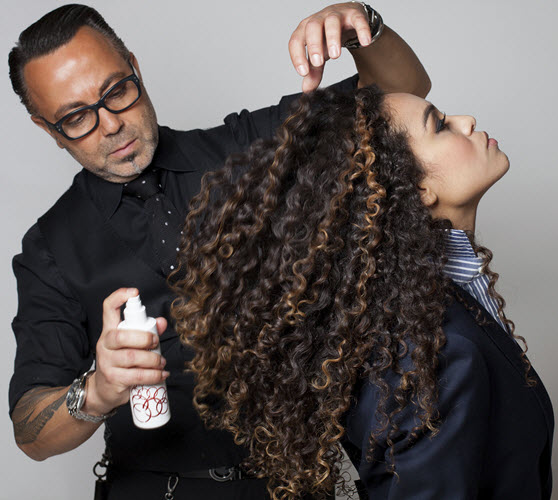 When it comes to hair goals, chances are it involves some type of wave. Beachy waves, lived-in waves, flat waves―am I right? But not all waves are created equal, even on the same head of hair. Naturally wavy hair is characterized by an S-shaped curl, and runs the gamut from slight bends to having loose curl definition to being super defined. They're bendable, can be fine to coarse and have a definitive S-pattern that lays closer to the head. According to Christo, also known as the King of Curls, "The big challenge for wavy curl types is controlling frizz. Shrinkage is not usually an issue, but getting a handle on frizz and humidity will result in soft, shiny, defined curls." Here, he gives his best advice for managing S-pattern curls.

Q: What should hairdressers keep in mind when handling s-pattern curls at the shampoo bowl?
A: Prior to wetting the hair, always use a tail comb or wide tooth comb to lightly detangle curls for easier comb through. A mild lather cleanser or non-sulfate shampoo should be used to clean the scalp, followed by conditioner on the mid-shaft to ends. The key to cleansing this type of curl is conditioning. Try to keep conditioner on the hair for at least three minutes. And leave approximately 10 percent of the conditioner on the ends of hair when you rinse to give curls an extra boost of hydration.

Q: Any tips for cutting s-pattern curls?
A: When cutting s-pattern curls, there's a risk of cutting out too much of the curl pattern resulting in curls that lose their full potential. I've developed a cutting method called the Curlisto Diametrix Cutting Technique which features an innovative inner layer sliding texturizing cut. This technique reduces bulkiness and avoids the pyramid-like shape curly girls are prone to, and helps curls interlock to frame the face in a flattering and natural manner.

Q: How should hairdressers style s-pattern curls?
A: It's vital to prep curls with a leave-in treatment while hair is wet to help smooth out the cuticle before applying any styling product. It's also essential to style curls section by section regardless of the curl pattern. You will also want to use a water based styling lotion and alcohol-free gel that will define curls, and control the frizz and humidity. When applying styling products to S-pattern curls, comb through with your fingers. And I always remind my clients to masque on a weekly basis to hydrate curls, which makes it easier to style.

About the Expert: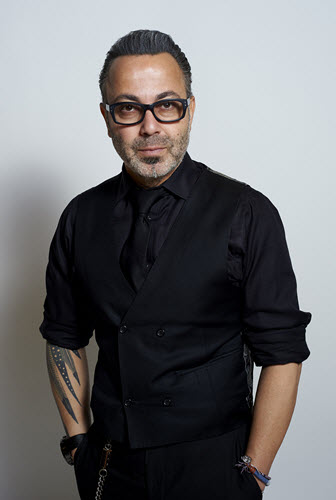 Dubbed "The King of Curls" by The Wall Street Journal and Women's Wear Daily, Global Artistic Director of Curlisto products and Christo Fifth Avenue Salon, Christo approaches curly hair with his revolutionary Diametrix cutting and styling technique.

The celebrity stylist and curl master began his career at the tender age of twelve, with an apprenticeship at his family's salon in the Greek island of Cyprus. During his teenage years, he ventured to Paris, where he advanced as a young talent for his Parisian clientele. By his early twenties, Christo led a team of artists around the world to educate salon professionals. He later ventured stateside, opening his flagship salon in the heart of New York City on Fifth Avenue in 2002, opening his door to A-list celebrities and loyal clientele.

Christo has built a reputation for being a great educator and teaching classes at the International Beauty Show, New York, Las Vegas, and Orlando Premiere Show.

His styling has been featured in numerous publications including The New York Times, Wall Street Journal, Chicago Tribune, The Boston Globe, The Associated Press, American Salon, Modern Salon, Glamour Magazine, Teen Vogue, Vanity Fair, Marie Claire, Family Circle and countless more. He works closely with top designers for major fashion events, including New York and San Francisco Fashion Week, the Latin Grammy and Billboard Awards, Tribeca Film Festival, and the Sundance Film Festival.

Photography: Courtesy of Christo

About Expert
Maureen is a veteran beauty and style editor having worked at AmericanSalon, Woman's Day, People StyleWatch and Teen Vogue, and a contributor for CR Fashion Book, Well + Good, Elite Daily and Glam. You can find her reporting on the latest trends from backstage at New York Fashion Week, interviewing celebrities and beauty industry heavyweights, and fashion styling for editorial photo shoots. The self-professed product junkie, super foodie and wannabe hand model is obsessed with rose gold jewelry, the NYC Flower Market and planning her next big getaway.