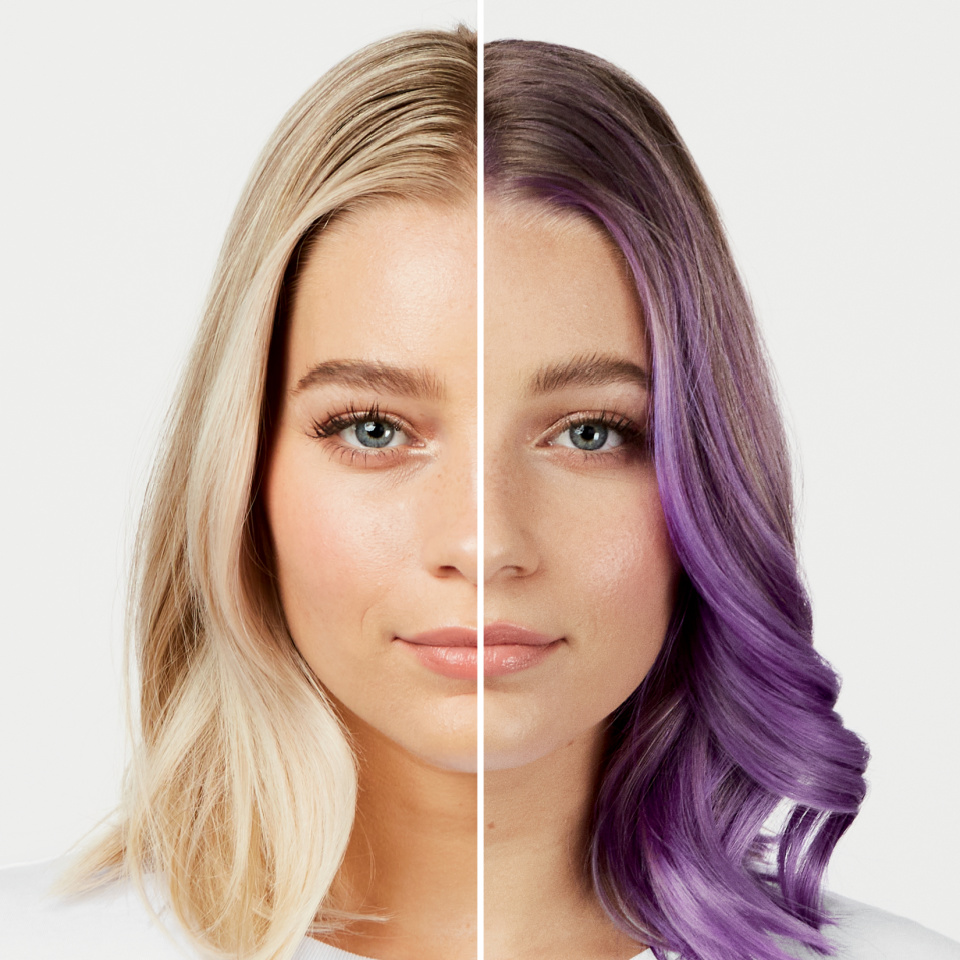 Source: Courtesy of Biolage
Now you and your clients can tackle color and conditioning with one quick and easy step thanks to the new Biolage ColorBalm Color Depositing Conditioners. In just five minutes, you can color hair and condition it at the same time with these vegan formulas that are free of mineral oils and parabens. Choose from seven natural-to-bold shades—all intermixable—for new color options or to refresh color while conditioning. Play. Enhance. Revive. It's simple, fun and healthy to explore the world of color with Biolage ColorBalm Color Depositing Conditioners.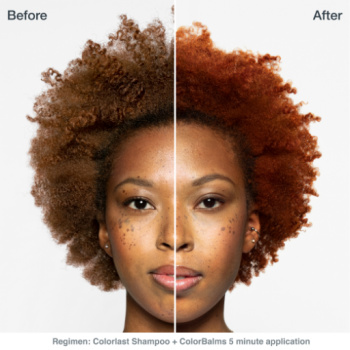 Source: Courtesy of Biolage
"ColorBalm can be used on all hair types and on all levels," notes Rachel Flowers, Biolage Director of Education. "One really nice feature is that shades like Cinnamon and Red Poppy really show up on darker levels. Cinnamon adds nice warmth and Red Poppy adds a pop of red. Also, stylists are finding it's a healthy color option for highly textured hair." If you're looking for intensity, turn it up with ColorBalm in Saffron Red or Red Poppy. For more natural options, go for Cinnamon or Chai Tea. And for a trendy grey or lilac tone on lighter levels, reach for Earl Grey or Lavender. Chai Tea and Earl Grey are also ideal for maintaining cool tones in blonde and highlighted hair. And the Clear formula is great for adding shine or for combining with the pigmented shades to mute and dilute the end result.
And because ColorBalms are mixable, the color options are endless. "I love our natural ginger formula which is two parts Saffron Red, one part Cinnamon and two parts Clear," says Flowers. "Another popular formula is one part Saffron Red, one part Red Poppy and five parts Clear for a warm, gorgeous rose gold."
Application is a breeze. Here's how:
1. Shampoo with Biolage ColorLast Shampoo and towel dry hair.
2. Spread ColorBalm evenly through the hair using fingers and a comb.
3. Process five to 10 minutes depending on desired level of intensity.
4. Rinse and style.
5. Direct clients to reapply once or twice a week, depending on hair porosity and desired results.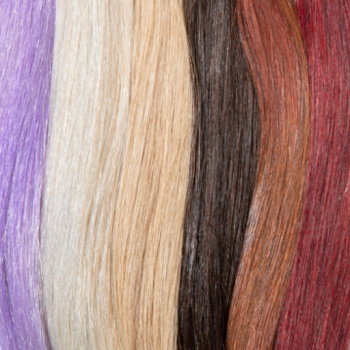 Source: Courtesy of Biolage
According to Flowers, ColorBalm will fade gradually over time, depending on the condition of the hair and the shade used. Vibrant shades like Red Poppy and Saffron Red, for example, will last longer than subtle hues like Chai Tea and Earl Grey. From a fun color change to a subtle tonal shift to a refresh for an existing color shade, Biolage ColorBalm boosts color and care as simply as applying conditioner.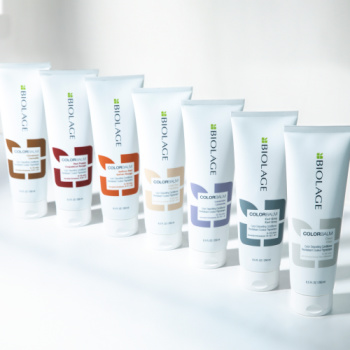 Source: Courtesy of Biolage
Danielle Keasling's Fave Custom Shade Mixes:
Equal parts Clear, Lavender and Earl Grey make the perfect iridescent opal.
¾ parts Lavender and ¼ part Clear creates a beautiful purple toner.
¾ parts Clear to ¼ part Red Poppy and a drop of Saffron Red makes for a sophisticated sparkling rose.
Tarra Dean's Fave Custom Shade Mixes for Blondes Level 7-10:
3 parts Clear to 1 part Lavender produces a lovey lilac.
3 parts Clear to 1/2 part Cinnamon and 1/2 part Saffron Red creates the perfect shade of peach.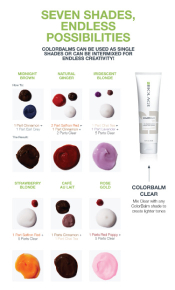 Source: Courtesy of Biolage
About Expert

Discover expert advice from Biolage and the industry's most trusted artists and educators. Whether it's the latest, on-trend techniques or tips that will boost your business, they're here to make sure you reach your full potential!