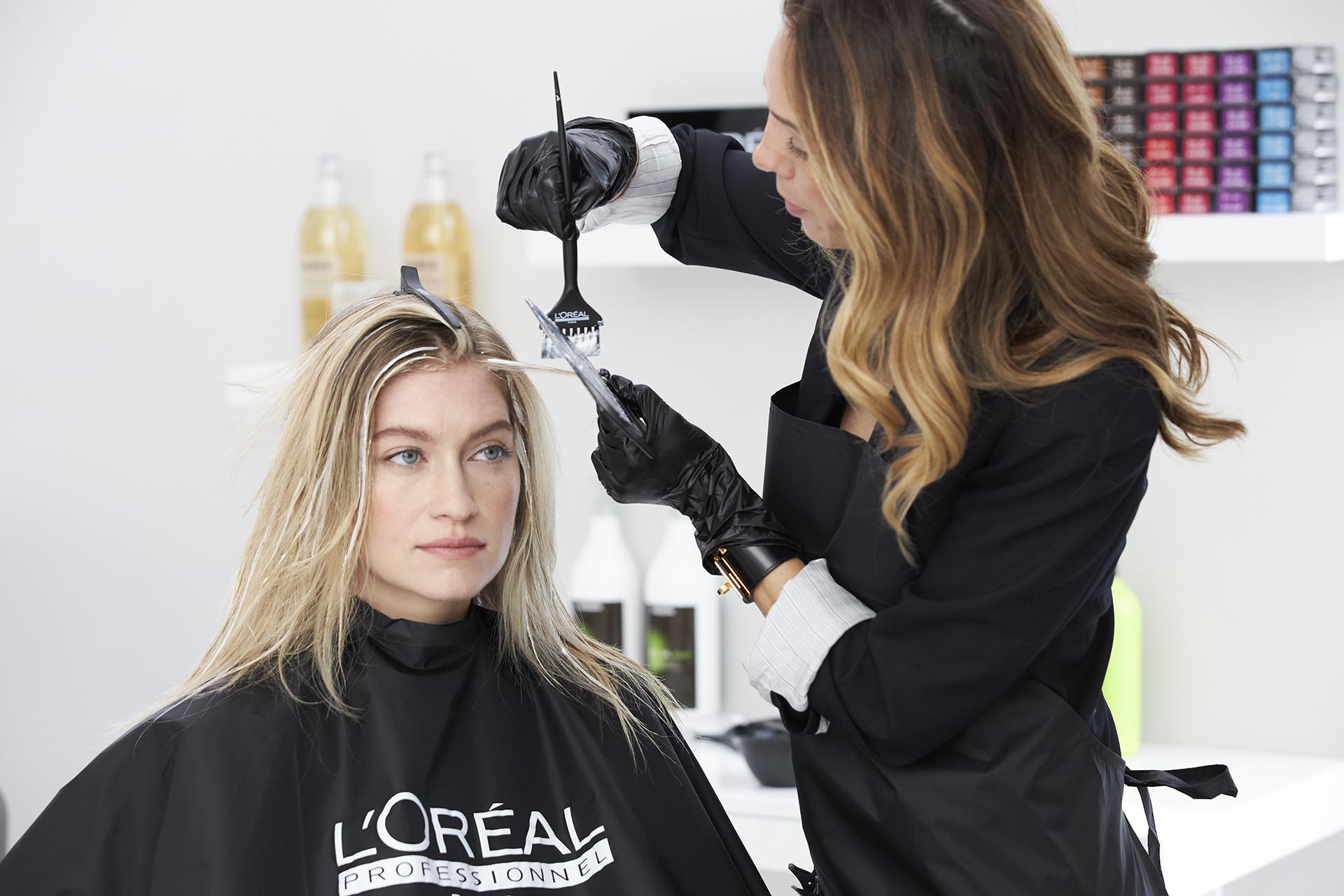 The client sitting in your chair is savvier than ever when it comes to the ingredients in her beauty products. And now you may be experiencing she is looking to you for cleaner and more sustainable products to use during and after her service.
To not only answer her ingredient concerns, but also elevate her salon experience, recommend the perfect salon duo: L'Oreal Professionnel's INOA and Source Essentielle—two in-salon only brands that together create a premium service with gentler, cleaner ingredients.
WHY INOA?
INOA
is the original ammonia-free permanent hair color that provides rich color results using breakthrough ODS² (Oil Delivery System) technology. Instead of ammonia, INOA uses the power of oil to maximize the effectiveness of the haircoloring process with a minimal concentration of alkaline agent, giving your client up to 100% grey coverage. The color results is beautiful multi-dimensional hair color that is hydrated, nourished and shiny.
WHY SOURCE ESSENTIELLE?
Source Essentielle is a new haircare line with naturally-derived ingredients that still provides that professional performance that clients are looking for: a gentle lather, gorgeous shine and a smooth, soft finish.
What makes Source Essentielle unique is the opportunity to offer retail to a client who most likely hasn't purchased retail at the salon before. Now there is a retail offering for that client previously shopping at Whole Foods or Sephora for their natural haircare needs. When recommending Source Essentielle during the consultation, it's important to speak to the differences between natural and traditional haircare lines, making sure to speak to the benefits of both.
And to offer sustainability benefits to both the client and salon, all of the Source Essentielle shampoos can be refilled in the salon. While the client saves money on their refill, the salon actually increases their profit! A win, win.
WHY INOA + SOURCE ESSENTIELLE TOGETHER?
It's all about servicing that client who values sustainability and wellness in all things. And when it comes to her salon service, she is looking for gentler products that still provide that premium performance and luxury experience. And INOA and
Source Essentielle
do just that. With INOA's zero odor and zero fragrance, it really brings
Source Essentielle's
naturally-derived fragrances to life—creating a calming experience at the shampoo bowl.
"INOA and Source go perfectly together for the guest that understands that regular maintenance of everyday hair can come with some compromises in the comfort and care of color-treated hair," says Daniel Mason Jones, the owner of Muse Salon in Atlanta and a #ItTakesAProTeam artist. "But with this amazing combination, you can have beautiful, rich hair color and take home products that make you not only feel confident and look beautiful, but feel at ease that you are making a difference for Mother Earth and still getting high performing beauty products."
For the client looking for gentler products because of a sensitive or easily irritated scalp, INOA and Source offer the perfect solution. "There is a growing need for a product that delivers the results a guest expects but also is less harsh and irritating to a client's scalp and hair condition that can be found in some traditional ammonia based permanent hair color," says Mason Jones. And when it comes to care at home, Source Essentielle offers the Delicate Shampoo, which has been tested under a dermatological control to prevent any irritation while shampooing.

Interested in trying the two lines? Find your clients' perfect shades and products in the INOA and Source Shop now!