Source: Courtesy of L'Oréal Professionnel
Whether you're already an iNOA loyalist, or you've never heard of iNOA before, brace yourself for some revolutionary changes in permanent haircolor. L'Oréal Professionnel's signature, patented, ammonia-free permanent color has a fresh look and stronger performance—plus a 100 percent vegan formulation.*
What if you knew that a staggering 90 percent of salon clients today seek out long-lasting, healthy results when they visit the salon for a color service? On top of that, 75 percent expect the pro to deliver these results through a gentle, caring color experience.** It's a tall bill for the pro to deliver, but not when their choice of color caters to these needs.
L'Oréal Professionnel iNOA's landmark technology delivers on all of these pro and client needs, in one single step. With its base of 60 percent oil and low concentration of alkaline agents, iNOA deposits color to the hair optimally across all hair formations, without ammonia.
iNOA delivers up to 100 percent gray coverage with long-lasting results, while promising visibly healthier hair with up to 48 percent added shine†. What's more, the iNOA service offers the client uncompromised comfort with its completely odorless application. For the pro, the no-drip formula affords easy and fast application.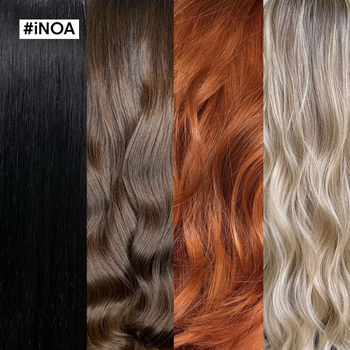 Scroll below to see how L'Oréal Professionnel pros use iNOA behind the chair.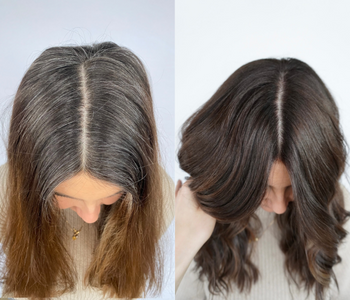 Slay every gray. L'Oréal Professionnel Ambassador Adina Pignatare (@adina_pignatare) achieved the perfect coverage service using a blend of four iNOA shades—3/3N, 5.1/5B, 5.32/5GV, 6.8/6M—in equal parts. The result? No gray left uncovered, with radiant shine and balanced results.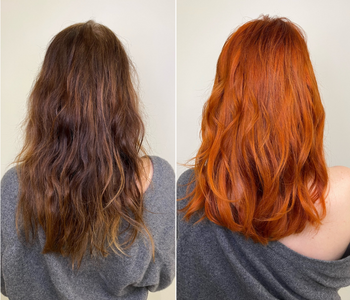 Copper calling? L'Oréal Professionnel Artist Nina Rubel (@ninarubel) completed a vibrant all-over application using iNOA 7.43/7CG, paired with a touch of light from Blond Studio Multi Techniques 8 Bonder Inside and refreshed lengths with Dia Richesse 7.43/7CG.
Nina's favorite attribute of the new iNOA formulation? "The effortless application and saturation with iNOA's new, creamy, non-drip consistency. The coverage is hard to beat," she adds.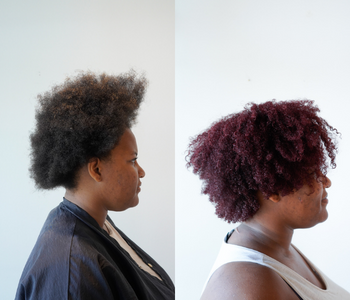 "I have never done a pull-through so quick in my life!" says Geoffrey Britt, L'Oréal Professionnel Artist (@geoffreyhairr), having used the new iNOA across clients of all hair formations. Here, iNOA 5.62/5RV and 5.5/5Rv were mixed three parts to one resulting in a gorgeous red-violet look.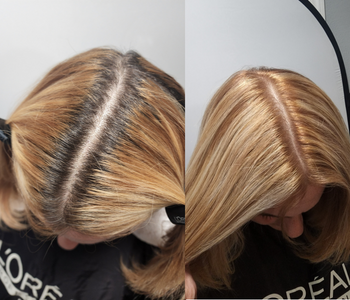 Don't discount the ability to lift. iNOA lifts up to three levels on its own as seen in this gorgeous root lift service by L'Oréal Professionnel Regional Educator, Stephanie Cashmere (@stephanie_cashmere_pro). Formulation: iNOA 8/8N (3/4) + iNOA 6.34/6GC (1/4).
No matter the inspiration, service, or client, iNOA is the color that delivers on every need. With 82 intermixable shades, you can let your color creativity fly.
*contains no animal-derived ingredients or byproducts.
*Haircolor market study tracker, USA, November 2021.
*vs. unwashed hair.