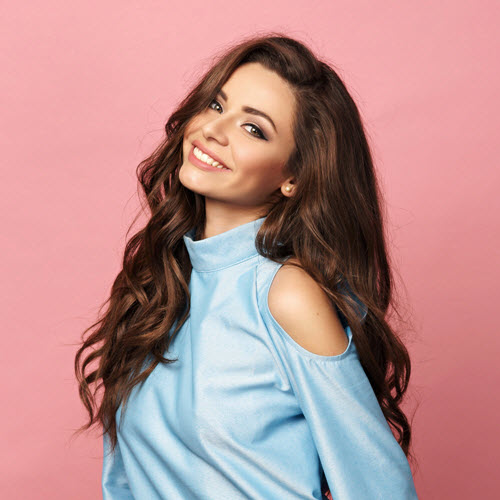 Redken Global Artistic Ambassador Sam Villa is back with more amazing tips to help you dazzle your clients behind the chair! From product tips to new and interesting styling techniques, check back to discover Sam's favorite hacks for creating easy, beautiful hair!
Do you have a client that loves to rock curls, but wants to scale back on heat styling during the spring and summer months?
Click to watch Sam demonstrate an easy technique for creating chic, no heat curls!
Take a random section and spray through with Redken's fashion work 12 hairspray. Be sure to spray the product from a distance to ensure that the section of hair doesn't get overly saturated
Take a straw and wrap the section spirally around the straw, pushing the twisted section towards the bottom of the straw
Take the two lose ends of the straw and tie them together tightly
Continue this technique throughout, taking more random sections
Once you have completed your straw set, untie your straws and remove them. Remember the smaller the section, the tighter your curls will be!
Once the sections are released, work through each section with your hands, separating the curls for a full, beautiful no-heat style!
About Expert
Sam Villa is changing the industry one hairdresser at a time! Whether he's teaching in a hands-on class, on the main stage, or reaching his millions of social media followers, Sam changes people. As the 2017 NAHA Lifetime Achievement Award Winner, he is known for doing things differently to challenge, inspire and motivate. His encouragement to stylists is unrivaled, as he genuinely wants each one of them to reach deep to identify how they can make a change to promote their own growth. His talents stretch far beyond his brilliant cutting and finishing skills; his business tips help stylists think about how they speak to their guests to add value behind the chair. "Sharing is the greatest gift we can give one another…to help each other grow and prosper, we all need to pay it forward," says Sam. With consistent research and a respect for essential techniques, Sam is always on the move for new and unconventional ways of cutting and finishing hair. He shares his knowledge with stylists with the hope that they too will share with others to enrich the industry. Sam is co-founder of the Sam Villa® brand (Allvus, LLC), serving both stylists and consumers with tools including brushes, combs, thermal tools and shears/razors.