When it comes to coloring, caring for and styling textured hair, it's essential to use the right hair color and haircare products that will both preserve the curl pattern and keep the hair's health intact. This October, Redken, the leader in professional hair color and Mizani, the leader in Texture, have come together to provide you with the best in tips, techniques and education.
Read on to discover the perfect formula for coloring textured hair and ensuring beautiful results, with tips from Redken x Mizani ambassadors and texture experts Rachel Redd and Leysa Carrillo!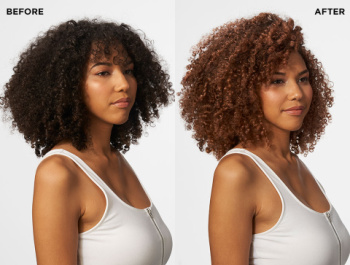 Courtesy of Redken
MOISTURE:
When working with textured hair, one of the most important factors to consider is moisture. Because of the unique twists and bends in the fabric of textured hair, it is difficult for the hair's natural oils to travel from scalp to tip, making textured hair naturally more dry than straight hair. Moisture is crucial for maintaining strong, defined curls, and using products that provide moisturizing benefits to the hair also help prevent breakage and preserve the hair's health.

"Moisture retention is key when working with textured hair," exclaims Redken x Mizani Brand Ambassador Rachel Redd. "Different hair textures produce different levels of moisture – for example, finer hair textures produce more natural oils, while thicker textures produce less natural oils. This is why it's so important to use hair color products that give moisture back to the hair during a hair color service. Of course, it's also important to add moisture to the hair after a hair color service with the right haircare and styling products."

Using a conditioning hair color line, such as Redken's Shades EQ gloss, helps to moisturize the hair and preserve the curl pattern while ensuring high-shine, beautiful results.
"Redken Shades EQ is ideal for textured hair because it doesn't 'lift the hair' meaning it won't break or weaken disulfide bonds, ensuring that the integrity of the hair and curl pattern is maintained."

TIP: Want to take your hair color results to the next level and create illuminating shine and reflect? Try Shades EQ.
"I love the Shades EQ GI shade family because it keeps the hair looking perfectly golden," says Redken x Mizani Brand Ambassador Leysa Carrillo. "This is important when working with textured hair because it doesn't reflect light in the same way straight hair does. When working with higher textures, the right amount of gold will give you beautiful dimension and reflect."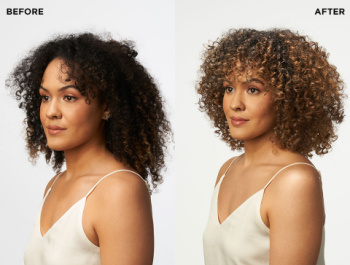 Courtesy of Redken
STRENGTH:
When lightening textured hair, preserving the strength and integrity of the hair helps to ensure the best possible results. This is because strong hair is less porous, which helps the hair to retain moisture and also lock in hair color. Products such as Redken's Flash Lift Bonder Inside lightener help to maintain the strength of hair during hair color and lightening services. This lightener contains a built-in bonder which protects the hair's bonds during lightening services, ensuring that curl patterns are protected as well.
"In terms of lightening the hair, it is so important to use a lightener with a bonder additive, like Redken Flash Lift Bonder Inside, to keep the curl pattern intact and get even results.", says Carrillo. "Having bonder in your lightener means extra protection for the hair."

PH BALANCE:
Balanced ph keeps the hair cuticle intact and the hair shiny, and one of the best ways to ensure balanced ph in the hair is by using an acidic hair color line. Redken Shades EQ Gloss demi permanent hair color features and acidic ph formula which helps to condition the hair, while guaranteeing vibrant, high-shine results. Redd explains, "Shades EQ is super conditioning due to its acidic pH, which infuses hair with moisture, and its' liquid formula provides easy application and saturation on all hair textures."
"I use Shades EQ Gloss for everything – toning, glossing, and refreshing, correcting and adding dimension," adds Carrillo. "Anything you want to do, there is a Shades EQ color you can use!"

TIP: For post-color care that integrates the perfect balance of strength and moisture for textured hair types, try Mizani care and styling products!
About Expert
Discover expert advice from Redken and the industry's most trusted artists and educators. Whether it's the latest, on-trend techniques or tips that will boost your business, they're here to make sure you reach your full potential!