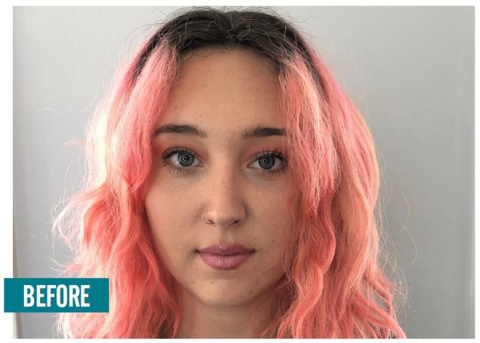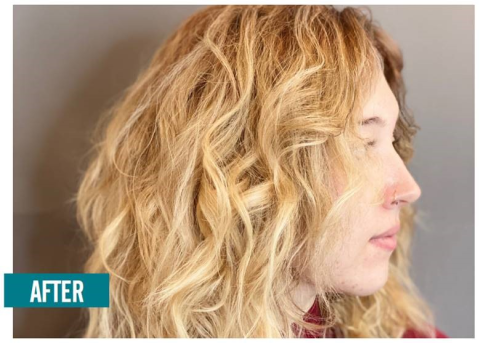 Courtesy of L'Oréal Professionnel

With color correction, it's important to create an even canvas before you start working," says L'Oréal Professionnel Artist Suzie Bond. "During a corrective service, you really don't know whether the cuticle was opened or closed previously. I've found that a demi-permanent like DIA Richesse is super forgiving and will open the cuticle to go further into the hair and provide you with a longer term correction."
Check out the step-by-step for pulling off a striking color correction to create this beautiful buttery blonde.

STEP 1: EVEN YOUR PALETTE
Combine Sunkissed Lightening Oil with 30-Volume Majicreme Developer on the colored portion of the hair for about 30 minutes. Shampoo, condition, rinse and dry.
PRO TIP
"If your client is too bright, it's not just depth that you need to remove, it's tonality as well. So you can't just put DIA Light on them. Instead, you need to remove the color first with Sunkissed Lightening Oil."—Suzie Bond

STEP 2: FOIL
Foil the regrowth with Multi-Techniques 8 Bonder Inside + 30-Volume Majicreme Developer around the full head.

STEP 3: RETOUCH
Retouch between foils with Majirel High Lift .11 + 30-Volume Majicreme Developer

STEP 4: BALANCE
While the foils are still in, use DIA Richesse 9.3 + Clear (equal parts) + 1 gram 7.40 + 9-Volume DIActivateur Developer on the previously colored ends. Process for 30 minutes.

STEP 5: GLOSS
After rinsing and removing the towel, blot and apply DIA Light 10.32 + 1 gram 7.4 + 9-Volume DIActivateur Developer. Process for 10 minutes.
PRO TIP
"Ask your full-foil client first if they are comfortable with a half-head application, letting them know that you will cover the parts that matter most. Don't forget the back hairline for her ponytail, regardless of whether she wears her hair up or not. And don't forget that you absolutely need time for glossing afterward. That's super important. If you don't leave yourself time for that, it's not going to look like a pro did their hair, but rather look more like a normal bleach and tone that you can get anywhere."—Suzie Bond
About Expert
L'Oréal Professionnel
Haircolor
Discover expert advice from SalonCentric and the industry's most trusted artists and educators. Whether it's the latest, on-trend techniques or tips that will boost your business, they're here to make sure you reach your full potential!