In an era where consumer choices hold immense power in shaping the world, there are exceptional companies embracing values that extend beyond profits. One company leading this charge is Maria Nila whose brand philosophy believes animals should not be a part of human vanity, and whose commitment to creating a more humane and eco-conscious world goes far beyond vegan haircare products.
Every November 1st—aka World Vegan Day—Maria Nila kicks off their The Friendly Year campaign, a yearlong effort that demonstrates the brand's unwavering dedication to promoting a friendlier world. By focusing on cruelty-free products, biodiversity, and supporting local initiatives, Maria Nila aims to show the power of conscious consumer choices and corporate responsibility in shaping a kinder, more sustainable future for all.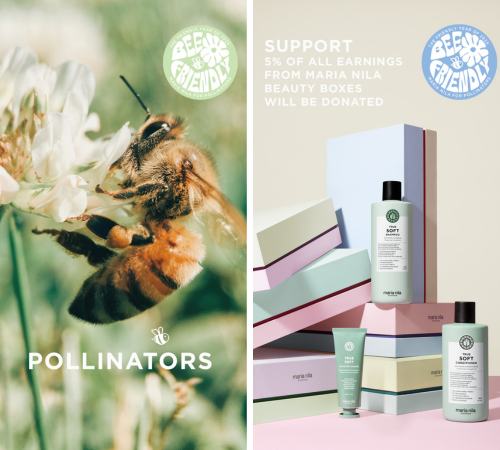 Maria Nila's Bee Friendly campaign will promote biodiversity and support pollinators by teaming up with Nordens Ark, a private, non-profit foundation dedicated to ensuring endangered animals have a future. Throughout 2023 and 2024, Maria Nila and Nordens Ark will work together on various actions aimed at promoting pollinators and biodiversity, including conservation, rearing, research, training, and public awareness initiatives. Plus, this project aligns perfectly with SalonCentric's biodiversity commitment in making their distribution center sites home to beehives that support the local environment and provide honey. The collaborative efforts of The Friendly Year highlights the importance of local organizations in making a global impact.
Every purchase of the Beauty Box 2023 supports The Friendly Year 2024 initiative, enabling you to become a crucial a part of this campaign. Five percent of all earnings from Beauty Box sales in 2023 will be allocated to support The Friendly Year.