Earth-friendly brand Maria Nila believes that animals should not be for human vanity, which is why the brand's hair care products are 100-percent vegan and animal friendly. But their contribution to a friendlier world doesn't stop there. Each year, Maria Nila dedicates their charity program called "The Friendly Year" together with non-profit organization partner The Perfect World Foundation to pick a specific animal or wildlife cause to support for the upcoming year.
This year, The Friendly Year will contribute to the Cairns Turtle Rehabilitation center, a non-profit organization in Australia supporting injured sea turtles. Over the course of the year, Maria Nila will follow two baby green turtles—Dancer and Prancer—who were rescued shortly after they hatched when they were fooled by outdoor lighting and ended up in a swimming pool instead of the ocean.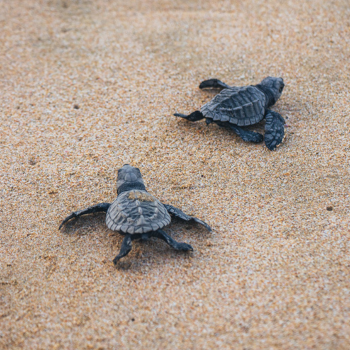 Plus, Maria Nila will be extending an exclusive offer this month through SalonCentric in honor of Earth Day. You can purchase two full-sized hairsprays for $25, and two travel-sized hairsprays for $12, where one percent of all Maria Nila hairsprays sold through SalonCentric will be donated to the Cairns Turtle Rehabilitation Center.
Over the years, Maria Nila and their community have been able to support several different wildlife organizations and projects through The Friendly Year:
2017 | SAVE THE ELEPHANTS | ELEPHANTS ALIVE

2018 | SAVE THE MANTA RAYS | MANTA TRUST

2019 | ANTI-POACHING | BLACK MAMBAS

2020 | SAVE THE RHINOS | CARE FOR WILD

2021 | SAVE THE BELUGAS | BELUGA WHALE SANCTUARY

2022 | SAVE THE SLOTHS | SLOTH CENTER COSTA RICA