The spirit of L'Oreal Professionnel was brought to life in Paris this past March as over 2,000 international artists flocked to the city to celebrate the brand's landmark anniversary of 110 years. The three-day event paid tribute to the history as well as the future of L'Oreal Professionnel through star-studded events across the city, spectacular shows, and innovative educational sessions. We were lucky enough to sit down with two of the brand's leading ladies to discuss the event, Nathalie Roos, the President of Professional Products Division at L'Oreal, and Marion Brunet, L'Oreal Professionnel's International General Manager.
1. 110 years is a landmark anniversary – can you tell us a bit about what artists can expect from attending this event?
NR:
"We are extremely happy to celebrate the 110th Anniversary – it's a very special event. We celebrated yesterday with a big party and a beautiful show with 42 models, who were done by top six stylists including a few Americans. We were super proud to demonstrate that L'Oreal Professionnel is the DNA of this business - as you know L'Oreal Professionnel created the first safe hair color treatment 110 years ago. It was also an opportunity to show our commitment to the industry and our commitment to take the next step of hairdressing, with artists from all over the world.
MB:
The objective was to celebrate 110 years of passion, know-how and master of hair color with 1700 Hair Artists from all over the world. Three days of discovery, innovation and inspiration, through shows and masterclasses to discover and experience our unique signature La French, Art of Hair Coloring. L'Oréal Professionnel also presented at this occasion its newest product innovation, Majirel Glow, and its Beauty Tech innovation, Style My Hair Pro, designed to transform the in-salon hair color consultation and ensure memorable color experiences for consumers.

2. A huge theme of the weekend was "LA French: The Art of Hair Color", can you share a little bit about the vision?
NR:
We gave the name of this event, "LA French: Art of Hair Coloring." This name was really important because L'Oreal in general has so many brands – big American brands like Redken, Matrix - so it was very important to show that L'Oreal Professionnel has a different place, a different role to play in our industry. And this role? It's about the art of French coloring. It means a kind of French elegance, like naturally chic, what is supposed to be the "French Women", it's everything that L'Oreal Professionnel is offering. It's also the pioneering spirit. Having always developing new technologies, seizing the trends like the launch of Majirel in 1978 or Inoa - the first ammonia-free coloration 10 years ago, and also Botanea – the first 100% herbal haircare. So, this event is really for us to say that L'Oreal Professionnel is a different brand. It's a French brand that we want to promote worldwide.
MB:
La French, Art of Hair Coloring, is our vision of hair, "Soigné" but never overdone, Edgy, but never trash. With always a French "je ne sais quoi", effortless chic, which translates a natural, desuniformitized and personalised color result for women all over the world. More than a color technique, it is a manifesto. An ode to French elegance, only made possible by the added value of the professional: your talent, your hands.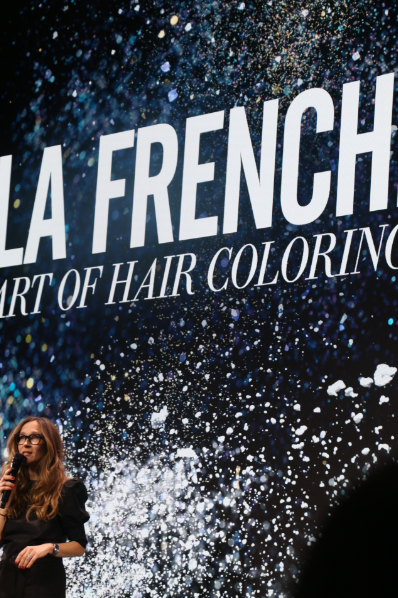 3. L'Oreal Professionnal has clearly always been influential in the hair industry, are there any moments in the company's history that have truly stood out?
NB:
L'Oreal Professionnel is truly the brand that created the first real education in our industry. Of course, today, when you think of great education the names of Redken and Matrix come to mind. But at the beginning, when L'Oreal Professionnel created the first safe hair color, we also created the first hair education. That is really what took us through history throughout this event and what is driving our identity and future.
MB:
In 1909, Eugène Schueller invented modern hair color and laid the foundations of the Group carried by L'Oréal Professionnel, starting 110 years of partnership with Hair Artists, with one obsession, offering Hair Artists the best with trusted innovation. 40 years ago, we created, the magical cream, MAJIREL. In 2009, INOA, the first oil-based, ammonia-free, odourless permanent hair color. Last year, BOTANEA, the 100% herbal professional hair color in Europe and Maji Fashion in China. Our pioneering spirit is showcased not only through products but also through digital innovations that transform the online to offline consumer experience.
4. Not many companies can say they have been around for 100 years – much less 110. What qualities does L'Oréal Professionnel possess to have been so successful?
NB:
I think that L'Oreal, L'Oreal Professionnel is passionate about beauty accommodating the hairdressing profession. This is what makes us stay and succeed over time – our passion for professional hairdressing. We've been doing this since the start and we are committed to continue in the future, especially with the digital boom and taking advantage of every opportunity that digital can offer us. There is a huge trend for personalization, and that's what LA French: Art of Hair Coloring offers to us. The possibility to offer each and every person a different look.
MB:
"Seizes what begins" this is our motto since 110 years. Feel what starts by identifying emerging trends, transforming and scaling them around the world, to bring the best to our hair artists and consumers. A holistic experience embracing all dimensions of today's world. Our pioneering spirit is showcased not only through products but also through digital innovations that transform the online to offline consumer experience.
5. It's an exciting time for L'Oreal Professionnel, can you provide any insight for what's to come with L'Oreal Professionnel's future?
NB:
One very important thing about this event, is that we are revealing key innovations for L'Oreal Professionnel. One is "Style My Hair Pro," the app for consumers to virtually find their color using 3-D artificial intelligence. Our swatch book is attached to the app so the artist can directly find the perfect color. Access is our digital learning platform, which will give our stylists to train and share 24/7. We are also revealing the new technology behind Majirel Glow – launching at SalonCentric this Fall. Glow is a new technique, the first translucent color. We have very strong ambitions for the United States, we feel L'Oreal Professionnel can boom and we feel this trend will create a lot of satisfaction in the US market.
MB:
In a world that is moving at the speed of the light, our mission is to contribute to elevate the hairdressing industry for memorable experiences. Our commitment is to serve our Hair Artists and their talent. We believe in superior and trusted innovation, in terms of product but also in terms of beauty tech. And for that, Style My Hair Pro is a golden nugget! An all-in-one hair color application with a 3D try-on technology and an exclusive digital swatch book to offer a modern, immersive and tailor-made experience. And it's live with already more than 20,000 hairdressers using the app in their salon!