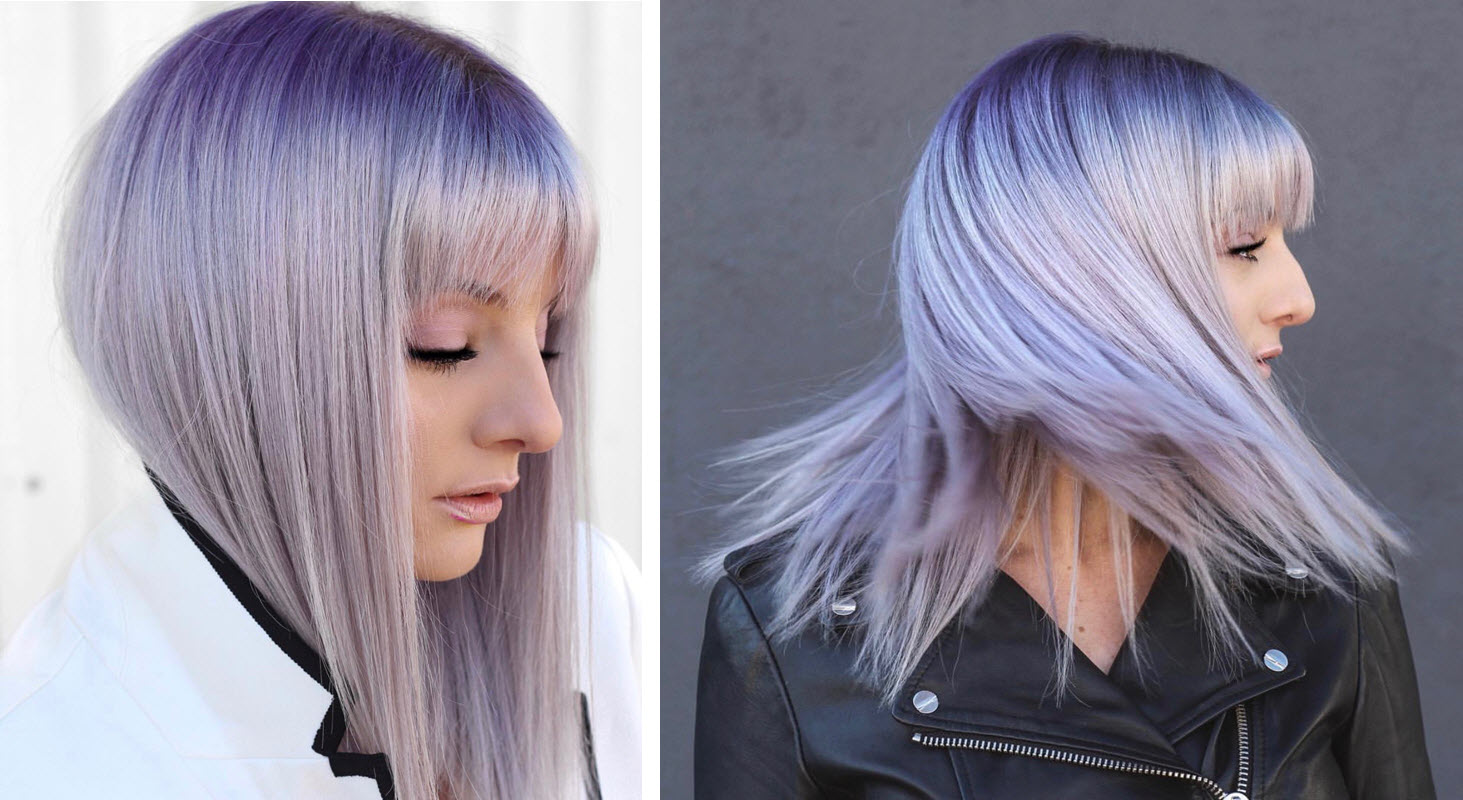 For Denver, CO-based salon owner Aspen Rae, performing between 10 to 30 color services per month is par for the course. Looking at her Instagram page,
@ItsAspenRae
, it's not hard to see why her services are in demand. Beautifully melted blondes and gorgeous vivids run rampant throughout. And lately, her "Violet Arsenal" has become the color du jour. The pretty yet edgy shade of violet allows for a wearable level of the dramatic. "Violet is so versatile for creative and natural colorists. It can be used to tone or neutralize yellow blondes, or to create a bold electric look like this," says Rae. "Clients love violets because it fades cooler and keeps that pesky brassiness at bay." To achieve this hue, Rae used a teardrop color melting technique which involved a darker root blending into a gradient lighter tone towards the ends. For the complete how-to of this game-changing color, check out Rae's breakdown below.
Products Used:
PRAVANA ChromaSilk
7.7
PRAVANA ChromaSilk
9.7
PRAVANA Zero Lift Crème Developer
PRAVANA 10-Volume Crème Developer
PRAVANA Holo Pro Tint Brush
(for application and precise sectioning)
Cricket Carbon Comb C-25 (for combing the color through)

Step-by-Step:
•
Start on pre-lightened level 10 hair.
•
Apply
Pravana Chromasilk
7.7 and
10-Volume Crème Developer
as a root touch up in a tear drop shape, about 1 ½ inches from the scalp.
•
Comb down color to blend it down the hair shaft an additional inch.
•
Process for 30 minutes.
•
Rinse and towel dry.
•
Apply
Pravana Chromasilk
9.7 and
Zero Lift Crème Developer
through mids to ends at the shampoo bowl.
•
Process 15-20 minutes until desired tone is reached.
Pro Tip:
Keep a clean, dry towel nearby to wipe off your gloves in between each section. This will avoid the darker root color from transferring onto the light ends.
Photography: Courtesy of Aspen Rae/ @ItsAspenRae
About Expert
Maureen is a veteran beauty and style editor having worked at AmericanSalon, Woman's Day, People StyleWatch and Teen Vogue, and a contributor for CR Fashion Book, Well + Good, Elite Daily and Glam. You can find her reporting on the latest trends from backstage at New York Fashion Week, interviewing celebrities and beauty industry heavyweights, and fashion styling for editorial photo shoots. The self-professed product junkie, super foodie and wannabe hand model is obsessed with rose gold jewelry, the NYC Flower Market and planning her next big getaway.