Let's hear it for the curl. Whether you're braiding, twisting, heat styling, or lightening, the new A Curl Can Dream and Curl Lights collection from Matrix Total Results is designed to preserve and enhance beautiful curl patterns day after day as the first professional pattern preserving lightener, hair care and color from the brand is introduced.
The A Curl Can Dream retail line consists of six curl-loving products developed with pattern experts and tested on more than 300 women who insist on constant curl perfection. Five of the formulas contain manuka honey, which is known for its healing properties and ability to attract and lock in the moisture that curls crave. The sixth, Light-Weight Oil, contains sunflower seed oil for massive light refraction and curl nourishment.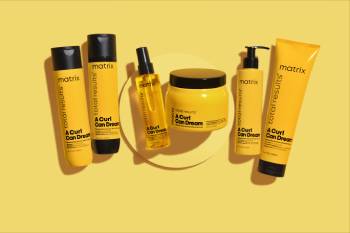 Care
Perfect for weekly wash days, this deep cleansing shampoo gently removes buildup, dirt and impurities while preserving the curl pattern.
Infused with manuka honey, this gentle cleansing and conditioning cream revives curls in between wash days. It leaves hair and scalp feeling fresh and revitalized, never dry or brittle.
Nourish thirsty curls and coils with this deeply hydrating mask. Use daily or after every shampoo. Apply and rinse or process with heat for a more powerful moisturizing experience. Hair emerges soft, bouncy and touchable.
Style
A Curl Can Dream Moisturizing Cream
This rich leave-in cream provides vital moisture and definition without flaking or crunch. It's the curl-loving go-to for every twisting, braiding, setting and wash-and-go technique. It leaves curls nourished and touchable without a trace of oiliness or crunch.
A Curl Can Dream Light-Hold Gel
Style curls and coils to perfection with this lightweight gel. It's ideal to layer over A Curl Can Dream Moisturizing Cream to lock in curl definition. It produces a non-sticky curl cast that enhances shape, fights frizz and powers up shine.
A Curl Can Dream Light-Weight Oil
Infused with sunflower seed oil, here's the perfect final act for separating out curls and adding shine. The vegan formula absorbs quickly and completely and protects hair against damage.
And curl care and styling are just the beginning because curly clients can now rock sun-kissed highlights, safely and quickly, thanks to the new Curl Lights Pattern-Preserving Lightening System. Infused with beeswax and ceramides, Curl Lights achieves up to five levels of lift in just 15 minutes with heat. It features a smooth, creamy consistency that makes application on textured hair a breeze. The two-step system includes the Lightener, Lightening Accelerator which empowers stylists to create an ideal, creamy consistency that evenly and thoroughly saturates coils and curls.
"Because Curl Lights is so moisturizing and nourishing, and saturation is so complete, we can now offer modern lightening services to our naturally curly clients that preserve curl health and integrity," says Matrix Artistic Director Michelle O'Connor. "Our research shows that among curly clients, preserving their curl pattern is the number one concern. It also shows that curly clients want to lighten their hair but fear that color will damage their curls. Thanks to Curl Lights, those problems are solved." Check out O'Connor's Curl Lights formula and step-by-step below.
Curl Lights Formula:
2 oz. Cream Developer 10-Volume (3%)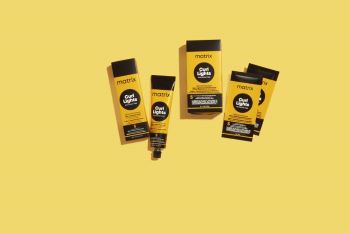 Source: All Photos Courtesy of Matrix
Step-by-Step
1. Section into six sections with one triangle in the front and five diamonds on the sides of the head, the crown, the back left and right.
2. Starting in the back, take large sections of the first diamond in the back and apply your lightener formula in a heavy balayage V-pattern. Continue to work up the section
3. Continue the same way through each section
4. Process and rinse.
5. Apply Toning Formula A at the base and Toning Formula B through mid-shaft and ends.
6. Process and rinse, then shampoo and condition with Matrix A Curl Can Dream.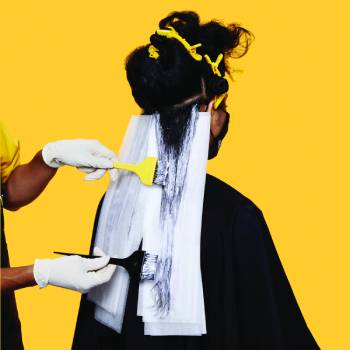 About Expert
Discover expert advice from Matrix and the industry's most trusted artists and educators. Whether it's the latest, on-trend techniques or tips that will boost your business, they're here to make sure you reach your full potential!