Ready to deconstruct a multi-melt service? Here's how Matrix Bi-Lingual Global Educator Artist, Pati Rodriguez (@pati.rodrigz) creates "Muy Melted," a high-contrast, high-shine transformation on her level 3 client.
"With our model Natalie, we're going for a high contrast look," says Pati. "We will deepen and darken her natural shade then blend it out into warmer and lighter color on the ends. We'll also add more dimension to the ends with lowlights so they aren't so solid."
Consultation/Assessment
Natural Level: 3
Underlying Pigment: Red Orange
Hair Diameter: Medium
Wave Pattern: Wavy/2A
Formulas
Formula A: SoColor Pre-Bonded Blended 4M + 10 Volume Cream Developer
Formula B: SoColor Pre-Bonded Blended 9G + 10 Volume Cream Developer
Formula C: SoColor Pre-Bonded Blended 6W + 10 Volume Cream Developer
Application
Apply Formula A at the base and saturate down three inches from the scalp.
Apply Formula B to the ends
Apply Formula C one inch from Formula A using the index and middle fingers to blend the three formulas together.
Working throughout the head, isolate select lowlight strands, place them on a color board and paint Formula A onto mids and ends.
Process for 30 minutes at room temperature.
Once processed, rinse the hair with lukewarm water. Shampoo and condition the hair with Matrix Total Results Unbreak My Blonde. Style as desired.
"We wanted to embrace the beautiful hair that Natalie already had," comments Pati, "and then really kick it up a notch."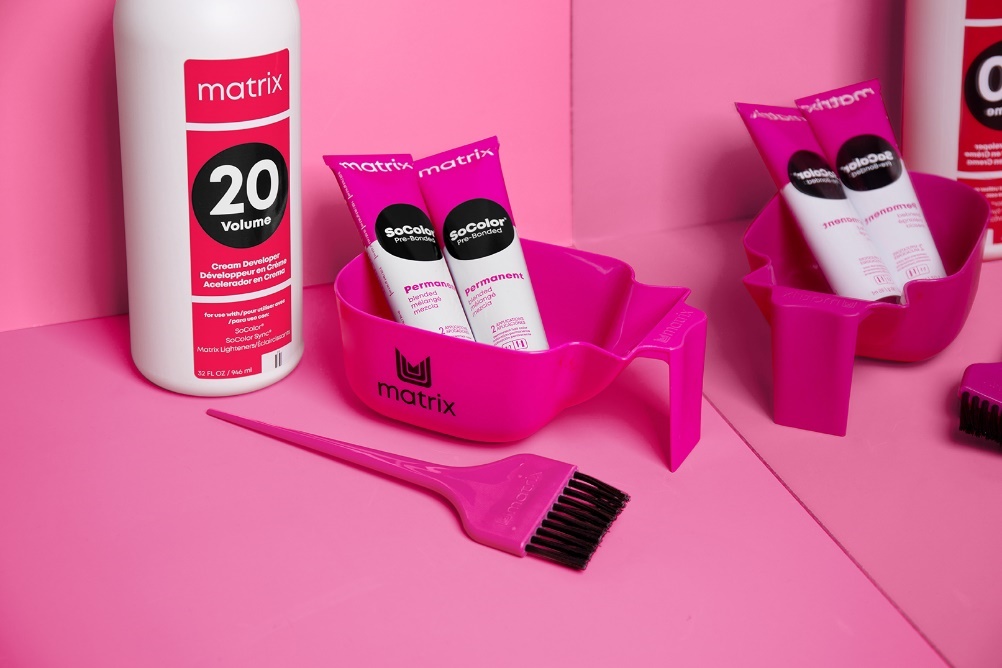 Doesn't it seem as if your darker haired clients—levels 1-5—get cheated out of all the trending hair color techniques that come around? Admittedly, there have always been challenges when coloring your brunette beauties. It's more difficult to create dimension and reflection without using lighteners and high-lift formulas that can cause damage. But Pati and her colleagues have created a new technique called "Muy Melted" that lets you create seamless dimension on dark bases without fear of damage.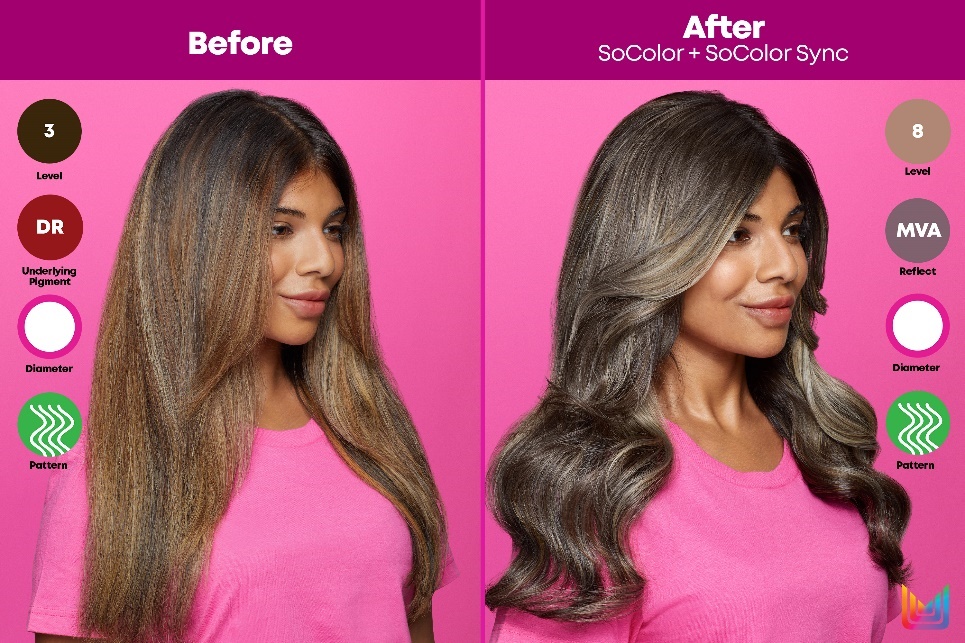 MELTING CAN BE YOUR 2022 BUSINESS BUILDER
Not only is it fun to do, it's a revelation for stylists and their brunette clients. Go ahead and add up the number of dark-haired clients on your books, estimate the revenue from being able to provide each one of them with an exciting new color service and do the math. You'll see that Color Melting can be a game changer.
"Our studies show that dark bases make up half of the population," says Pati. "That's a big number. And the biggest complaint among clients with dark hair is flat or dull color. With Color Melt, we can offer dimensional, shiny color effects for all those people, without damaging their hair."
THE INSIDE SCOOP ON "MUY MELTED"
Here's everything you need to know about Melting: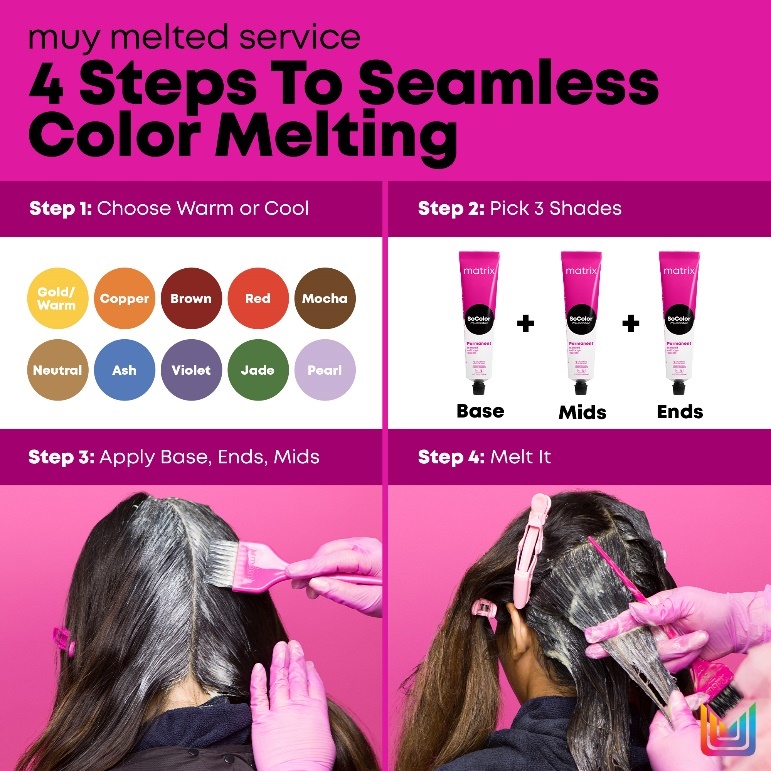 The Muy Melted" Technique blends three shades from root to tip. The shades can be warm or cool, based on the client's preference, base color, skin tone and underlying pigment. The results are completely customizable—you can create subtle effects or high-drama, high-contrast results. You can also combine your melts with more of your favorite techniques, like balayage or lowlighting, for color that is completely tailor-made for each client. "The ability to create different shades is truly endless," says Pati. "This is truly a new world for clients with dark hair."
Pati recommends using SoColor Pre-Bonded Permanent Color when performing a melt. "That's right," she says. "You can use permanent color because these formulas are pre-bonded so you don't have to worry about damage."
Consistency is critical. The creaminess of SoColor Pre-Bonded Permanent Color gives you the smooth application and full saturation you need to attain a truly seamless, lived-in look.
MORE ON SOCOLOR AND SOCOLOR SYNC PRE-BONDED
If you haven't heard the news about the new and improved Matrix SoColor and Matrix SoColor Sync, it's time to get up to speed. Now coloring is safer than ever before, thanks to the fact that these formulas are pre-bonded with Matrix's exclusive Bond-Protecting Concentrate that protects the inner hair structure. That's right, you no longer have to mix in a bonding additive—it's all in one tube and ready to go. The formulas are also pre-blended with background and reflect which makes it a breeze to neutralize every underlying pigment, which is particularly helpful when working with darker shades. And all of the permanent and demi-permanent dyes are perfectly matched so you can achieve seamless results scalp to ends.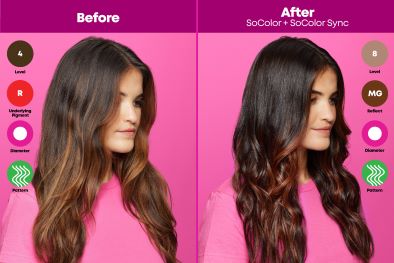 About Expert
Discover expert advice from Matrix and the industry's most trusted artists and educators. Whether it's the latest, on-trend techniques or tips that will boost your business, they're here to make sure you reach your full potential!