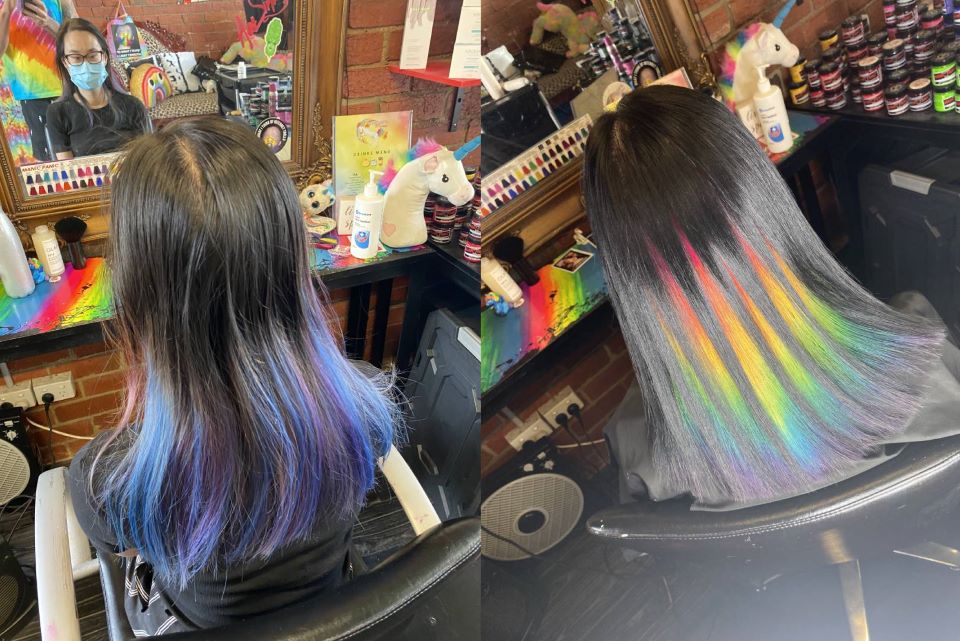 Source: Courtesy of Mykey O'Halloran
Hair Artist and Manic Panic Ambassador Mykey O'Halloran (@unicorn_manes_bymykey) shares how to recreate his signature hidden rainbow.
Colortrak Meche Sheets

Manic Panic Professional Powder Lightener

Manic Panic Professional Cream Developer 30 Volume
Manic Panic Professional Cream 10 Volume
Manic Panic Prepare to Dye Shampoo

Manic Panic Keep Color Alive Conditioner

Manic Panic Pink

Manic Panic Warrior

Manic Panic Psychedelic Sunset

Manic Panic Electric Banana

Manic Panic Electric Lizard

Manic Panic Atomic Turquoise

Manic Panic Violet Night

Manic Panic Raven Dye Hard

Manic Panic Keep Color Alive

H2D Straightener
First, section the bottom half of the hair just below the crown.

Leave a section about an inch below the crown so there is enough hair on top of the rainbow under lights.

Apply Manic Panic Professional Powder Lightener and Professional Cream Developer 30 Volume from roots to mid lengths on natural hair. Do not apply to any pre-lightened ends until the last 15 minutes.

After applying bleach and letting it process for 45 minutes, use Manic Panic's Professional Cream 10 Volume along with their Professional Powder Lightener on the ends for 15 minutes. The total processing time is one hour.

Rinse and shampoo with Manic Panic's Prepare to Dye Shampoo to open the hair cuticle so the color can absorb.

Completely dry hair.

Section down the middle, dividing the hair into two.

Starting on the left, apply color to ½ - inch sections from the nape all the way to the crown.

Start with Manic Panic Pink Warrior to the roots and melt into Psychedelic Sunset, Electric Banana, Electric Lizard, Atomic Turquoise, and Violet Night. Placing a Colortrak Meche Sheet in-between each section, continuing all the way to the crown.

Repeat on the right.

Apply the color using a zigzag movement to ensure the color blends.
After processing for 30 minutes, rinse with cool water. Using cool water is essential when rinsing out the color because it ensures that the more pigmented colors like Pink Warrior, Atomic Turquoise, and Violet Night don't bleed into the lighter colors in the rainbow.
*This client had some pre-existing color on top. To neutralize the hair back to natural I used Manic Panic's semi-permanent black in Raven.
Condition using Manic Panic Keep Color Alive Conditioner and Olaplex Bond Perfector No. 2.

Blow dry using Olaplex Bond Smoother No.6

Iron with a H2D hair straightener and finish with NAK Hair Aroma Oil Spray.
Pro Tip
Make sure the base you're working with is clean enough for the colors you are applying. I decided to do the blue and purple on the ends because of the buildup of blue and purple in my client's previous hair color. This worked with the sequence of the rainbow we chose because the cooler colors were at the ends anyway.
Always plan the final result first from the start rather than working it out along the way.
Always rinse with cool water, and advise clients to rinse with cool water at home.
There is no need to shampoo straight after doing multi-colored hair so only condition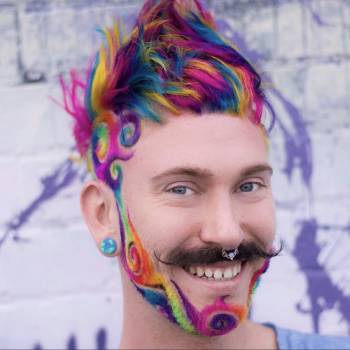 About Expert
Discover expert advice from SalonCentric and the industry's most trusted artists and educators. Whether it's the latest, on-trend techniques or tips that will boost your business, they're here to make sure you reach your full potential!