Achieve high-contrast blonding in just four steps. Whether you have a blonde client looking to go blonder, or a client with a darker base who is looking to lighten up their style, 4D Foilayage is a strategic technique you're going to love.
Created by Matrix Brand Ambassador and Celebrity Stylist George Papanikolas (@georgepapanikolas), 4D Foilayage is designed to help you maximize time and minimize hair damage during lightening services on any starting level.

MAXIMIZE TIME: 4 STEPS TO DIMENSIONAL BLONDING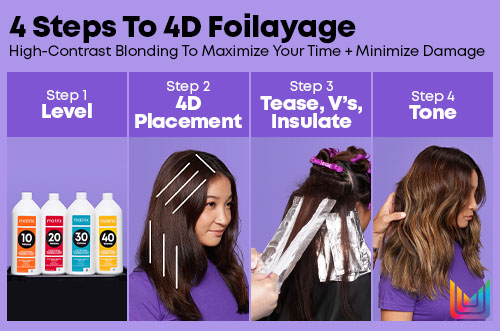 George broke down his technique into four, simple steps and incorporated two time-saving secrets: foils and pre-bonded formulas.
1. Grab your Light Master Pre-Bonded Lightener and choose your developer volume based on your client's starting level.
2. Section the hair strategically for maximum impact.
3. Backcomb each section, place it on a piece of foil, apply the lightener in a V-shaped pattern.
4. Apply your SoColor Sync Pre-Bonded Toner formulas for ultra-conditioned, shiny results.
By combining balayage and foils, you'll be able to speed up the lightening process and achieve greater lift in less time, especially on clients with darker hair. "Pre-Bonded" means bonder is already pre-mixed in each lightener and toner formula, saving you time and money.
Learn George Papanikolas' full technique in the 4D Foilayage Look and Learn Class at your local SalonCentric store. You can sign up here.
MINIMIZE DAMAGE WITH THE MATRIX PRE-BONDED LIGHTENING PORTFOLIO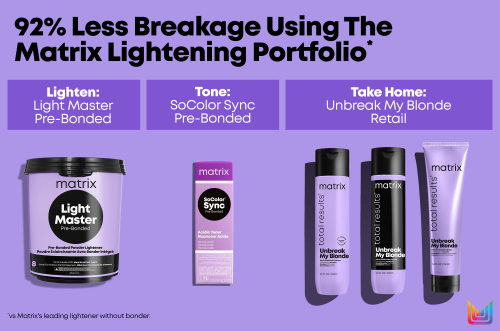 The key to 4D Foilayage success, says George, is using Matrix Light Master Pre-Bonded Lightener. "It lets me push the limits of my artistry without compromising the integrity of the hair," he says. To tone, George uses ultra-conditioning SoColor Sync Pre-Bonded Acidic and Alkaline Toners. "They give me the versatility of saturated or sheer color for an all-around perfect protected finish."
George rounds out his service with the third member of the Matrix Pre-Bonded Lightening Portfolio—the Unbreak My Blonde haircare system. These three formulas—Shampoo, Conditioner and Leave-In Treatment—reinforce weakened bonds and leave hair shiny and soft.
About Expert
Discover expert advice from Matrix and the industry's most trusted artists and educators. Whether it's the latest, on-trend techniques or tips that will boost your business, they're here to make sure you reach your full potential!