It's been a wild ride for salons and stylists, but hopefully we're all back up and running, and busy caring for all of our clients' hair needs. With the holidays already here, it's your chance to finish the year strong. "The holidays are the best time to increase retail sales and income," says Biolage Artistic Director and salon owner Michael Albor (@michaelalborhair).Whether you're a salon owner, salon employee or independent stylist, here are ten tips for making this season the merriest, and most profitable, ever.
BE THE ELF
Santa's busy, and that's why he delegates to all those elves. Your clients are busy, too, and you can help by offering specific recommendations. Is she looking for a gift for her son's teacher, the dog groomer, the office grab bag? Start a conversation about who's on her list and be ready to offer suggestions from your salon holiday retail stock as solutions.Imagine her gratitude when she's able to check off all those names at once with Biolage holiday gift sets.
DO THE MATH
It's one thing to have some vague idea of how much more money you can bring in with holiday retail sales, it's another to see those numbers in black and white. "If you're an owner,show each team member exactly how much money they can make if they sell, say, five Biolage holiday gift sets a day between Black Friday and New Year's Eve," says Michael. "Then correlate the total to something meaningful, like, 'This amount equals your car payment, so you essentially have your car payment covered for January.'" If you're a solo stylist, renting a space in a salon or studio, you can do the same calculations and figure out how much you can sell to cover a month's rent. After all, it's much more fun and motivating to go to work every day if you have a concrete sales goal in mind.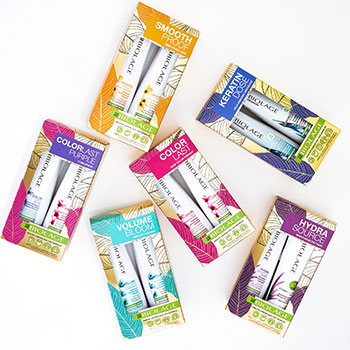 OFFER INCENTIVES
Most people love competition, which is why Michael likes to design sales contests for his staff, especially around the holidays. "We offer SalonCentric Level Loyalty Reward Points as well as a few cash prizes to the winners," he says. "After all, who doesn't need some extra cash come holiday time?" If you're an independent stylist, explore what motivates you. For example, if one of your New Year's resolutions is to get into better shape next year, reward yourself with a ten-pack of yoga classes if you meet your personal sales goals.
CLIENTS LIKE INCENTIVES, TOO!
Biolage gift sets are a great focus for holiday sales—there's a shampoo and conditioner duo for every hair type. To ignite client interest in these must-have items, Michael offers a special holiday promotion. Clients receive 20 percent off their personal hair care purchases with purchase of a gift set. What's more, customers get their name entered into a salon raffle to win gift sets of their own. "It's a real savings," says Michael, "and who isn't interested in saving money at this time of year?"
LEAN INTO SOCIAL MEDIA
Everyone's scrolling all the time so social media is the place to promote all your holiday products and services. "We like to post photos ofstaff members all dressed up for the holidays showing off their favorite Biolage gift set," says Michael. "We use Facebook and Instagram to post holiday deals and promotions, and we create mini holiday hairstyle how-to videos using Biolage styling products to give clients ideas for parties and celebrations."If you post how-tos, be sure to let your social followers know you carry all those party-hair styling items in the salon.
LET YOUR SIGNS DO THE TALKING
You and your team don't have to do all the work. You can reinforce the idea of giving the gifts of beauty with motivating signage on your shelves, at your front desk, at stations and even in the changing area and restrooms. Callouts like, "How about giving good hair days for Christmas?" or "Gift Ideas Under $25" will start the wheels turning for busy shoppers.
OFFER SHOPPERS IMPULSE ITEMS THEY CAN'T RESIST
Whocan resist a travel-sized shampoo and conditioner duo, a compact and colorful Biolage Deep Treatment Pak, a cheery red nail polish or a cute little purse-sized hairspray when they're checking out of the salon? Put impulse items like these in baskets marked "Stocking Stuffers" and shoppers will snap them up.
RAISE YOUR GIFT CARD GAME
Gift cards are holiday saviors for shoppers and for salons and stylists, preparation is key to ensuring a successful gift card campaign. Ideally, you want your clients to be able to purchase gift cards online so work with your software management system to establish a holiday gift card program. Many systems offer a variety of gift card templates that can be customized with your logo, and they also provide easy management and tracking capabilities for purchases and redemptions. Promote your gift card availability on your website and social media channels with a clear, simple call to action like, "Buy a Gift Certificate Today."
DISPLAY LIKE A BOSS
When you're setting up your holiday products, think pretty and plentiful. You want customers to know you're in the business of offering products that make hair beautiful. Display as many products as you can but avoid a haphazard or overdone result that isn't pleasing to the eye. Arrange products by size, by color and/or by function. Try to display one or two central products "center stage" for maximum impact. "We use our retail displays to communicate the fact that we have the perfect gift for everyone on our clients' lists," says Michael.
MAINTAIN THE HOLIDAY MAGIC ALL SEASON LONG
Everybody gets busier and busier in the weeks leading up to the holidays, but try to make it a point not to neglect your holiday retail efforts as your books fill up. That means keeping your displays well-stocked, clean and dust-free. It means maintaining a consistent holiday presence on your social media platforms. It also means keeping up those gift idea conversations with clients. "At the end of the day, it's really not about selling," says Michael. "It's about being a teaching professional, giving the client the 'how,''what,''why,''how-to' and 'how much' so they and their friends and family can have healthy, beautiful hair as well as some amazing holiday styles."
About Expert
Discover expert advice from Biolage and the industry's most trusted artists and educators. Whether it's the latest, on-trend techniques or tips that will boost your business, they're here to make sure you reach your full potential!