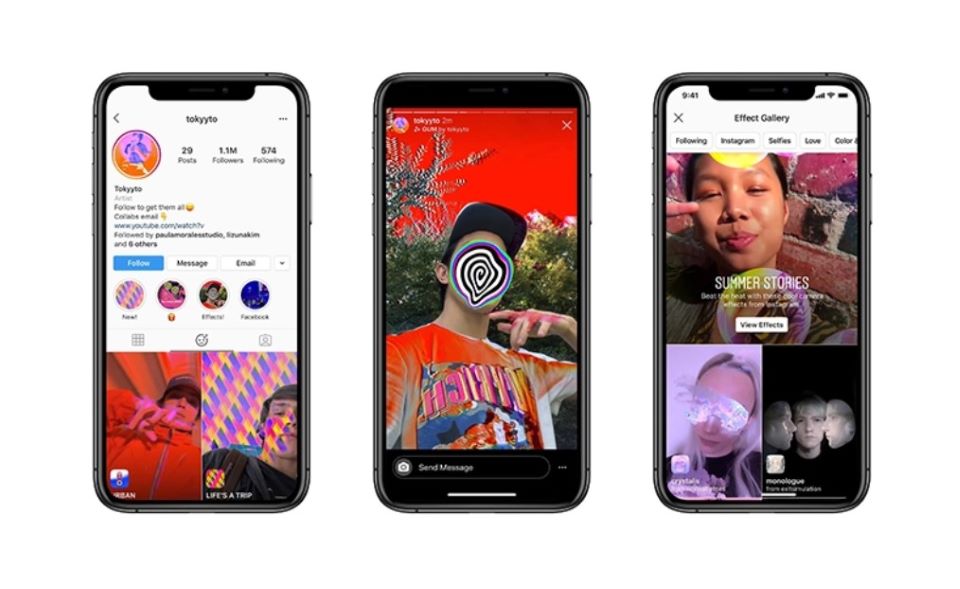 Social media and word of mouth are two of the best ways to grow your clientele right now so what could be more effective than combining the two? If you haven't heard of Spark AR, Facebook's free augmented reality software, you're about to discover a gamechanger when it comes to your social media and business building strategy.
Spark AR was originally only available to the likes of celebs like Kylie Jenner and mega brands like Nike but now everyone on Facebook and Instagram has access to the technology at no cost. Upon first look, learning how to use augmented reality software may seem intimidating but if you take the time to watch how-to videos, tutorials, and engage with other creators you'll find that making your own filters is totally doable. And while Facebook has left no stone unturned when it comes to providing all the information you need to learn how to use their software, it's highly recommended that you tap into outside resources as well. A quick "Spark AR" search on Google or YouTube turns up countless articles and videos to help you get your feet wet.
Learning how to create your own custom features may be time consuming at first, but it's time well spent when you think about how much it could boost your business, increase your clientele, and grow your social media following.
If you're on the fence about it, check out just a few of the reasons it's something to seriously consider.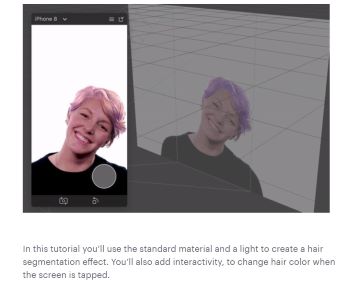 It will make a lasting impression.
Chances are that most of your clients haven't come across a business or visited a stylist that has created their own filters. Think about if you went to a stylist that had their own Instagram filters. Not only would you use them to post during your service, but you'd probably tell your friends and colleagues about how cool it was. Boom! That stylist has just harnessed the power of social media to create an experience worth sharing via word of mouth.
It incentivizes clients to share on social, tag, and follow you.
Clients have to visit your Instagram page to use your filters and I'd say 9 times out of 10 once they're already there, they're going to hit follow. Of course, all Instagram followers have the potential to generate revenue, the more followers the better, but having a following of loyal clients is key. When you pop up in their feed they might be reminded to book an appointment. If you post about retail products, new services, or a great deal on a package it's most likely your current clients that are going to stop in or pick up the phone. They'll also get to see your breadth of work which may prompt them to request a service, add-on, or style they'd never thought of trying.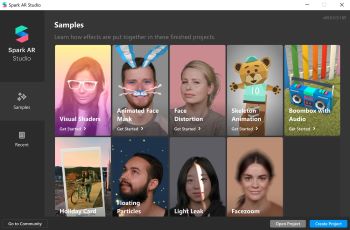 Source: Courtesy of Facebook
Custom filters allow your brand and personality to shine.
You can make filters that lets clients see what they might look like with balayage, rainbow hair, as a brunette or a blonde. To encourage clients to post more than one picture consider creating a series of specific filters they can use before, during, and after their service. A playful approach might be to make a filter that can track two faces so you can pose with your clients in whatever augmented reality you can think of.
Bottom line: Making unique filters for Facebook and Instagram gives your clients a fun way to share their visit to your business with their followers and it will make a lasting impression that they're also likely to share with friends and other potential clients via word of mouth. If you're fired up about this idea but don't have the time or the interest in learning the technology keep in mind that you can always hire someone to turn your vision into augmented reality.
About Expert
Discover expert advice from SalonCentric and the industry's most trusted artists and educators. Whether it's the latest, on-trend techniques or tips that will boost your business, they're here to make sure you reach your full potential!