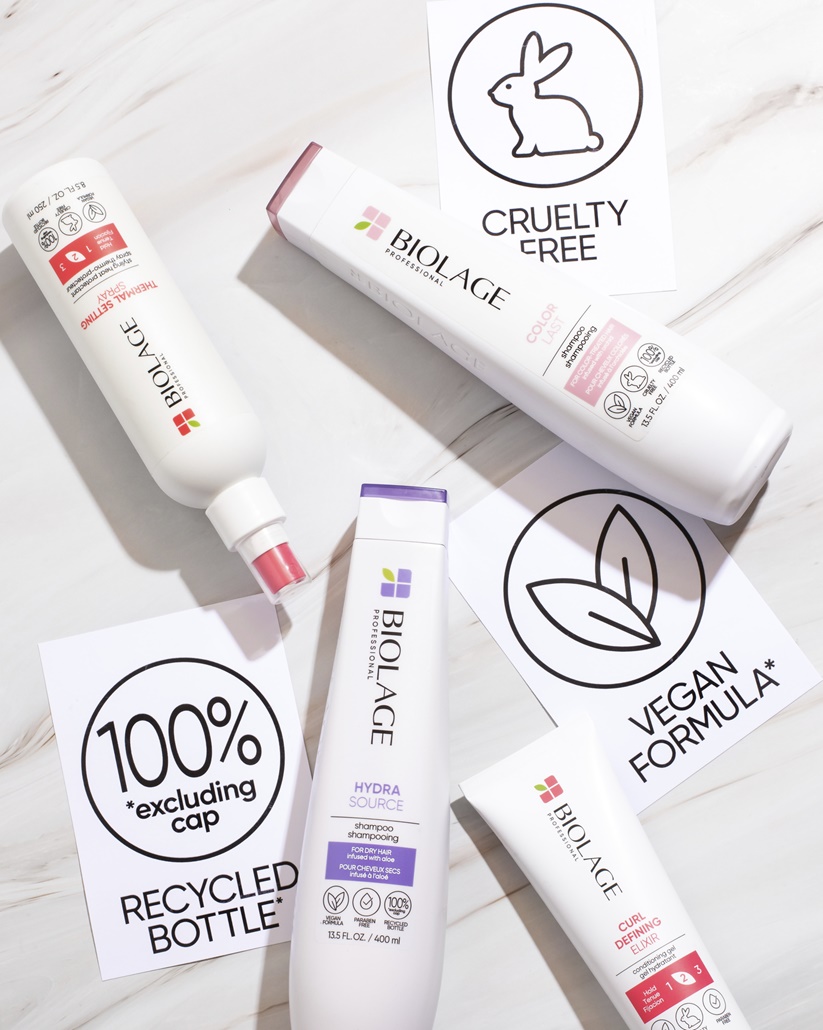 Today's salon clients are not kidding around when it comes to our planet. They are insisting on sustainability in every aspect of their lives, including beauty. They prefer to do business with companies committed to being conscientious stewards of the environment, who are walking the talk of important matters like sustainability and cruelty-free practices. Well, this just in: Biolage is bringing new levels of sustainability commitments to every one of its beloved products, which means you can satisfy your clients' demands for planet-loving beauty every time they visit the salon. Here's what you need to know.

ALL BIOLAGE FORMULAS ARE OFFICIALLY CRUELTY-FREE
The entire Biolage brand is now cruelty-free and has been awarded the Leaping Bunny stamp of approval. What does the Leaping Bunny mean? A global organization called Cruelty Free International requires brands to dive deep into every ingredient in their portfolios, including raw materials and individual ingredients, and confirm the absence of any form of animal testing in any way, shape or form. Only then can they display the Cruelty Free International Leaping Bunny logo signifying a completely cruelty-free brand. Not only is the bunny adorable, it's the assurance your clients want when choosing their beauty and grooming products.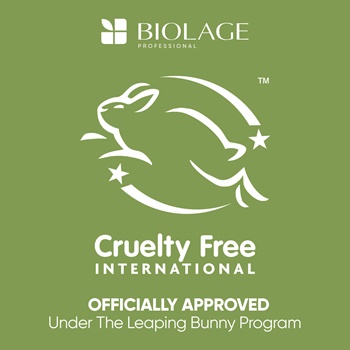 ALL BIOLAGE FORMULAS ARE NOW 100 PERCENT VEGAN
Biolage believes in the power of botanical oils and plant extracts to support healthy hair and scalp. To that end, all Biolage formulas are now 100 percent vegan, with no animal-derived ingredients, and to enhance natural beauty without unnecessary ingredients. What hasn't changed? The products are the same, iconic formulas pros and clients love including the Biolage signature fragrance known by many—a unique blend of fruits, flowers and spices. It's AromaScience™ at its best, providing users with a memorable, uplifting experience that's truly habit-forming.

BIOLAGE SIGNATURE BOTTLES ARE NOW 100 PERCENT RECYCLED PLASTIC
The goodness isn't only inside the bottles at Biolage, it's now part of the packaging, too. Although the simple and chic shapes are the same—as are the high-performance, iconic formulas inside—Biolage signature bottles are now made of 100 percent post-consumer recycled plastic (excluding the cap). This significantly reduces the amount of virgin resin used in their packaging. In total, Biolage saves over 30 tons of virgin plastic every year. That means less waste in landfills and more reuse worldwide.

NEW LOOK, SAME ICONIC FORMULAS
To share these new commitments loud and proud, newly designed labels on every bottle display badges for Leaping Bunny, vegan formulations, and recycled materials. This makes it easier than ever for eco-minded clients to get the message that Biolage is a brand making commitments to a better future and better hair for all.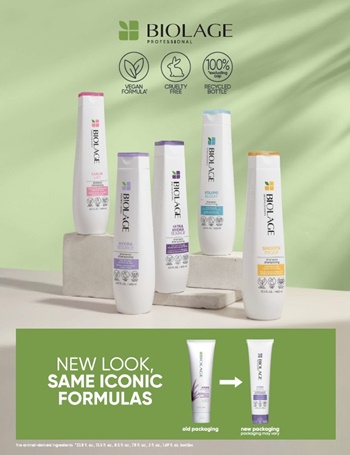 About Expert
Discover expert advice from Biolage and the industry's most trusted artists and educators. Whether it's the latest, on-trend techniques or tips that will boost your business, they're here to make sure you reach your full potential!