Video and all photos: Courtesy of Matrix
Neutralizing shampoos and masks have changed the color game since they came into existence. As every color pro knows, as hair color fades, it exposes unwanted undertones that alter the hair's appearance overall. That's why it's a good idea to recommend at-home neutralizing formulas that will help keep your clients' color healthy and on-tone. Now there's a new tool in the neutralizing arsenal. Matrix Total Results popular neutralizing masks are now available in XL sizes, perfect for backbar applications.
WHY BACKBAR NEUTRALIZATION?
Toning is the go-to method for color neutralization in the salon, but sometimes a quick mask application at the bowl is all that's needed to balance unwanted warm tones. Up until now, Total Results' popular neutralizing masks—So Silver, Brass Off and Dark Envy, as well as its nourishing Miracle Creator mask—have only come in 6.8-oz sizes for backbar and at home use. Now, however, stylists can stock up on new XL 500 ml sizes for easy and economical use at the backbar. "These are the same great formulas you know and love," says Matrix Brand Ambassador Greg Gilmore (@greg_gilmore). "But now they come in easy-to-use soft bottles with flip caps. You get two and a half times the size of the retail products, and you save 26 percent. It's a great way to introduce clients to the product when you're recommending the 6.8-oz. take-home sizes for them to use at home."
A NEUTRALIZING REVIEW
You probably know your color wheel inside and out, but just in case it's been a minute, here's a quick review of the principles of neutralization.
Blonde and Silver Hair
Unwanted yellow tones are the culprits in levels 8 to 10. They pop up frequently and these clients prefer their blonde and silver hair color to appear cool and clear. A purple pigment is the solution to neutralize these unwanted warm tones and keep your blondes as icy as an Arctic glacier. Gilmore's go-tos for his blondes are Total Results So Silver Shampoo and So Silver Deep Conditioning Toning Mask, which deposit purple pigment and cancel out the yellow. "I start by shampooing with So Silver Shampoo," he explains, "which begins to neutralize yellow and also cleanses, clarifies and conditions the hair. Then I go in with the So Silver Mask and saturate the hair thoroughly. I often distribute the product with a wide tooth comb to ensure complete and even saturation because I want to be sure every strand gets some product! Then I process for three minutes and rinse. The result is beautiful, clear, cool color!"

Brown Hair
Orange is the enemy of brown hair that has been highlighted or lightened. Total Results Brass Off custom Neutralization Mask for levels 5-7 is an ideal solution. It deposits blue-violet pigment that neutralizes unwanted brassy tones. "Brass Off has become a 'must' for so many of my highlight clients," says Gilmore. "It eliminates the brass from all of those beautiful neutral and cool tones that are so popular with brunettes."

All Hair
Every color benefits from a little bit of extra love, and Total Results Miracle Creator Multi-Tasking Hair Mask has been the restorative formula of choice for some time. It intensely nourishes, revitalizes and strengthens hair in just 60 seconds. "Up until recently, Miracle Creator has only been available in a 1-ounce packet," says Gilmore. "The easy-to-use size is a favorite with clients—they can get several applications at home, which makes it quite economical. But they're a bit difficult to use at the backbar." Now ease of use and savings are available to stylists. The new XL Miracle Creator Mask makes this a cost-effective backbar treatment, and one that's easy to handle with wet hands.
"Because all the Total Results masks process so quickly, I often apply Miracle Creator after I rinse out one of the neutralizing masks, especially when the hair is a bit more compromised," reveals Gilmore. "It leaves the hair super soft and smooth, and it never weighs hair down, so I can use it for all hair types."
Now it's possible to tone and heal your clients' hair for just a few pennies per application at the backbar with XL Total Results masks. They're available at Salon Centric and through your Matrix distributor.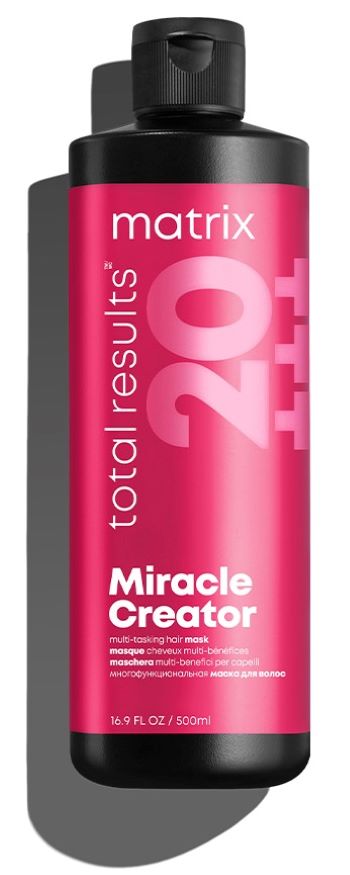 About Expert
Discover expert advice from Matrix and the industry's most trusted artists and educators. Whether it's the latest, on-trend techniques or tips that will boost your business, they're here to make sure you reach your full potential!