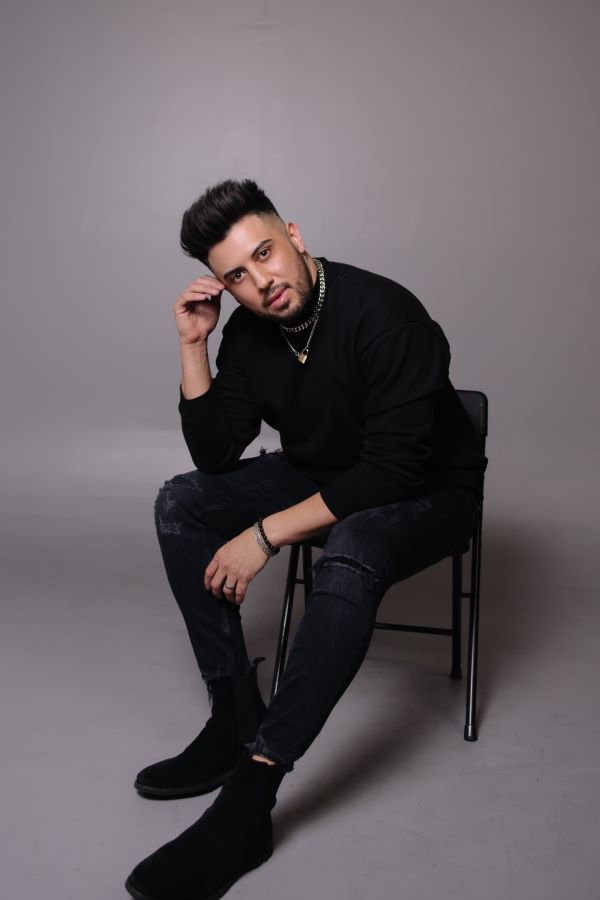 #ItTakesAProTeam artist Antonio Estrada (@antestradahair) has worked HARD to get where he is today as a highly sought-after artist for editorial shoots with a list of celebrity clients. Not too shabby. He also has 125,000 Instagram followers and if you take a look at his feed, you'll instantly see why. It's an endless scroll, in the best possible way, of styles your clients would kill for and all the technique videos you need so it doesn't have to come to that. Give it a look and try not to hit the follow button.
Antonio's well-earned, wildly successful career didn't happen overnight. When he started out, Antonio would often work eighty hours a week assisting fellow stylists, building a client base, and working with models to practice his craft. At the time, Antonio saw himself specializing in advanced color technique. Then he discovered he had a natural talent for styling long hair and the rest is history.
To get to know the person behind the chair on a more personal level, we asked some hard-hitting questions about things like celebrities and party tricks. Spoiler: He has one, and it's both unexpected and impressive. We also asked him about his most awkward client encounter. You may think you've heard them all, but we guarantee you haven't heard this one. Plus, you'll want to know what was said from a round of Two Truths and a Lie. Because if middle school taught us anything, it's that Two Truths and a Lie is a fun game to play when you want to get to know someone.
Check out the Q&A below.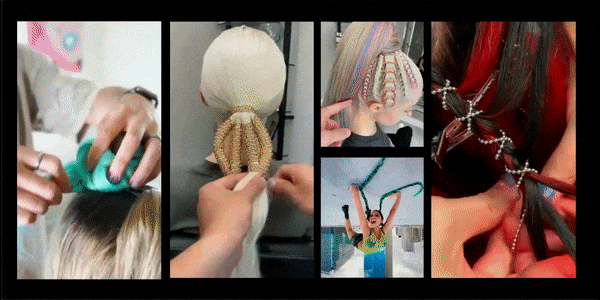 SalonCentric: How did you take your career to the next level and become a celebrity stylist and influencer?
Antonio Estrada: Right after beauty school, I started assisting at a high-end salon. I was assisting, working with my own clients, and styling models to practice my craft. I also bartended four nights a week. I had to make ends meet. Once.
I quickly became burnt out and needed something else. I started my Instagram with hopes of doing more advanced color techniques. At the time, I had an assistant with long hair. She would always beg me to style her hair. I was already doing so much hair that I didn't want to do more.
Basically, I started braiding her hair and everyone seemed to like it. Then I started making long hair mannequins. I started braiding wigs. Then came the celebrities. Honestly, if you work hard big things will happen. And when I say hard, I mean like 80 hours a week. Trust me though, you won't have to work that hard forever.
Q: Who is your dream celebrity client and how would you style their hair? What would you do with their hair?
AE: My dream celebrity client is Doja Cat. She is very artistic and pushes the limit. Love that she does FULL EXTRA GLAM but also edgy out of the box looks. I would obviously give her my signature pony. There's so much in my mind of what I would want to create for her. I'm thinking diamonds, chains, and leather.
Q: Have you ever had a moment where you thought, "Oh no. My career is over." What happened and how did you pull yourself up from it?
AE: Those are the worst thoughts to have and luckily, I have not had to deal with that. I try my best to stay optimistic when I'm put in stressful situations. I recently dealt with a client who was rude and made my assistant uncomfortable. I decided that I wouldn't do her hair anymore. I let her know and I won't be surprised if she makes a huge deal out of it. On the Bright side, my mental health will be a lot better, and it will keep my team happy and comfortable.
Q: What are your next personal and professional goals?
AE: My professional goal is to open my dream salon where I can build a team of like-minded stylist and change the game. But my personal goal is to learn how to install wigs. Get ready.
Q: What's the craziest thing a client has ever asked you to do and how did you say no or deal with the situation?
AE: Okay. Should I really tell this story?
SC: Yes, please.
AE: I cut this guy's hair and he was so impressed—I do really good men's cuts. After I was done, he said, 'Do you do butt shaves?'. My assistant and I looked at each other like did he just say that. Obviously, I start laughing right away. At first, it seemed like he was serious, but he had a dry sense of humor. He was joking but that was so awkward. I only cut his hair once.
Q: Do you have any cool party tricks?
AE: I can juggle.
Q: If you had to pick a song to play every time you enter a room what would it be?
AE: Any '90s R&B HITS. Ashanti, JaRule, Jlo, Cassie. I will always be obsessed.
Q: Last thing you saw, heard, or read that made you laugh?
AE: Me and my besties laugh everyday day at work. I'm a jokester.
Q: Best Halloween costume you've worn or helped a client achieve?
AE: I always like to dress up as day of the dead. It's so easy and you can be creative but my all-time favorite costume was a baseball player. I played baseball growing up so it was nostalgic.
Q: Tell us two truths and one lie about yourself.
AE: I'm an uncle to quadruplets, I grew up in a village with a population of 1,700, I was born in Mexico.
Scroll down to see which two are the truth and which one is a lie.
The lie: I was born in Mexico
All Images Courtesy of Antonio Estrada (@antestradahair)
About Expert

Discover expert advice from SalonCentric and the industry's most trusted artists and educators. Whether it's the latest, on-trend techniques or tips that will boost your business, they're here to make sure you reach your full potential!