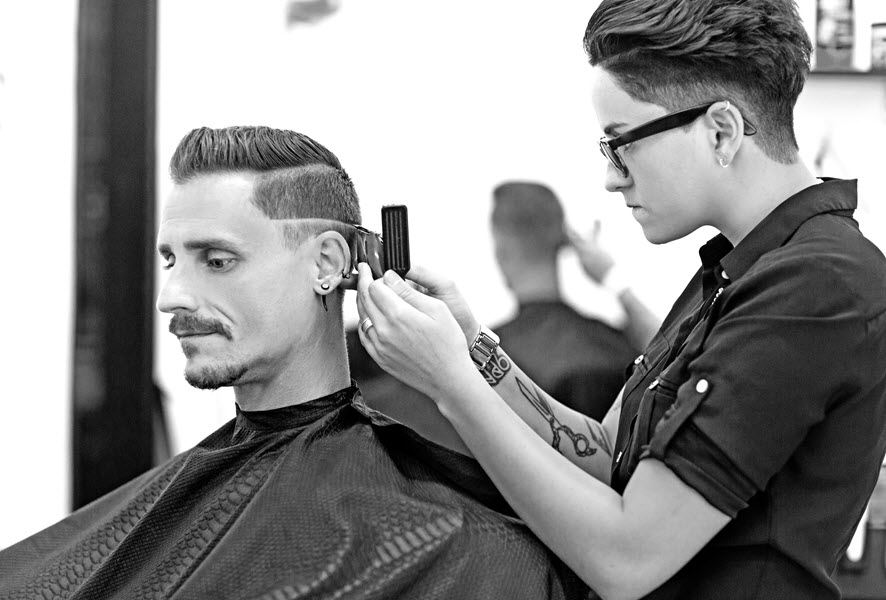 Thanks to a surge of interest in old school barbering techniques, attributed in part to the hundreds of thousands of crisp fades and pompadours showcased on Instagram, the demand for precision men's haircuts is exploding. Currently, there are 3.6 million posts for #menshair alone!Further proof of the trend? Salon Today magazine reports a significant uptick in dedicated men's service spaces in their annual Salon Today 200 décor competition. "The marriage of cosmetology and barbering has happened thru Instagram," says SalonCentric Ambassador and salon owner Daniel Mason-Jones. "It's now cool for men to come into the salon. So, if you want to get in on that action, here are five tips for building a thriving men's business.

Get Training. This is top priority. You can't service men in search of great barbering if you can't deliver great barbering techniques. Many manufacturer partners are now offering barbering courses. Check with your distributor for classes in your area. Additionally, websites such as RedkenSalon.com and SamVilla.com offer on-demand online cutting demonstrations.

Post Your Best Work on Instagram. Once you've mastered those part lines and classic cuts, be sure to display your best stuff online. And don't forget to hashtag your work with frequently-searched keywords, like the aforementioned #menshair. Other hashtags to consider include #menshairstyle, #razorfade and #barber. And include location hashtags like #menshairnashville. In addition to showing off your skills, you'll start generating traffic from locals.

Display Men's Products Prominently. This sends the signal you're in the men's business. "We place men's products in the lobby so guys feel comfortable walking in," says Mason-Jones.

Teach Your Guys. Men won't ask for directions, on the road or in the styling chair. But if you offer styling and grooming advice, they will gratefully accept it. Doing so will ensure their hair looks its best between visits, elevate your male clients' confidence in your expertise and cement their loyalty to you.

Prebook. Guys have more important things on their minds than their hair likethe NBA finals, that mysterious leak under the sink, beer to name a few. So make their grooming lives simple by pre-booking them before they leave the salon. The concept may seem foreign to them at first, but once you explain you will text them a reminder the day before and they're able to change the appointment if something comes up, they're likely to embrace the concept. For you, this prevents appointment lapses and keeps visit frequency steady.
Photography: Getty Images