You've probably heard the buzz about Matrix's pre-bonded color portfolio, but do you know exactly what that means and how it benefits you and your clients? Let's break it down.
THE MATRIX PRE-BONDED PORTFOLIO
First of all, you might be asking, "What in the world is pre-bonded? "It means that bonder is included in every color formula that Matrix offers. With SoColor permanent color, SoColor Sync demi-permanent color, and Light Master Pre-Bonded, every single one is pre-bonded. And why is pre-bonding so important? Because with bonder in the color, you can maintain the integrity of the hair, color after color.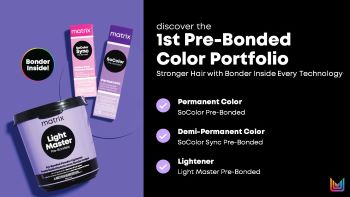 WHY PRE-BONDED IS BETTER FOR YOUR CLIENTS
Every hair color and type benefits from bonder. Here are just a few examples:
Gray hair: When melanin fades away, so does elasticity and moisture, which makes gray and silver strands vulnerable to breakage. Yet these are some of your most frequent color clients. Bonder helps protect their delicate strands and keeps your silver foxes looking foxy.
Curly and coily hair: The unique shape of curly hair means these strands are weaker and more prone to damage at the inflection points. But hair color has never been more in-demand among curly clients so it's important to do everything possible to keep their hair healthy. Coloring curls and coils with bonder not only supports the hair structure, it also helps maintain the curl pattern. Fine hair: This hair type is the most susceptible to dryness, damage and breakage due to its delicate structure. Bonder provides extra support and protection for these fine-haired clients and helps you proceed with confidence.
Lightened hair: This is another color client that requires extra TLC. The more you lift, the more fragile hair can become. Bonders protect your highlight, balayage and double process beauties, and help prevent the breakage that can occur as a result of these services.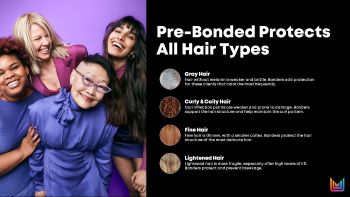 WHY PRE-BONDED IS BETTER FOR YOUR BUSINESS
It starts, of course, with confidence, knowing you can satisfy every reasonable client color request without compromising the health of the hair. But there's more.
Pre-bonded is a huge timesaver. No mixing, no measuring, no adding. There's nothing extra to do with pre-bonded color. Just whip up your color formula and get to work.
Pre-bonded produces referable results. Referrals are the lifeblood of any pro's business and when you're turning out such incredibly healthy, shiny color with less breakage or damage, clients will talk and people will notice. Whether it's from the 'gram or from conversations that start with, "Who does your hair?" get ready for more business.
Pre-bonded is an add-on. Think about it. You upcharge when you add bonder to a color service, so it makes sense to do so for a pre-bonded service as well. Guide lines recommend charging an additional 20% for pre-bonded color so if you do 20 services per week, at an additional $25 per service, that's an extra $26,000 per year.
Pre-bonding is supported by retail. The anti-breakage power of bonders goes hand-in-hand with the bond-strengthening benefits of the Total Results Unbreak My Blonde system—shampoo, conditioner and leave-in treatment. Together, this trio revives every hair type from chemical damage, reinforces weak bonds and keeps hair looking shiny and soft. It makes sense, therefore, to offer Unbreak My Blonde to all of your color clients and watch your retail sales climb.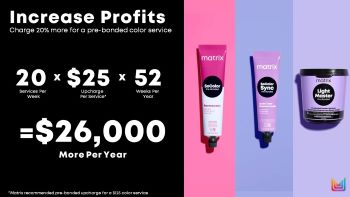 About Expert
Discover expert advice from Matrix and the industry's most trusted artists and educators. Whether it's the latest, on-trend techniques or tips that will boost your business, they're here to make sure you reach your full potential!
up next
The 6 Essential Products In Every Colorists' Backbar
The 6 Essential Products In Every Colorists' Backbar
Written by 
Matrix Team
Sep 1, 2023
Read time 5 min