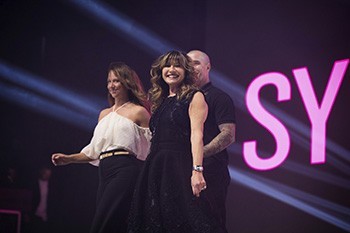 With 51 years in the industry, Kris Sorbie knows a thing or two about how to get started as a stylist. She launched her career at age 13, and has gone on to travel the world, style more photo shoots and fashion shows than most people could dream of and teach at more symposiums than anyone could count.
"It's been an unbelievable journey and I certainly would say that I wouldn't be where I am, either professionally or personally, had it not been for the education that I received because of — and through — Redken," she says. "And the wonderful thing is that Redken really set us up to win."
And won, she has.
Sorbie now serves as Redken's Education Artistic Director, so when it comes to giving advice to those trying to follow in her footsteps and break into the industry , there's no one better to ask. Here, she shares the 5 things she wants to pass on to the next generation of stylists.
Don't Be Afraid to Find a Mentor
Mentoring is one of the most important parts of the Redken education program, but you'll only get out of it what you're willing to put in. So don't be afraid to reach out to the people who inspire you! "When we're very new, and the new kid on the block, we kind of feel as though we can't approach like, a Kris Sorbie, because they're kind of on another level," says Sorbie. "And I would say never hesitate, because I've mentored some of the most incredibly shy people, and that was one of the reasons I was mentoring them in the first place. They had the courage to reach out, and to say 'Do you think I could talk to you on the phone for an hour? Because I really don't know what to do next.'" The bottom line? Don't be afraid to reach out, because you could end up with someone amazing — like Kris Sorbie — helping you find your way.
Learn From Everyone
"The best advice that I ever received, and I would give to other stylists, is to embrace education-whatever, and whoever it's coming from. We can learn as much from our students as we can from our mentors," says Sorbie, who stresses the importance of surrounding yourself with like-minded people (aka other stylists who share your passion). Mentors are amazing, and remember to never, ever take your peers for granted — they can teach you something too.
Never Stop Learning
You may think you've got your techniques mastered, but there are always ways you can improve. "Absorb as much as you possibly can, take every opportunity to learn, and then practice, practice, and practice some more," says Sorbie.
Go Back to the Basics
The most important thing to learn when you're first starting out? The fundamentals. "When I started, I didn't realize how much fundamentals come into play and how much they would make me a better hairdresser, a better salon manager, a better anything really," says Sorbie. "I was more excited about 'what's new, what's hot, what's not' than really embracing the fundamentals. Fundamentals gave me the skills that I needed to be able to do hair for New York Fashion Week, and to do hair for a Redken Symposium Main Stage Opening Night. Fundamental skills are required for that type of work or any photographic work. Every little bit of our training can make us that much better as we advance in our careers." Fundamentals may not be the most fun things to learn, but they'll help you build up to bigger and better in the future.
Photography: Courtesy of Redken
About Expert
Kris has worked as an Art Director, Color Consultant, Video Producer, Redken Exchange Facilitator and Redken Education Artist Director. She brings innovative trends and fashion-forward artistry to the forefront of the salon industry, whilst simultaneously working on numerous shows, seminars and global projects. Her ability to translate these into profit potential in the salon paves the way toward a better life for stylists both financially and creatively. She's totally comfortable whether on a main stage or mentoring individuals, stylists, salon groups, salon owners, students and others. Her education and mentoring is designed to push the artistry and business sense of stylists and salon owners which, in turn, drives salon business, increases client loyalty, encourages add-on services and impacts retail sales. She has a proven record of salons, stylists and students realizing their potential and goals!