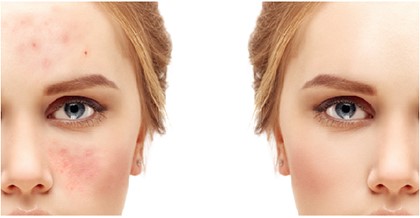 Acne is no fun - at any age. But knowing how it arises in your teen vs. adult years can help you stay in the clear.
Teen acne
Teens typically break out on the face, chest and back. Such breakouts often arise because androgens, the "male" hormones that both guys and girls have, surge during adolescence, causing excess production of sebum (oil).
The good news is that teens have faster cell turnover and more resilient skin than adults, which means they recover faster from breakouts. After the teenage years, acne tends to improve because teen hormonal changes have leveled off and no longer fuel breakouts.
How to Treat Teen Acne
Focus on learning and maintaining good skin care habits because you will be more prone to acne in the future.
Avoid products that contain harsh, inexpensive and comedogenic (pore-clogging) ingredients. Stripping ingredients such as Alcohol – commonly found in astringent toners – can cause skin to produce more oil, fueling even more breakouts. Artificial fragrances and colors can also further irritate breakout-prone skin.
Look for ingredients like Salicylic Acid and Benzoyl Peroxide to keep dead skin cells and bacteria from accumulating.
Moisturize daily – even if your skin seems oily (use an oil-free moisturizer) – to help balance sebum production.
Adult acne
Thought you could outgrow acne? If only. Chronic stress and the varied hormonal changes of adulthood can throw adrenal glands into overdrive, which in turn can boost sebum production, setting the stage for acne development.
Adults also tend to have more inflammatory acne, with lesions predominantly located around the mouth, chin and jaw line. Treating adult acne can be challenging because adults also tend to face skin dryness, sensitivity and signs of aging
How to Treat Adult
Acne Focus on spot treatment and balancing the skin, as well as making sure your other skin care needs are met.
Avoid "picking" or "squeezing" breakouts at home, which can result in more breakouts, scarring or redness. Instead, see a professional skin therapist for an extraction.
Skin can lose its ability to retain moisture with age. Avoid over-drying skin by choosing products that contain non-drying ingredients such as Salicylic Acid or Glycolic Acid to help remove dead skin cells, excess oil and dirt, as well as Colloidal Silver to control bacteria.
If you're combatting signs of skin aging, Retinol – a wrinkle-smoothing ingredient – can also work well to help prevent acne breakouts.
Photography: Courtesy of Dermalogica
About Expert
Heather Hickman is a fully qualified skin, spa and body care specialist from London, England. She is CIDESCO and IHBC qualified. Heather has 20 years of experience in the skincare and spa industry as a spa manager and senior educator. She has taught extensively throughout the United Kingdom, Europe and Asia specializing in advanced skin care modalities and techniques. Her experience and expertise have led to her contributing to the design and development of curriculum and operations programs for Dermalogica and The International Dermal Institute, including the launch of the Dermalogica Expert Program and D-Streaming. In her current position as Senior Director of USA Education for The International Dermal Institute & Dermalogica at the Corporate Headquarters in Los Angeles, Heather is responsible for the overseeing the US operations, marketing activities and Education Teams for all 18 International Dermal Institute Training Centers. With her extensive knowledge in the dynamics of operation management, skin and body industry, Heather is frequently requested to share her expertise at trade shows and congresses both domestically and internationally and with the various trade publications.