Photography: Courtesy of Redken

Tame Frizz This Winter With Redken's 5 Star Frizz Fighters:
Frizzy hair can be a pain to manage! With the help of Redken's Frizz Dismiss line, you can give your clients the smooth, frizz-free locks they have always wanted!
Redken's reinvented Frizz Dismiss haircare collection features Sodium Chloride-free formulas and sustainably sourced Babassu Oil to fight frizz and guarantee silky smooth results with every use. But don't just take our word for it- stylists around the country agree with hundreds of 5 star reviews!
Read on to discover the frizz-fighting must-haves you need at your station this winter!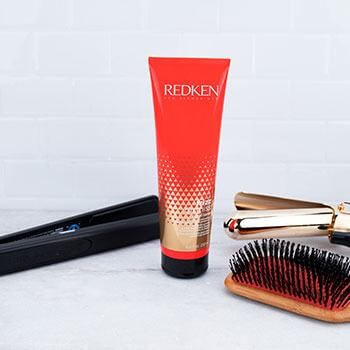 Winter Weather Hair Tamer: Frizz Dismiss Rebel Tame
If your client struggles with frizzy hair and flyaways in the wintertime, regularly incorporating a nourishing leave-in treatment into her haircare regimen will help to moisturize,smooth, and protect the hair. Redken's Rebel Tame heat protective leave-in cream from the reinvented Frizz Dismiss collection is an absolute must-have in the battle against frizzy hair.
"Not only will Rebel Tame help your guests control frizzy hair, it will also provide heat protection up to 446 degrees." says Redken Artist Kyle Pinneo, "Heat Protection is key as frequent blowdrying and flat ironing can drain the hair of moisture, causing dryness and increased frizz, especially in the winter months. Rebel Tame is formulated with sustainably-sourced Babassu Oil, which helps to hydrate, smooth and deflate frizzy hair while protecting the hair from further damage."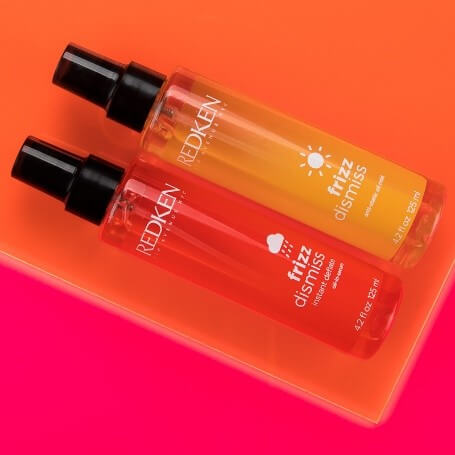 Sweater Weather Static Fighter: Frizz Dismiss Anti-Static Oil Mist
When it comes to winter hair woes, static is at the top of the list! Redken's Frizz Dismiss Anti-Static Oil Mist is a lightweight leave-in treatment that will instantly smooth away static and flyways without weighing the hair down.
"As with any product, application is so critical" says Redken Global Artistic Ambassador Sam Villa, "A great way to apply this product with your guests is simply by dispersing the product into the palm of your hand and emulsifying for a more deliberate application. Hot Tip: Spray a kabuki brush with Frizz Dismiss Anti-Static Oil Mist and brush through the hair. This will tame flyaways and touch up frizz in a flash!"

Strand Smoothing Frizz Fighters: Frizz Dismiss Instant Deflate and Frizz Dismiss Mask
To maintain smooth hair in the winter, it's necessary to use products that will deeply moisturize and nourish the hair. Redken's Frizz Dismiss Instant Deflate and Frizz Dismiss Mask are amazing products that will ensure silky, frizz-free strands all season.

"Redken's Frizz Dismiss Instant Deflate is an oil-in-serum that controls puffiness and frizz. It's a magical product that works great on all hair types. Hot Tip: Use Redken's balayage brush to paint Frizz Dismiss Instant Deflate Oil onto the lengths of the hair to smooth and decrease volume. You can also pump a small amount into your palms and emulsify. Remember that a small amount goes a long way! You (and your clients) will absolutely love the results!"