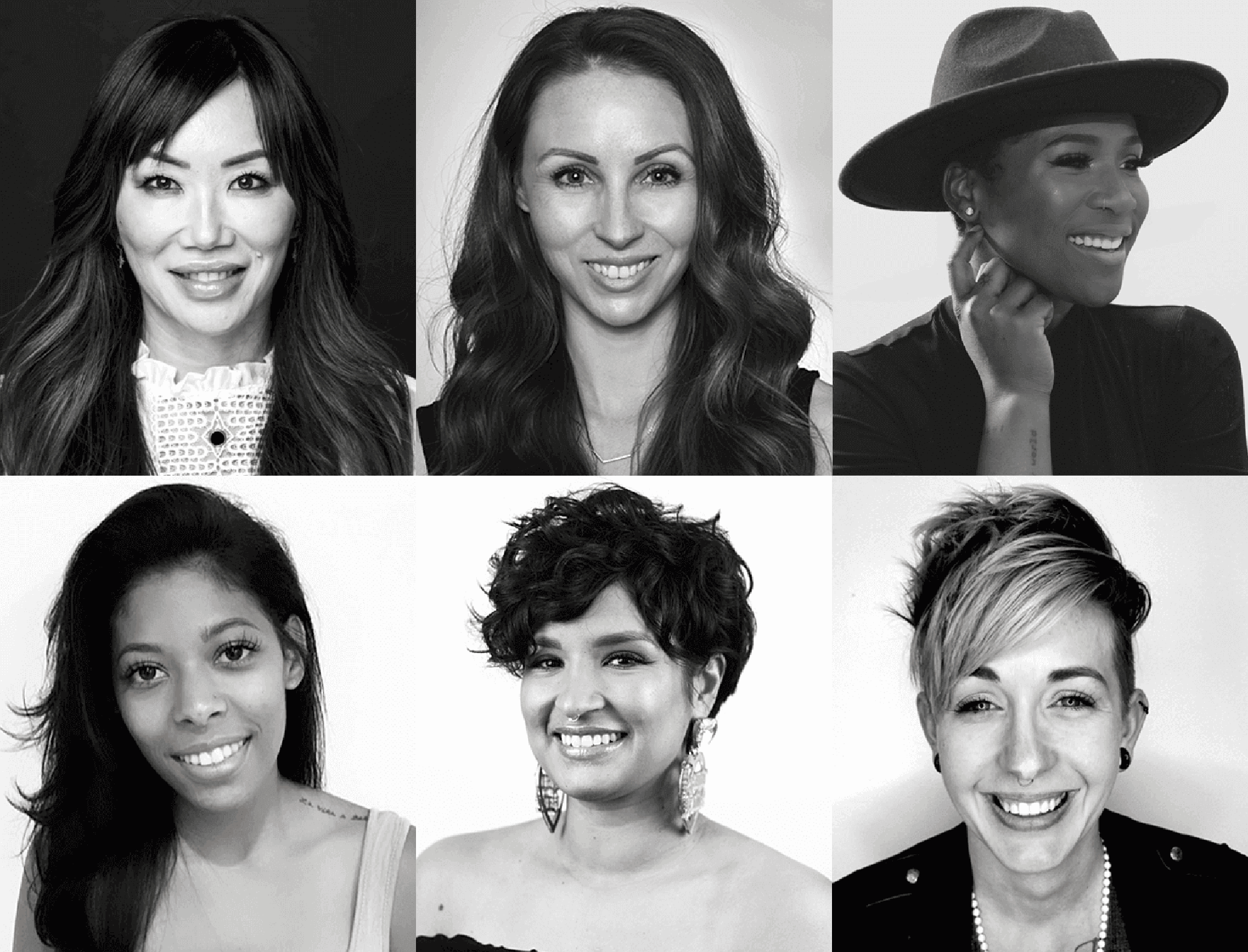 Oprah Winfrey often says, "Moms have the toughest job in the world if you're doing it right." And there are few who would disagree. Add in being a full-time working hairstylist, and you've got an entire physical, emotional and mental balancing act to contend with. From the constant struggles with time to the ever-growing range of guilt, here's real talk from some of the industry's hardest working mothers on trying to achieve work-life balance while being dedicated to their craft and devoted to their children.
On balancing career and motherhood
Krystal Mcleod (@kmmakeupandhair)
Matrix Artistic Educator
"Honestly, this is something I am still trying to figure out. I recently made the major decision to leave a salon I was growing at, in order to open a salon suite. And I did so with the intention of trying to balance my career and motherhood. So far, it's been the best decision because now I can work my schedule around my daughter's needs. When I come home, I'm not 'too tired' or stressed about my book or working without a break. Having complete control over my schedule has been a blessing."
Min Kim (@minkimcolorist)
Master Colorist, Butterfly Studio Salon and Le Collectif Global Artist, L'Oréal Professionnel
"Being a workaholic, it's been a struggle trying to find the right balance. And while multitasking and a solution-oriented mindset help, it's not always enough. So, I cut down one salon day in order to have a day to myself to recover and/or spend time with my son."
Selina McManus (@_beautynative)
Matrix Artistic Educator
"For the last year or so, I've left my schedule at the salon―unless I had a lot of work to do, after bedtime of course. As a booth renter, scheduling and emails can really pile high, but I stopped punishing myself for not answering every email right away. My salon/work time is my salon/work time. My at-home time is my at-home time. I just try my best to be disciplined about respecting both boundaries."

On the challenges of trying to achieve balance
Cory Hoffman (@coryhoffmanhair)
Matrix Artistic Educator
"The biggest challenge is the feeling of guilt―guilt that I'm not devoting enough to either one. I have to keep in mind that I am showing my kids how to work hard, be fulfilled, and still be there for my family. Ultimately, if I am making myself a priority and can find peace within, the rest will fall into place."
Rachel Redd (@rachel_redd)
SalonCentric and Redken Brand Ambassador
"The biggest challenge to achieving balance is accepting that you can't give everything your 100% every day. You will have to sacrifice something to not overwhelm yourself. I find that looking at the entire week instead of day by day, and organizing by priority helps me stay efficient and sane. You have to be super organized to make sure you don't over schedule yourself. For example, I'll plan my days off and vacations according to my children's school calendar at the beginning of the year. This helps me make sure I don't overbook myself with clients, and that I will be there for my children when they need me."
Elizabeth Strusz (@elizabeth.strusz)
E. Claire Salon and Redken Artist
"Saying yes as a default. My willingness to serve and please people absolutely gets in my way. I give 100% to anything I do, so I need to [set] and follow the boundaries that allow me to do so."
On resources they wish were available to working hairstylist-mothers
Min Kim (@minkimcolorist)
"Affordable childcare is at the top of the list. Having reliable and affordable child care that works with my late and sometimes erratic schedule is a hurdle. Childcare in this country, in general, is a challenge as it can be very costly, competitive (in my area) and is not government subsidized."
Krystal Mcleod (@kmmakeupandhair)
"I wish there was more information on finances for industry workers and benefit packages for suite owners, and just hairstylists in general. I would love to be able to take paid vacation days with my daughter without worrying about paying the rent and not getting paid. I also feel that there are a lot of marketing classes for hairstylists, but not necessarily a lot of finance classes. It's super important especially being the only one in my household bringing in an income and having someone depending on me."
On career/motherhood advice they wish to have received early on
Selina McManus (@_beautynative)
"Be kind to yourself and make time for yourself. Being a hairstylist can be draining, physically, mentally, and emotionally. And being a mother, it can be the same. As rewarding and heart-fulfilling as the jobs are, you must take care of yourself too. Burn out is real."

Rachel Redd (@rachel_redd)
"A wise woman once told me the energy you put into your business is the same energy you must put into the ones you love. This advice has helped me navigate motherhood and my career."
On advice to share with their fellow working hairstylist mothers


Min Kim (@minkimcolorist)
"It can get hard at times, but don't feel guilty about working and taking time for yourself. It shows our children that anything is possible. And a happy mom is a better mom if you ask me. Children can feel the energy perhaps better than most adults.

Cory Hoffman (@coryhoffmanhair)
"When you don't know or it's too much, ASK FOR HELP."
On assuming a new role in their child(ren)'s homeschooling during COVID-19

Rachel Redd (@rachel_redd)
"With the current climate, I've learn to take it one day at a time. I'm personally excited to be my children's teacher since I've always wanted to be an elementary school teacher. I'm also looking forward to teaching them that there is more to life than what meets the eye. I'm grateful that our days are filled with a lot of art, using our imagination and sunshine."
Min Kim (@minkimcolorist)
"As difficult as being a single working mom has been, this is a whole new frontier. I haven't been home or not flying around for this amount of time in years. But, I am thankful for this gift of time. No matter how hard I try to not feel guilty, it's difficult not to wonder at times if I should be spending more time at home, even if he is in school for most of the day. It's also challenging because Jake is in preschool so he is used to lots of activities and interaction with other kids which is obviously not happening within the confines of my home. But I try my best to incorporate the lessons and activities the school has sent. Jake, myself and his iPad are adjusting."
About Expert
Maureen is a veteran beauty and style editor having worked at AmericanSalon, Woman's Day, People StyleWatch and Teen Vogue, and a contributor for CR Fashion Book, Well + Good, Elite Daily and Glam. You can find her reporting on the latest trends from backstage at New York Fashion Week, interviewing celebrities and beauty industry heavyweights, and fashion styling for editorial photo shoots. The self-professed product junkie, super foodie and wannabe hand model is obsessed with rose gold jewelry, the NYC Flower Market and planning her next big getaway.