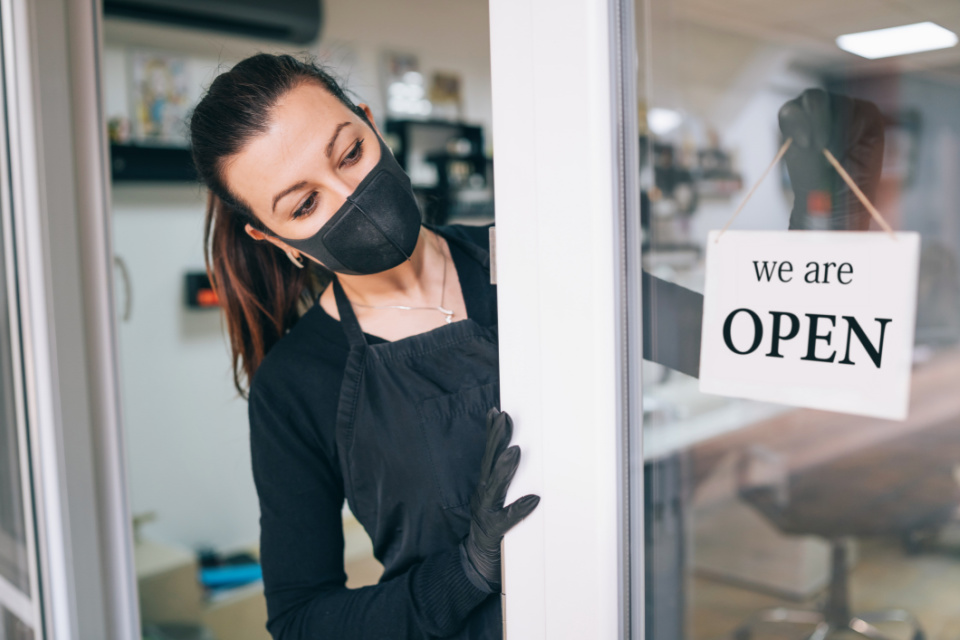 Source: Getty Images
There's no question that COVID-19 has permanently changed the entire face of the beauty industry, with salons and spas drastically impacted, and trying to cope with the devastating current and long-term effects. As the ongoing pandemic continues to affect state lockdowns, re-openings and partial shutdowns, hairdressers and other hands-on beauty providers—who have been classified under the non-essential services umbrella—continue to experience uncertainty, frustration and financial strain.

The past week saw salons and barbershops close in parts of California as per the state's new Regional Stay-At-Home Order. The order divides the state into five regions: Northern California, Bay Area, Greater Sacramento, San Joaquin Valley, Southern California, and is triggered once a region's Intensive Care Unit (ICU) capacity drops below 15 percent, forcing the closure of businesses like salons and barbershops, remaining in effect for at least three weeks.

December 6: San Joaquin Valley and Southern California closures
December 6-8: Bay Area closures
December 10: Greater Sacramento closure

And on December 2nd, the City of Los Angeles announced a new series of restrictions and regulations which included prohibiting services that require a customer/client or a personal care attendant to remove their face covering (e.g. facials and shaves).

"It's important to note that salons are not implicated in the spread of COVID-19, however, the Regional Stay-At-Home Order is an effort to stop further interaction outside of the home so as to relieve the hospital capacity crisis," says Myra Reddy, Director of Government Affairs and Industry Relations for the Professional Beauty Association (PBA). "The PBA strongly disagrees with the decision to close salons. The [California] Governor's office has received our information, past data, and expressed their clear understanding of the impact that the closure of small businesses will have on our salon owners and licensed professionals."

Here are some of the grant and funding resources made available as shared by the Governor's office:
- California Rebuilding Fund
https://www.ibank.ca.gov/small-business/california-rebuilding-fund/
- California Small Business Loan Program
https://www.ibank.ca.gov/small-business/loan-guarantees/
- Tax Relief
https://covid19.ca.gov/taxes/
- Small Business Debt Relief
https://www.sba.gov/funding-programs/loans/coronavirus-relief-options/sba-debt-relief
- Small Business Assistance Centers Network
https://business.ca.gov/advantages/small-business-innovation-and-entrepreneurship/how-we-can-help/covid-19-resources-map/

Sadly, California is not the only state that is closing regions or looking to implement closures soon. New York is carrying out a Micro-Cluster Strategy, categorizing counties and cities according to color-coded zones, to help curb the rapid increase in new cases. Regions within the "Red" and "Orange" Zones must close all non-essential businesses and certain "high-risk" non-essential business including barbershops, hair and nail salons, and personal care services. Regions within the "Yellow" Zone are permitted to open with restrictions.

Red and Orange Zones include:
- Chemung County (partial)
- Erie County (partial)
- Monroe County (partial)
- Niagara (partial)
- Onondaga County (partial)
- Staten Island (partial)
- Westchester County (partial)

Yellow Zone Clusters include:
- Bronx East
- Bronx West
- Brooklyn
- Great Neck
- Hampton Bays
- Highland Falls
- Kew Gardens/Forest Hills
- Manhattan
- Massapequa Park
- Middletown
- Newburgh and New Windsor
- New Rochelle
- Niagara
- Ossining
- Peekskill
- Riverhead
- Rockland
- Tarrytown
- Tioga
- Yonkers
To find out which Zone your address is in, click here: https://covidhotspotlookup.health.ny.gov/#/home
For additional industry resources providing economic or educational support, check out the below.
Professional Beauty Association COVID-19 Relief Fund
Granting $500 to licensed beauty professionals who are unable to work due to COVID-19. The funding, if awarded, is intended to be emergency aid for short-term immediate needs such as food and bills. For more information, visit: https://www.probeauty.org/covid-relief-fund-application

IRS for COVID-19 Tax Relief and Economic Impact Payment
Providing tax help for taxpayers, businesses, tax-exempt organizations and others–including health plans–affected by coronavirus (COVID-19). For more information or to apply, visit: https://www.irs.gov/coronavirus/economic-impact-payments

45B FICA Tax Tip Credit
Salons have been hard hit by the pandemic and need funds now to ensure they will remain in business. Take action to support extending the 45B FICA Tax Tip Credit by sending an email to Congress asking them to support this critical legislation: https://p2a.co/6Rr6tv1
COVID-19 Survey
Share your story with Governor Newsom's office to support keeping salons open: https://www.surveymonkey.com/r/TQZYPVY
Professional Beauty Association Tele-Health Insurance
A tele-health insurance program at a reduced rate for PBA Members of $10/month. This service allows Members to virtually connect with board-certified professionals for medical consultations, questions, and concerns. For more information or to sign up, visit: probeauty.org.

Summit Salon Business Center
Offering one hour complimentary virtual consultations to California salons. Email [email protected] to request a virtual session.
SalonCentric Education
Offering a whole host of digital learning to help foster your education and continue advancing your career via Zoom classes, online courses and virtual events, many of which are CE eligible. Check out the full schedule of classes and shows here.
About Expert
Maureen is a veteran beauty and style editor having worked at AmericanSalon, Woman's Day, People StyleWatch and Teen Vogue, and a contributor for CR Fashion Book, Well + Good, Elite Daily and Glam. You can find her reporting on the latest trends from backstage at New York Fashion Week, interviewing celebrities and beauty industry heavyweights, and fashion styling for editorial photo shoots. The self-professed product junkie, super foodie and wannabe hand model is obsessed with rose gold jewelry, the NYC Flower Market and planning her next big getaway.
up next
What I Learned About Beauty From My Abuela
What I Learned About Beauty From My Abuela
Written by 
Maureen Sheen
Sep 14, 2023
Read time 5 min