The copper hair trend continues to steal the spotlight for this season's go-to hue. With its wide range of shades, including auburn, copper blonde, red, and turmeric, this trend can be customized and tailored to any client's pre-existing pigment. So, if your client is looking to take the copper hair plunge before the summer is over, here are the formula breakdowns for the top trending colors.
Copper Blondes Tonal Breakdown: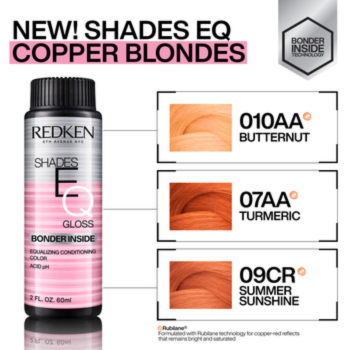 Auburn and copper red shades are perfect for dimensional blondes and warm tones. For the best results, try the new Redken Shades EQ Bonder Inside colors in 010AA Butternut, 07AA Turmeric and 09CR Summer Sunshine. The shades 07AA Turmeric and 010AA Butternut have an orange and red tone with a brown to tan background for a natural finish, whereas 09CR Summer Sunshine has warm yet bright copper and red tones with no background for additional vibrancy. Each shade is formulated with Rubilane® technology that provides a chromatic copper-red reflect to keep your client's color bright and saturated.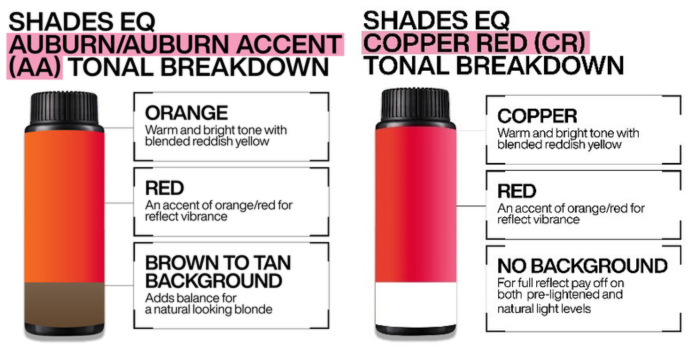 These shades are best suited for enhancing warm undertones on pre-lightened hair or creating subtle-to-bold copper blonde tones on natural blonde hair. They also perform their best on natural, previously color-treated, or pre-lightened hair that is the same level or lighter than the shade being used.

Formula Breakdowns: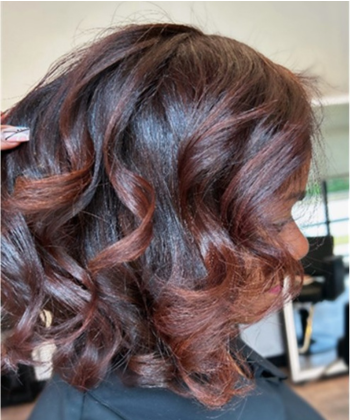 Source: Courtesy of Rachel Redd (@rachel_redd)
Formula:
Color Gel Oils 5BR + 20 volume, SEQ 07AA + Gloss to Gel Processing Solution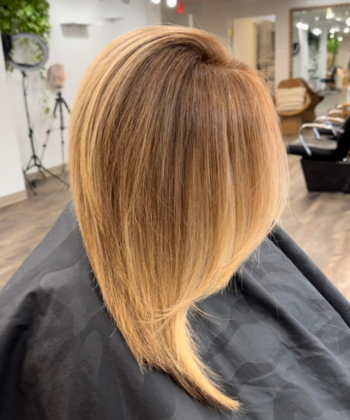 Source: Courtesy of Adrienne Dara (@adriennedara)
Formula:
Zone 1: 05CB + 05C + 06NB + 07AA (all equal parts)
Zone 2/3: 08C + 09NW + 09CR + 010AA (all equal parts)
The new Shades EQ Bonder Inside Copper Blondes shades emit the most perfect hues for that client looking to be a balance between copper, strawberry and blonde. With a subtle, yet powerful warmth, they are perfect for that blonde client looking to test the waters of going red, without the commitment of having to stay red.
- Adrienne Dara
(@adriennedara)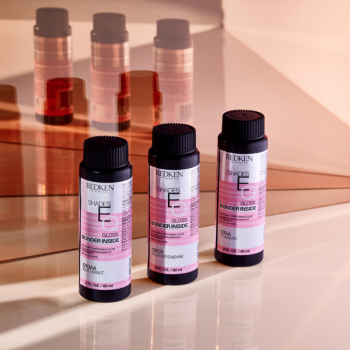 For clients who are hesitant to fully join the copper club, stylists can try other trending colors, like rose gold or natural chocolate, which incorporates more subtle hues of red.
Rose Gold Tonal Breakdown: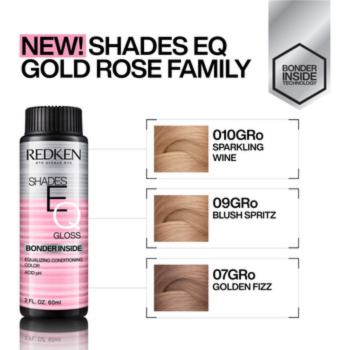 This shade is the perfect combination of sparkling blonde with a hint of gold and soft rose tones. The formula incorporates gold to provide warmth without brass, which also enhances vibrancy. For the best results, try Redken Gold Rose Shades in 010GRo Sparkling Wine, 09GRo Blush Spritz and 07GRo Golden Fizz. Learn more about the Shades EQ Color of The Year here.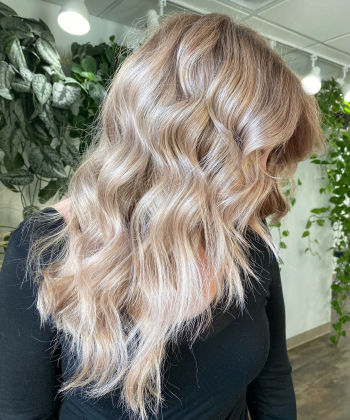 Source: Courtesy of Adrienne Dara (@adriennedara)
Formula:
Zone 1: 07NB + 07GRo
Zones 2 and 3: 07GRo + 09GRo
Natural Chocolates Tonal Breakdown: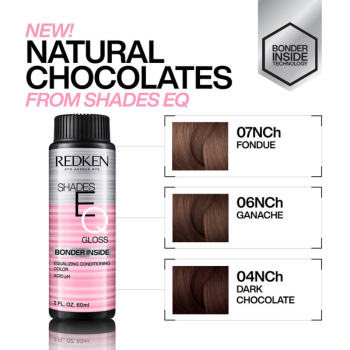 These shades are a balance of cool and warm tones with a brown-to-tan background, as well as an ash and blue, or mahogany reflect. Mahogany dyes add depth and richness, without being overly warm, while natural ash dyes tone down brassy undertones. For the best results, try Redken Natural Chocolates Shades in 07NCh Fondue, 06NCh Ganache and 04NCh Dark Chocolate.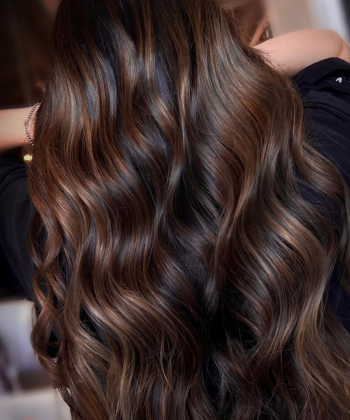 Source: Courtesy of Denise Welsh (@denisesuzanne_)
Formula:
Shades EQ Bonder Inside 2 oz. 06NCh + 2 oz. Shades EQ Processing Solution