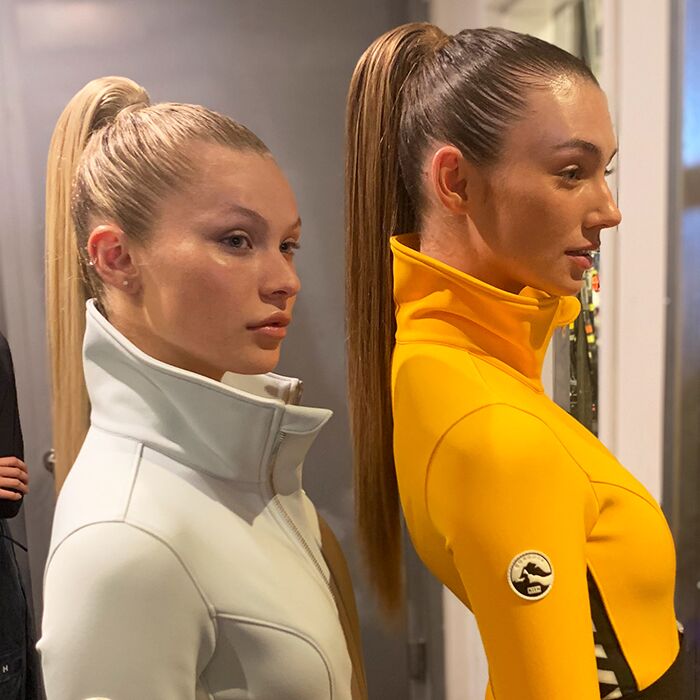 IGK's lead stylist and educator, Justin McKay walks us through one of the favorite looks created for NYFW 2019.
Steps:
1. Cleanse hair with your favorite shampoo and conditioner. We recommend
IGK Hair Thirsty Girl Shampoo
and
Conditioner
for this sleek look.
2. Apply
MISTRESS Hydrating Hair Balm
to damp hair from roots to ends and blow dry straight with a boar/nylon combo bristle brush to smooth the cuticle and create a polished finish.
3. Mist
GOOD BEHAVIOR Spirulina Protein Spray
section by section and flat iron the hair to smooth any flyaways and tame frizz.
4. Starting at the crown of the head, create a complete circular part and gather the hair into a pony. Apply RICH KID Coconut Oil Gel onto fingertips and smooth over gathered hair to tame fly-aways and add shine and control. Continue to create a circular part around the initial ponytail and work in sections to gather hair to the center of the head. Apply RICH KID Coconut Oil Gel to every section for maximum control and hold.
5. Once you have gathered all of the hair into one ponytail use your smoothing brush to go over entire head and smooth out any bumps, fill in any holes and create a sleek ponytail before securing.
6. Secure with a hook elastic by wrapping around the ponytail for a sturdy foundation and minimal disruption to the ponytail.
7. Mist
GOOD BEHAVIOR Spirulina Protein Spray
over the hair in the ponytail and go over with a flat iron to seal the cuticle and create shine.
8. Create a 3-strand braid and create a 2-inch braid at the base of the ponytail and secure with an elastic tie. Wrap the braid with double-sided tape for the extensions to adhere to.
9. Begin with your weft of extensions at the elastic tie at the end of the braid and start wrapping the hair around the braid over the tape. Set the weft seam above each wrap so the hair extensions create a natural layering in the ponytail and the base where the hair is gathered doesn't get bulky. Insert a hair pin at the end of the weft to secure the ponytail.
10. Next, take a small section underneath the pony and wrap hair around to hide the weft seam and secure with a bobby pin.
11. Finish the style by spraying
1-800 HOLD-ME No Crunch Flexible Hold Hairspray
around the head. Use small toothbrush and brush upwards to smooth out any fly-aways.
12. Add
SPEECHLESS Dry Oil Finishing Spray
for lightweight, high shine.
Photography: Courtesy of IGK