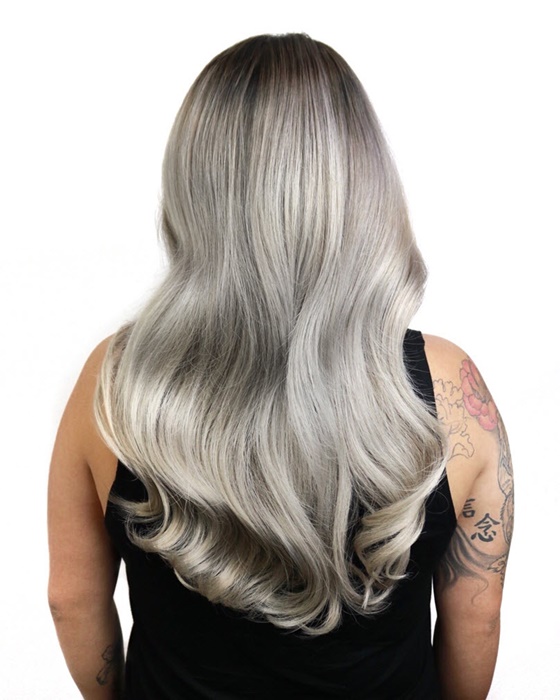 NATURAL LEVEL 3 •DARKEST BROWN
EXISTING LEVEL 8 GOLD ON MID-LENGTHS & SILVER ON THE ENDS
Formula
Lightener Formula
1 scoop Light Master & ½ oz. Oil Additive & 1 oz. 10 Volume
MATRIX Cream Developer
Color Melt
Formula A: 1 oz. Color Sync Silver Grey & ½ oz. 4A & 2 drops 1A &
10 Volume MATRIX Cream Developer
Formula B: 1:1 Color Sync Silver Grey & 10 Volume MATRIX Cream
Developer
Formula C: 2:1 Color Sync Clear & Color Sync Silver Grey &
10 Volume MATRIX Cream Developer
Section
Create a center parting from the front hairline to the nape. Next, take a
parting across the top of the head extending from top of the ear to top of the
other ear, secure sections for control.
Pre-Lighten
Apply Lightener Formula to new growth area first and once ¾ of lightness
achieved, pull Lightener Formula through the ends to prep the hair for tonal
change. Process until desired lightness achieved OR up to 50 minutes. Rinse
thoroughly, cleanse lightly and towel dry.
Color Melt
Apply Formula A to the new growth area, then apply Formula B to the
mid-lengths and blend Formula A through the ends.
Pre-Tone
Using your pointer finger and middle finger to blur the formulas together for a seamless transition of colors.
Process
Process up to 20 minutes at room temperature.
Cleanse and condition using Total Results Color Obsessed Shampoo and Conditioner.
Photography: Courtesy of Matrix