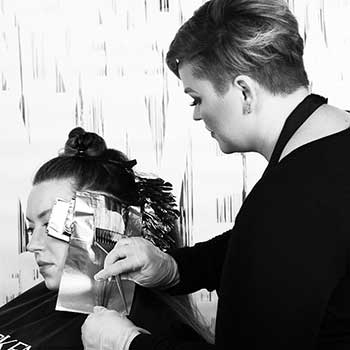 The color correction process starts long before you pull out the product. Make sure to follow through each of these steps properly to ensure success!

1. INITIAL ASSESSMENT
Take time to identify the exact issue with your client's current haircolor to more effectively plan out your next steps. Determine if your client's hair is too warm, too cool, too dark and/or too light.

2. LEVEL SET WITH YOUR CLIENT
Explain what can be done during this appointment given the time you have together and the condition of your client's hair. It's important to come to a shared reality with your client about what's possible and manage your client's expectations.

3. DETERMINE THE SEVERITY
Assess your client's haircolor and determine if the color correction is mild, moderate or severe. This will help you understand if the color correction will require one or multiple appointments.

4. IDENTIFY A COURSE OF ACTION FOR THE APPOINTMENT
Will you need to decolorize, fill, and/or color? Identifying the steps for your color correction can help you stay organized and remain on schedule, which is essential when you have back to back clients!

5. APPLY PRE-TREATMENTS
Applying pre-treatment products prior to your color correction service provides a foundation and ensures that the hair's integrity is protected.

6. APPLY HAIRCOLOR
Determine your best course of action for color application. Remember that treatments can also be used during haircolor application.

7. ESTABLISH A MAINTENANCE PLAN
Talk to your client about how she should maintain her haircolor between now and her next salon visit. Be sure to walk her through any specific product recommendations, regimens and tips.

8. RECORD YOUR WORK
Be sure to record the steps taken during your guest's appointment. Did you use specific formulas? Were there any specific challenges that required special techniques or a certain approach? By making note of these details, you'll continue to fine-tune your skills and know the right course of action the next time your guest visits the salon.

9. SHARE YOUR WORK ON SOCIAL MEDIA
Post your work on social media to market yourself as a color correction expert. Feature before and after photos on your profile to build client confidence. Utilize your bio section and color correction hashtags to spread the word about your expertise!
Photography: Courtesy of Redken