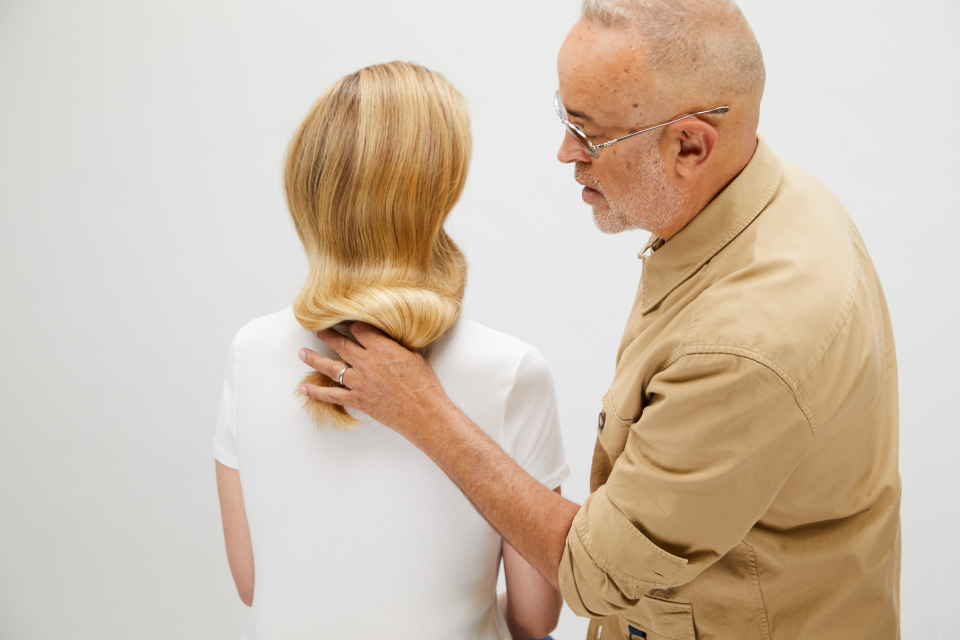 Source: Courtesy of Biolage
The party's over. Your clients have indulged in holiday hairstyling, holiday highlights, holiday styling transformations and now it's time to pay the price. The new year brings loads of damage from all of the above and undoubtedly, you're facing many cases of breakage, dullness, rough textures, split ends and dryness as a result of the hair over-indulgence of the past few months. Need a solution to reset clients' hair and offer a fresh start? The new Biolage Strength Recovery collection has your back. Here's what you need to know.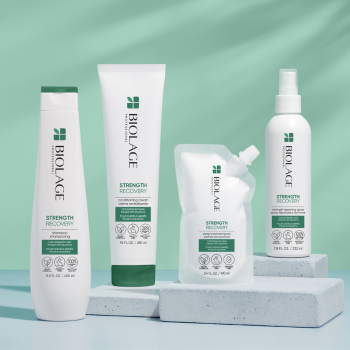 QUICK FIXES ARE POSSIBLE AND HERE'S THE PROOF
Biolage Strength Recovery is a comprehensive collection of high-performance care—Shampoo, Conditioning Cream, Deep Treatment Mask and Strength Repairing Spray. This means clients get the benefits of Strength Recovery's transformative power every step of the way from cleansing and conditioning to all-day protection.
How transformative is Strength Recovery? The stats support the results: With one use, hair is three times stronger, 92 percent more conditioned** and 82 percent more manageable.** What's more, the Strength Recovery Conditioning Cream reduces breakage by 73 percent.
Suitable for all hair types, the Strength Recovery formulas are lightweight but pack a heavy-duty punch of care and repair. Strength Recovery Shampoo is a gentle, creamy formula that cleanses without adding weight. It's designed for all hair types, including grey hair and colored hair. Strength Recovery Conditioning Cream nourishes, strengthens and reduces breakage. Strength Recovery Deep Treatment Mask is the answer for extreme breakage, soothing troubled strands and erasing signs of visible damage. And Strength Recovery Spray offers impressive detangling, silkiness, repair and heat protection. It leaves hair manageable and protected from future damage.
A SECRET INGREDIENT THAT COMES FROM SKINCARE
When it comes to hair health, it's all about the lipids. Lipids keep hair healthy, shiny and strong. When lipids are diminished—by overprocessing, over-manipulating or over-exposure to heat, hair becomes rough, dull, brittle and split. So Biolage turned to the world of skin care and discovered an active, naturally-sourced ingredient called vegan squalene which mimics hair's natural lipids. The squalene in Strength Recovery's formulas helps strengthen weakened hair, reducing breakage and increasing manageability. The formulas also contain soothing emollients that rush to the surface of the hair, leaving it smoother and more nourished. Naturally sourced from olive trees, the squalene in Strength Recovery formulas is vegan and cruelty-free.
CURING WITH KINDNESS
Like all Biolage products, Strength Recovery is vegan, cruelty-free and free of sulfates, parabens, silicones and mineral oil. And at Biolage, kindness extends to the earth. Biolage's white signature bottles are made from 100 percent post-consumer recycled (PCR) plastic (excluding caps) and the company estimates that as a result, it saves over 30 tons of virgin plastic every year.
If you're committed to getting your clients' hair off to the healthiest possible start this year, make way for Biolage Strength Recovery for instant repair and ongoing protection.
*with use of Deep Treatment Mask
**with use of Strength Repairing Spray
****when using the Strength Recovery system of Shampoo, Conditioner and Repairing Spray vs Non-Conditioning Shampoo.
About Expert
Discover expert advice from Biolage and the industry's most trusted artists and educators. Whether it's the latest, on-trend techniques or tips that will boost your business, they're here to make sure you reach your full potential!
up next
5 Secrets For Strengthening Your Clients' Hair
5 Secrets For Strengthening Your Clients' Hair
Written by 
Biolage Education Team
Oct 2, 2023
Read time  min